In life, you can face your problems head on or you can rise above them. With a luxury SUV, you can do both - while making sure your butt stays at a constant 71.5 degrees Fahrenheit. Here are the ten best models you found on eBay for under the price of a moderately loaded Toyota Camry, or $30 grand.
---
10. 2006 Volkswagen Touareg V10 TDI
---
This Volkswagen Touareg V10 TDI is the most American European car there is, and here's why: Europe's roadways are comprised of small cars with ultra high efficiency diesel engines - clearly no place for an SUV that weighs two tons and thinks "fuel economy" is a liberal myth on par with global warming.
Yet here we are, the largest car made by the same people that make the Polo, with a 10-cylinder diesel that pumped out 550 ft-lbs of torque, which nearly matches the figure coming out of the brand new Ferrari 488 GTB. Who wants to go on a Walmart run?
G/O Media may get a commission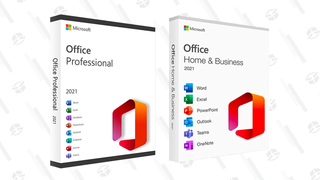 89% off
Microsoft Office Professional 2021 Lifetime License
(Suggested by tehkav, Alfredo Prada, FRP88)
---
9. 2009 BMW X5
---
Driving a BMW X5 is like stepping inside a factory-donked E39 5-series. It's a barely-offroad version of a car that was the ultimate Ultimate Driving Machine, so you'd be hard pressed to find anything else as driver focused as this light truck. It won't out-maneuver a Z4 M Coupe, but it will run circles around your smug Aunt Carol and her stupid gray Durango.
(Suggested by FRP88, timgray, g101010101)
---
8. 2009 Land Rover Range Rover Supercharged
---
Just as I had this car pegged for the top spot, it barely squeaks through to the top ten. Shows what I know. The Range Rover is one of the best luxury cars of any make, as it really does make you feel upscale, no matter how much depreciation is breathing down your neck.
The supercharged engine is the one you want, as the naturally aspirated base model lump is a little underpowered for the car's astronomical weight. I have one of these exact cars minus the supercharger, and even without a warranty, it's one of the best luxury values on the market today.
(Suggested by BenLikesCars)
---
7. 2008 Saab 9-7x
---
This Saab 9-7X was created to give the American SUV platform a bit of Swedish flair. It didn't work, but at least we got something that had the reliability and parts availability, as well as the figurative buffet of features that were present on late model GM SUVs at the time, along with a look that was a fair bit better than the hum-drum GMC Envoy.
(Suggested by BenLikesCars)
---
6. 2000 Mercedes G500
---
When you're thinking of cars that have lasting appeal, or at least a ridiculously long production line, the Mercedes-Benz G-Wagen comes to mind as the car that has changed the least while people still buy them, with good reason. This particular one is every bit as rangy as a Range Rover and is as indestructible as any other 90s flagship Mercedes. Parts might not be cheap, but this is German luxury that you can drive to the top of a mountain. You pay to play, people.
(Suggested by JayHova)
---
5. 2011 Volvo XC90
---
The Volvo XC90 may be a bit bland, but it's likely the most dependable and safest thing your family can ever drive. The interior is also quite well designed and the drivetrain, instead of an apologetic front-wheel-drive layout, drives all four wheels - just like grandpa would've wanted. It's the Family Truckster for the new millennium. Rrrrroll 'em up!
(Suggested by FromCanadaWithLove)
---
4. 2008 Jeep SRT8
---
This Jeep SRT8 is a childhood fantasy. It's basically a lifted station wagon with a huge engine that can run over anything and has enough tech in it that it can supply the inhabitants with enough stimuli to occupy them for the next several years. This truck can do 0-60 in about the same time as a '90s Porsche 911 and has heated seats. If you don't think that's fast for a family hauler that's way under budget, then I'm pleased to meet you, Mr. Koenigsegg.
(Suggested by Schep9d)
---
3. 2009 Porsche Cayenne Turbo
---
Screw the haters, I like the way this Porsche Cayenne Turbo looks. Not the abysmal, tumor-ridden base model, but the wide-mouthed Turbo version that we see here. It's aggressive and unmistakably Porsche. It's also better appointed than the first class flight you took that one time because of a very fortunate seating error, and it's faster than the fastest thing in a Hertz fleet.
(Suggested by rcasi, something-clever-here)
---
2. 1989 Laforza
---
You won't see any Laforzas like this one on the road because they're like unicorns that also have a bad case of cooties. Sure, they're fascinating to look at and drive, but may the good lord above help you if you need a body panel. Having said that, for a late 80s/early 90s SUV with enough grunt to get out of its own way, it's not bad. I'm also going to go out on a limb and say that it's the best Italian SUV ever made in production numbers that you couldn't count on one hand.

(Suggested by Fleetwood T. Brougham)
---
1. 2003 Toyota Landcruiser
---
Forget SUVs, this Toyota Landcruiser might be the best vehicle you'll ever buy. I'll let Loping Camshaft explain:
Sometimes the greatest luxury is a truck that starts every time.

This 2003 Land Cruiser is the perfect start to an expedition rig. And it's well under budget so there's lots of money left over to kit out what is commonly considered to be the best expedition capable vehicle ever sold in the US. At 108k miles, it's barely broken in. They're designed with a 25 year service life with no major failures. Yes, you can skip the extended warranty.

A few years ago, I wa perusing IH8Mud and somebody asked if the high mileage engines were having any issues. One guy said something like "when one has any problems, we'll let you know".
(Suggested by Loping Camshaft, HammerheadFistpunch)
---
Tavarish is the founder of APiDA Online and writes and makes videos about buying and selling cool cars on the internet. He owns the world's cheapest Mercedes S-Class, a graffiti-bombed Lexus, and he's the only Jalopnik author that has never driven a Miata. He also has a real name that he didn't feel was journalist-y enough so he used a pen name and this was the best he could do.
You can also follow him on Twitter and Facebook. He won't mind.