When it comes to number of cylinders, more is better. That's a fact. It's why I asked you to find the best 8-cylinder cars on eBay for less than $8,000, a feat you power-hungry lot blew out of the water. Here are the ten best cars you chose.
---
10. 1999 Ford F350 XLT Super Duty
---
There are few things in this world that will put hair in funny places like a dually pickup truck. The car might as well come with its own bar fight. It's also practical beyond measure and even though this one is a bit over budget, I want it, if only for the 7.3 liter diesel V8, 6-speed manual transmission and the fact that you can tow small planets behind it and still get decent MPG. WANT. A LOT.
(Suggested by For Sweden)
---
9. 1998 Chevrolet Camaro SS
---
G/O Media may get a commission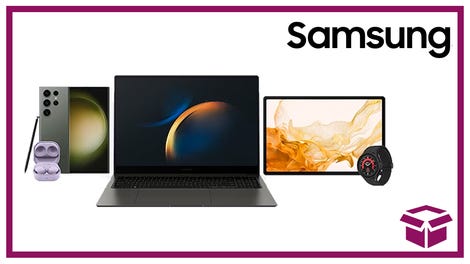 24 hour deals
Discover Samsung - Daily Deal
This Chevy Camaro SS is big, aggressive, loud, and with its enormous LS1 engine, unsurprisingly fast. I'll let Kuhachar explain:
1st: http://jalopnik.com/the-10-best-en… 2nd: Its an american car that uses mostly parts from other cars that are plentiful (read cheap and easy repairs). 3rd: 28mpg's from that 5.7L V8 4th: Lots of power. 5th: American Icon 6th: Leather interior 7th: reliable. this is big because a lot of the other cars on this list probably aren't. 8th: Its faster than most people think that it is.
(Suggested by Kuhachar)
---
8. 1962 Ford Thunderbird
---
The Ford Thunderbird is a staple in American car culture. Its elegant lines, opulent features for the time, and lumbering V8 made it an epic cruiser. This '62 hardtop model has an entirely rebuilt drivetrain with 460 ci V8, made to match the "pro touring" craze that's taken hold of the muscle car scene in recent years. I don't agree with the wheel choice, but the rest of the car seems as solid as the day it was built. A great choice for anyone who wants a vintage V8 with modern road manners.
(Suggested by damnthisburnershitsux)
---
7. Ford Panther Platform
---
We've all seen them, buzzing around airports and train stations as taxis, pulling over unsuspecting speeders as cop cars, and transporting the elderly in Florida to their weekly strip bingo extravaganza. Whether it's a Lincoln Town Car Signature Series or Ford Crown Victoria Police Interceptor, the panther platform is one of the best car values for the money, ever. It's comfortable, has a ton of power potential, and will last you through the next several iterations of human evolution without changing differential fluid. Yes, it's that good.
(Suggested by Bultaco 370)
---
6. 2004 Mercedes-Benz E500 4Matic Wagon
---
Here's an all-wheel-drive, V8 German luxury car that also happens to have one of the most pleasing shapes this side of an all-you-can-drink pass at Oktoberfest. It's also wildly practical, due to the fact that it's also a wagon, which means that now there is no reason you should not go out and buy it right this second. Seriously, go. Now.
(Suggested by clamtackler)
---
5. 2004 Pontiac GTO w/Supercharger
---
For those of you that look at this car and wonder how such an attractive car could have been made in America in the early 2000s, fret not - it was designed in Australia as a Holden Monaro. Its underpinnings are that of a Corvette, which lends to its absolutely astonishing power potential and reliability. This '04 has a supercharger, which makes a questionable amount of power on top of the already stout near-400 horsepower stock figure. This car does need some work, but for this model, it's absolutely a steal, even with any repair labor work. Get it and do all the donuts.
(Suggested by melikecars)
---
4. 1999 Mercedes-Benz SL500
---
When's the last time a car came with a removable hardtop and a softtop underneath - from the factory? That needs to come back in a big way. This 1-owner SL500 looks like the quintessential Mercedes, while giving you the dead-on reliability that made MB a force to be reckoned with in the '90s. Its 5.0 liter V8 produced a little more than 300 horsepower, and that was plenty. It wasn't a canyon carver, but an astonishing cruiser. Everyone should drive one at least once in their life.
(Suggested by Alex87f)
---
3. 1972 Cadillac Eldorado
---
In the '70s, strict emissions regulations neutered the power output of V8s. This was the decade of 6 liter engines producing less than 200 horsepower. Sweet. Fortunately, these cars are now old enough that they're emissions exempt, so any power-adders are fair game. That means that you can take cars like this boat-like Eldorado, and give it the engine output of a cruise liner. Big car plus big engine = elevensies down the block. We need more elevensies.
(Suggested by SeniorVerde, damnthisburnershitsux)
---
2. 2004 Volkswagen Phaeton
---
This is Volkswagen's 6-figure "car of the people". It's a Bentley rebadged and detuned with a smaller engine, with nearly all of the amenities of the $300,000 supercar, with enough room left in the budget to carry out any immediate maintenance that it may need. Its 4.2 liter V8 has been used by Audi for years, so parts can be found relatively reasonably. It's a great introduction to the used luxury market, if only for the sheer number of gadgets and extremely understated looks. It's a Bentley without shouting that it's a Bentley, which is exactly how it should be.
(Suggested by hexagonist)
---
1. 2003 BMW 540i/6 M-Sport
---
There's not much to say about this excellent BMW 540i/6 that I haven't said before, so I'll let AJ G. explain:
High-output, super smooth V8? Check. Chassis considered by many to be the most balanced sedan of all time? Check. Excellent 2002 amenities? Check. Oozing non-ostentatious class? Check.
For more reasons why you need to buy this awesome car right now, check this out:
(Suggested by AJ G.)
---
Still not enough for your browsing pleasure? Check out these ebay challenges:
---
Tavarish is the founder of APiDA Online and writes about buying and selling cool cars on the internet. He owns the world's cheapest Mercedes S-Class, a graffiti-bombed Lexus, and he's the only Jalopnik author that has never driven a Miata. He also has a real name that he didn't feel was journalist-y enough so he used a pen name and this was the best he could do.
You can also follow him on Twitter and Facebook. He won't mind.