We called the original 1,200-horsepower Hennessey Venom GT a "Veyron-killer" on account of its German-slaying power-to-weight ratio.
I'm sitting here with the new details and exclusive renders of the upcoming Hennessey Venom GT2, attempting to find something else it can kill. With over 1,500 horsepower and a power-to-weight ratio of 1+ bhp-per-kilogram it's now competing with spacecraft and mythical creatures. Maybe it's the Kracken-killer?
One of the first things you'll notice with the new Venom GT is the disappearance of the current Elise-like headlights for a design that incorporates the LED bulbs that are now mandatory in anything that costs more than $30,000.
Contrary to Internet banter, the Venom doesn't share as much with the Lotus that grants it windshield and doors as you might think. The amount of engineering that goes into stuffing a massive 7.0-liter twin-turbo V8 is the star attraction, and further differentiating it from the Elise is something Hennessey's wanted to do for a while.
G/O Media may get a commission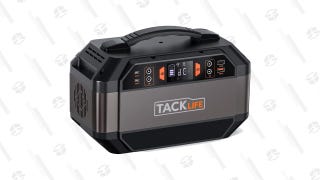 Tacklife Portable Solar Generator
Other improvements include dihedral doors (as seen on the MP4-12C) and a double bubble roof for those current or retired basketball players who might be shopping for something a little faster than their daily driver SL63.
Besides squeezing another 300 horsepower out of the V8, they'll also offer a 7-speed paddle-shifted transmission. Of course, the row-your-own option will still be available, which makes the Venom fairly unique in the supercar world.
"Venom GT2 is an evolution from our original car," Hennessey told me earlier today.
"Form follows function as we seek to improve aerodynamics as well as interior head room. Our GT2 allows room for 6 ft. 5 in. driver/passenger — 2 inches greater headroom over our standard Venom GT. Drag is reduced as Cd is lowered from 0.44 to 0.42."
More details forthcoming in the later part of 2013 (or when Andrew Bynum orders one). Hennessey also announced they're currently building their 10th Venom GT, an impressive feat given many people never thought they'd get beyond the original two.