VelociRaptor 500 is the perfect name for a Hennessey-built, supercharged, 500-HP Ford F-150 SVT Raptor. It's fast, it's scary, and it appeals to the reptilian side of your brain. Stalk! Hunt! Kill!
John Hennessey's shop in Sealy, Texas is full of insane vehicles: Chevy Camaros with LS9s, 1,200-hp Dodge Vipers, and Grand Cherokee SRT-8s that hit 60 mph in under four seconds are commonplace. They stand as testament to Hennessey's overarching philosophy: Just because something is quick doesn't mean that it can't be quicker. In this environment, a much-tweaked, balls-out version of a showroom desert racer — and a truck at that — actually seems rational.

"We make fast cars faster," says John Hennessey. "In this case, we made a slow truck faster."
It's true. The stock Raptor is great at jumping dunes and climbing steep hills, but its 5800-pound curb weight is obvious from the first stab of the throttle. According to Ford, the Raptor's 5.4-liter, 310-hp V-8 shoves the truck to 60 mph in a thoroughly ordinary 8.4 seconds (PickupTrucks.com hit 8.8). That's not horrible, but it's not great, either.
The VelociRaptor 500? The 0-to-60-mph sprint takes just 5.6 seconds. That figure is nothing to sneeze at, and it's one tenth of a second faster than that of a Porsche Cayenne GTS. The added shove comes courtesy of a large Whipple supercharger, uprated fuel injectors, a stainless steel exhaust and headers, and remapped engine management. Output is a stout 501 hp @ 5100 rpm and 520 lb-ft of torque @ 3200 rpm. (A Hennessey-provided dyno sheet can be seen below.)
G/O Media may get a commission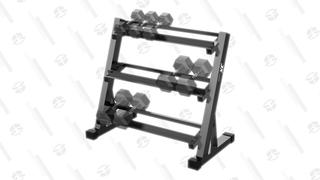 20% Off
JX Fitness Dumbbell Rack
Gains but tidy
Has a three-tier design to help store more weights more conveniently, can safely support up to 1000lbs of weight, which should be enough for most people, has a triangle base for stability, and also features anti-scratch feet which is great if you've built your own studio or workout in your garage.

In short, the only reason you'll ever get anywhere slowly in a Hennessey Raptor is because it encourages you to take every on-ramp you see and scare the solids out of everyone in sight.
Now, I may think the Astros have a shot at winning the pennant every year, but my poor judgment isn't so bad that I turn down free runs on a quarter-mile dragstrip in a freakishly huge truck. After watching John take a couple of passes, I set the Raptor to 4x4 high, revved it up to two grand, and popped off the brake. The truck leaned back on its rather significant haunches before it catapulting itself down the track with a deep, meaty growl. The feeling is akin to riding on Prince Fielder's back as he charges the mound.
Yours truly managed a record — the Hennessey guys can attest to this — 14.09-second pass in the VelociRaptor, thanks largely to a new diet (simplify your meals, add lightness) and great weather. In more capable hands, the thirteen-second barrier will probably be crossed. You can see my run below at the end of the video:

Added power aside, the Hennessey Raptor appears largely stock; a Hennessey sticker and a "Supercharged" badge are all that give the game away. (When you looks ready for the zombie apocalypse in the first place, there's little reason to add more bodywork.)
Hennessey plans to produce 100 VelociRaptors for the 2010 model year. The packages can be purchased as a mail-order kit ($10,950) or a turnkey upgrade ($14,995) installed by either Hennessey's California or Texas facility or a participating dealer. (The turnkey solution offers a one-year warranty.) Given that a Raptor starts at around $40,000, this seems like an excellent way to make an awesome truck even awesomer. Wonderfully, stupidly, awesomely ridiculous. We love it.
Thanks to John Hennessey and Hennessey Performance for inviting us out, arranging the track time, and giving us chocolate sponge cake.
VelociRaptor 500 Dyno