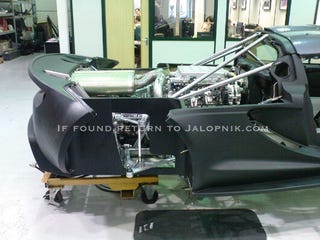 The Hennessey Venom GT concept sounds like the result of the world's greatest bet; A 1,000 HP twin-turbo LS9 V8 stuffed into the back of a 2,400-pound sports car. First photos and enticing details below.
The two parts of the equation are clear in these pictures: the wicked LS9 V8 and a car once recognizable as a Lotus Elise. Since the Lotus typically carries a Japanese fourbanger, a few minor modifications have to be made.

The initial goal for the prototype is to weigh in under 2,400 pounds with a stock or slightly modified version of the LS9 pumping out power in the range of 650-to-700 HP (hello, Bugatti Veyron). Road testing of the Venom GT begins in January — or as soon as the test driver gets a pilot's license — with the 1,000+ HP twin-turbo version following shortly after.
Keeping weight down (and preventing the Venom from biting its driver) is a set of carbon Brembos and carbon fiber wheels wrapped up in Michelin PS2 tires at each corner. With benchmarks like a sub 2.5-second 0-to-62 MPH time and a top speed closer to 300 MPH than 200 MPH, it would be hard to swallow from anyone other than the creator of the 220 MPH Twin-Turbo Viper, OnStar disturbing CTS-V, and all manner of other wild rides.
The Venom GT may make its first appearance at the Geneva Motor Show, though we're sure Swiss customs officials may want to stop the prototype for some of their own testing. More photos and information on this show/heart/time-stopper soon.