Hi there. You may find yourself on this website because you enjoy motoring and sometimes that motoring may require an open top vehicle. A Mazda Miata is a good and fine car, but it is not a BMW Z3 and thus is the inferior choice.
The Mazda Miata is a roadster. That is also the class of vehicle that the BMW Z3 occupies. The Mazda Miata, however, lacks a few things that are included in BMW.

First of which is fender vents, look at those lovely vents.
G/O Media may get a commission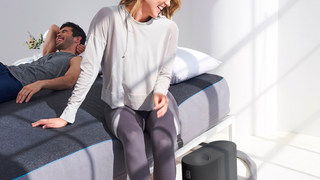 Eight Sleep Pod Cover
Those vents are not tacky or silly. They are a classy touch that indicates that this car is built for speed.
Also, the Mazda Miata has a four-cylinder engine for simplicity and lightness. Some may say this motor lacks power. This is not the case for the silky smooth inline-six that is found under the hood of the desirable BMW Z3.

You can have a choice of either an automatic transmission or a manual in both the Mazda Miata or BMW Z3, but if you choose the two-pedal option in the BMW, no one will judge you. It is a car for class and cruising, it is a roadster for stately drivers.

Lastly and most important, the BMW Z3 is available in non-convertible form, for those of us who do not care for things like wind and noise, but prefer words like shooting brake and like to motor with an air of practicality.

Now at this point, you have already angrily made a comment about Mazda reliability and how the spunky little roadster will never leave you stranded like a finicky German luxury sports car. That is hogwash, the Mazda Miata is meant to be a classic roadster in the same vein as those old British drop tops. How are you going to emulate that experience without constant wrenching?

The BMW Z3: it is the roadster for you.