Everyone's favorite ponytail-ed Ford designer Camilo Pardo has teamed up with the twin-turboizing folks at Heffner Performance for a very special edition of the already special Ford GT. The Camilo Pardo Special Edition includes the typical Heffner Performance twin-turbo kit good for 900 HP and a 150 MPH quarter-mile speed. The differences come with the subtle interior and exterior tweaks that Pardo designed for the car, including concept-style rear bumper and aluminum seat grommets. Full details below.

G/O Media may get a commission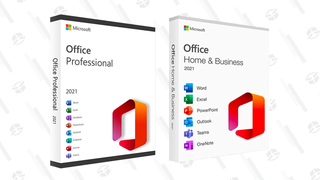 89% off
Microsoft Office Professional 2021 Lifetime License
Heffner Performance and Camilo Pardo team for Special Edition Ford GT Heffner Performance is a name that has become synonymous with ultra high performance exotic car tuning. Having already successfully modified Ford GT and Lamborghini Gallardo's for added performance, the team at Heffner Performance looked to expand their range by teaming with world reknowned artist and Ford GT chief designer Camilo Pardo for a special edition Ford GT. The combination of these two unique talents has provided for one of the most desirable Ford GT supercars ever produced. Camilo Pardo had met Jason Heffner in 2006 when Heffner Performance modified Camilo's first GT, an all-white 2005. Having had the chance to drive one of the initial twin turbo GT cars, Camilo immediately qualified it as "the baddest GT I've ever been in." It was only a matter of time before they began discussing a collaborative effort, as each sought to take the GT to another level of performance and design quality. The Heffner Twin Turbo system for the Ford GT is already proven on the street, as well as the track. Whille the car retains all its stock driveability, performance was shown to be otherworldly at the inaugural Car and Driver 0-200-0 shootout. Making over 900hp, the system has proven to obtain 200 mph from stop in under 19 seconds, clocking over 150 mph in the quarter mile. One of the few outside vehicles to ever see the inside of the Ford proving grounds in Dearborn, MI, the Heffner Twin Turbo was an instant hit with many of the team who engineered the original supercar. The essentials have remained the same for the Camilo Edition, but this special edition features an all new, Camilo-designed billet aluminum intake. The car features a number of key aesthetic improvements the designer had wanted to include from the factory including Unique Roundel and Number Graphics Heritage racing-inspired paintjob Flat black BBS wheels Concept-Style rear bumper treatment from Classic Design Concepts Black-lip mirrors Aluminum seat grommets Chrome Shift ball Lasercut door trim rings from OEM supplier Quality Metalcraft Wide-shaft shiter Wrinkle black valve covers Flat black gas cap and door latches T&A Shocks lowering Polished exhaust tips Brembo caliper graphics These represent subtle modifications that Camilo Pardo felt could transform the car with a more futuristic, race-inspired look. By any measure, the artistic talents of Camilo have taken this car to another level. It is a striking vehicle on the road, retaining the grace of the Ford GT but with an intensity that screams out for speed. The Camilo Edition Heffner Performance TT GT also includes a Setrab transmission cooler for additional performance enhacnement. The project was a true collaborative effort by leaders in their respective fields. The car was sold only moments after it was revealed at the Ford GT National Rally III to a GT owner that decided, though he already had 4, he absolutely had to have it. At this time, Camilo and Heffner are looking forward to the chance at collaborating on another successful and exciting project.
[Source: Heffner Performance]