That pile of junk you see in the picture above doesn't have the original powertrain, looks like it got bashed in the face with a large hammer, and will require a total restoration. But that doesn't matter, because this thing was an iconic British race car, so that makes it worth a lot of money.
Rarity, pedigree and "soul" are the names of the game when it comes to assessing coveted classic car value. And this Costin-Nathan Works prototype has very large check marks through those three boxes—hence why it just fetched £71,000, or about $92,000, at the Chateau Impney Hillclimb sale.
Sold by H&H classics today, the Costin-Nathan Works prototype sat in a garage for 45 years, and is clearly in very rough shape. Here's a picture showing the rotting carcass on the showroom floor:
G/O Media may get a commission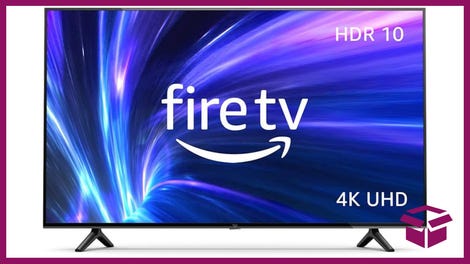 42% Off
Amazon Fire TV 50" 4K Smart TV
H&H expected the car to fetch between £25,000 - £30,000, so whoever bought this thing must have really wanted it.
I can sort of see why, as this car was originally designed by legendary Lotus engineer and aerodynamicist Frank Costin with the help of famous Lotus racer Roger Nathan.
The first prototype appeared in January 1966, and featured a plywood (yes, plywood) unibody construction with steel tubular cradles on either end. Propelling that lightweight structure was a puny 998cc Hillman Imp engine, which only made about 100 horses.
But that's okay, though, because the Hillman Imp engine, an aluminum unit, is legendary for its lightweight design. In fact, the entire Costin-Nathan prototype for sale here weighed only 700 pounds in complete form, and it even had fancy features like fully independent suspension, disc brakes and magnesium alloy wheels.
Here's a bit more history on the car from H&H:
Clothed in aluminium where its later production siblings used fibreglass, the Works Prototype achieved considerable success with Roger Nathan behind the wheel. Initially configured as a Spider, it recorded five class wins and a second-in-class during 1966; the undoubted highlight of which was Nathan's victory in the Coupe de Paris on 25th September ahead of fierce Fiat-Abarth Works opposition.

Keen to raise funds and with an entry for the Le Mans 24-hours already in his sights, Nathan sold the Works Prototype to G.M. Horsley on 6th January 1967. The latter engaged the services of Chris Meek as a driver, installed a more powerful Lotus Twin-Cam engine and had the bodywork updated by Nathan to enclosed GT specification. However, various teething problems and some bad luck meant that the Works Prototype was never as successful in its revamped guise; Chris Meek scoring but one further class win at Snetterton during 1967.



Retired after a few frustrating seasons, the Costin-Nathan remained in G.M. Horsley's care and was left to slumber for almost half a century until being released by his estate. A unique proposition that if properly restored would be welcome at some of the world's most prestigious historic race meetings, the Works Prototype is now coming to market for the first time in forty-nine years!

So yeah, even though it looks fit for a junkyard, it's still a one of a kind legendary British race car designed by two legends.