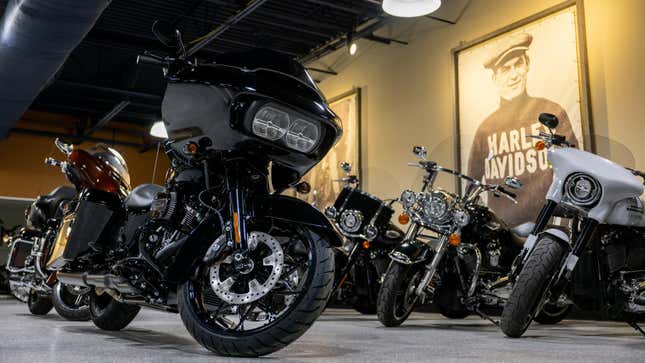 Harley-Davidson, which makes heavy motorcycles that cost as much as cars, among other vehicles, reported its first-quarter earnings last week, and made more money than Wall Street expected but also, worryingly, said that sales in North America were down 17 percent. Harley also said that its "credit loss rate" was higher than normal, meaning that it encountered some trouble repossessing motorcycles of owners who fell behind on payments. They attributed that, in part, to a shortage of repo agents, but a story Wednesday in The Wall Street Journal suggests another contributing factor: that repossessing a Harley from an owner who may or may not be cooperative sounds like a pain in the ass.

We're Driving the 2024 Integra Type S, What Do You Want to Know?
The "credit loss rate" for Harley in the first quarter of 2023 was 3.2 percent, or up from 2 percent, which the WSJ says is more normal for Harley. A spokesman for Harley explained that the rate tends to go up in the winter, because, apparently, it's common for motorcycle owners to make fewer payments in months when the weather is not conducive to riding. Another factor is the "declining residual values" of motorcycles in general, which is another way of saying that new Harleys are losing more value when you ride them off the lot than they were before.
More interesting are the stories on the ground from repo agents trying to repossess a Harley. The job is more complicated than repossessing a car for non-payment of a loan, because many Harley owners treat their Harleys as one might treat one's own children, or at least a beloved pet, kept in the garage and zealously guarded.
[Vaughn Clemmons, who is president of Automobile Recovery Bureau in Houston and head of the American Recovery Association] said the pandemic prompted some of his colleagues to put their tow trucks to less stressful and more profitable use, such as roadside assistance.

"Who wants to back up in a driveway at 3 a.m. and get shot at?" he said. "You can make the same money doing something else."

[...]

Motorcycles are harder to recover because riders typically keep them in the garage, meaning a repo man must leave his truck, knock on the debtor's door and ask for the bike's return.

Those situations don't always go smoothly, said Jeremy Cross, owner of International Recovery Systems in suburban Philadelphia.

"Have you met some of the people who ride motorcycles?" he said. "They care more about their motorcycles than their work trucks or their family vans."

Mr. Clemmons said one memorable case came when a Harley rider he had pursued for months finally agreed to give up his bike.

"We get to the guy's house, and it was in 3,000 pieces," Mr. Clemmons said. "It took us 2 ½ hours to get all those pieces cataloged and delivered back to the lot."
I believe it was Oscar Wilde who said that "each man kills the thing he loves," and Oscar Wilde was definitely thinking of men and their Harley-Davidsons when he said it.