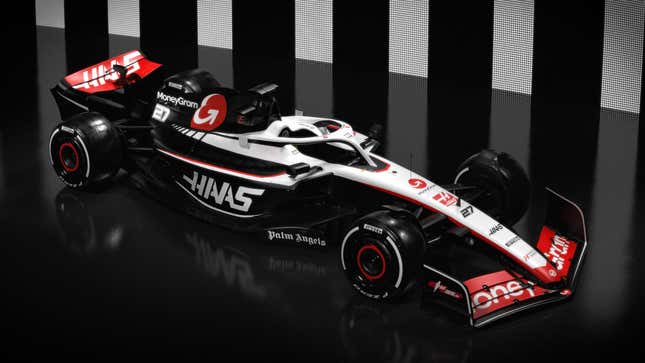 The Haas F1 Team has unveiled its livery ahead of the 2023 Formula 1 season. While the American team has clarified that the digital model isn't a full representation of its car for the upcoming season, it does offer the first chance to see MoneyGram logos prominently featured on its livery. MoneyGram, a money transfer company, entered a multi-year title sponsorship agreement with Haas last October. The deal is believed to take Haas' budget up to F1's $135 million cost cap, which has raised questions about Haas' close relationship with Ferrari.
Since the American team joined F1 in 2016, it has had a close technical partnership with Scuderia Ferrari. Haas designs its car using aerodynamic data from and around components provided by Ferrari. However, Haas doesn't think it is necessary to start moving aspects of development and production in-house yet.
Guenther Steiner, Haas team principal, told Autosport:
"At the moment, whatever we have got, we invest in the car. There is nothing that you want to do outside at the moment. The system we have got, we just want to stabilise it and just make sure that we use everything to make the car go quick, nothing else."

"We are not focusing on other stuff, [saying] 'oh we want to do this ourselves' - no. Let's stabilise how we do it now, and then if we want to change something, change it after, because otherwise if you try to do too much, we trip over."

"At the moment, we stick with the model, get the best out of it. If we can find savings or better investments within the budget cap by doing parts ourselves, then we do that afterwards. But not straightaway."
While Haas isn't planning on making changes to how it operates at this time, the team will have a different driver pairing for 2023. Kevin Magnussen retains his seat and Nico Hulkenberg joins the team, replacing Mick Schumacher. The American F1 team is looking to improve on its eighth-place finish in the 2022 F1 World Constructors' Championship.