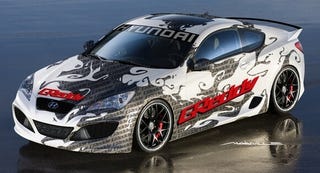 GReddy's developed a showcase 2.0T Hyundai Genesis Coupe for the upcoming SEMA show chock full of goodies including custom bodywork and paint, suspension bits, but most importantly, a bigger intercooler, cat-back exhaust. It'll need it to hit its 500HP goal.
As the faint report of the SEMA crazy train whistles in the distance, every tuner in the universe is coming out with their version of the next best thing, GReddy seems to be throwing everything at the Genesis Coupe this year, which was something of an unofficial darling of last years show, right up there with Nissan GT-R and Dodge Challenger. This car tarts things up with a de riguer body kit with a new front fascia and splitter, rear spoiler, side skirts, look-at-me paintjob and loud graphics, intercooler, cat-back exhaust, "racing" downpipe, an adjustable coil-over suspension and six-piston front, four-piston rear brakes.
The car coming to SEMA will have a mere 350 HP and 320 lb-ft of torque, 0-60 MPH is in the sub six second range, but the team at GReddy plan to add more goodies after the show and shoot for a lunatic-fringe 500 HP. Remember, this is a 2.0 liter turbo four pot making Corvette Z06-like horsepower.
GREDDY TO DEBUT PERFORMANCE PARTS FOR HYUNDAI GENESIS COUPE

Genesis Coupe Customized by GReddy to be Featured at SEMA Show 2009

FOUNTAIN VALLEY, Calif., Oct. 6, 2009 – To enhance the tunability of its most dynamic performance car ever, Hyundai has teamed up with GReddy Performance Parts to manufacture products for the Hyundai Genesis Coupe. These high-performance parts will be displayed on the "GReddy X-Gen Street Genesis Coupe" show car at SEMA 2009. The vehicle from GReddy is designed for the enthusiast looking to make modifications for daily driving or a weekend at the track. All of the GReddy parts designed for the Genesis Coupe are planned to be released as a production kit and available for enthusiasts everywhere. The vehicle will be on display at the Hyundai booth at the SEMA Show in the Las Vegas Convention Center from Nov. 3 – Nov. 6, 2009 (Booth # 24387).

The Hyundai Genesis Coupe 2.0T will follow the GReddy Total Tune-Up theme that will not only increase the performance of the engine, but also improve handling and braking. The finished car will blend reliable street performance with a powerful driving experience. The initial performance targets of the GReddy-powered Genesis Coupe will be 350 horsepower and 320 ft/lbs of torque with a 0-60 time under six seconds. Following SEMA, GReddy plans to make additional engine modifications, pushing horsepower to nearly 500.

"The Hyundai Genesis Coupe is a perfect car for the automotive enthusiast and the GReddy products are designed to maximize the performance capabilities of the vehicle," said Kenji Sumino, general manager, GReddy Performance Parts. "The Genesis Coupe is the ideal car for SEMA and we are building upon the overall concepts originally designed by Hyundai engineers and are looking forward to developing a must-see car at this year's SEMA Show."

Mechanically, GReddy plans to include a GReddy Performance Products Turbo Upgrade Kit, large front-mounted intercooler kit, a SE Spectrum Elite cat-back exhaust system, MX racing downpipe, Type-S fully adjustable coil-over suspension and numerous other modifications. The vehicle will also feature GReddy six-piston front and four-piston rear brake calipers.

"The performance parts from GReddy allow enthusiasts to capitalize on the rear-wheel drive Genesis platform," said Michael Deitz, manager, product development, Hyundai Motor America. "The modifications made by GReddy to the Genesis Coupe 2.0T will highlight the performance capabilities of the vehicle that can be achieved in a real-world setting."

Styling modifications to the GReddy Genesis Coupe will include an Aero lip spoiler, carbon fiber hood, aggressive rear spoiler, Volk Racing G2 wheels and Toyo performance tires. The unique vehicle graphics will be designed and completed in collaboration with artists from Hyundai's North American Design Center in Irvine, Calif. Inside, SEMA Show attendees will find Sparco racing seats, modified gauges, boost controller and a turbo timer as well as a remote switching system.