Goodyear Tire & Rubber Co. could face a $105 million fine if it failed to properly report crashes to federal regulators that involve a RV tire linked to nearly 100 injuries and deaths, the National Highway Traffic Safety Administration's interim chief, Heidi King, told Congress last month.
In a June 12 letter to the U.S. House subcommittee on digital commerce and consumer protection, King also put to rest a question that NHTSA left unanswered when it announced an investigation earlier this year into complaints that the tire, Goodyear's G159, was "not designed for extended use at highway speeds as would be experienced during motor home operation."
NHTSA explained that it wasn't obligated to report some of the crashes as stipulated under federal law, at the time the probe was announced. That's because of a small technicality with federal law, King said in her letter. But records show Goodyear nonetheless still appears to have underreported the total number of crashes.

The tire manufacturer has been facing increased scrutiny over the G159 tires, which were manufactured between 1996 and 2003. An estimated 40,000 ended up on RVs, and the tire failed on as many as one-in-10 motorhomes—a failure rate that surpasses the infamous Firestone tires of the 1990s.

G/O Media may get a commission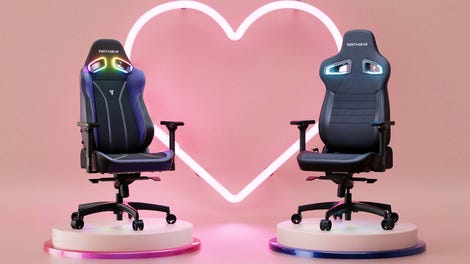 Up to $150 off
Vertagear Gaming Chairs
At least 41 lawsuits have been filed over crashes involving the tire, alleging the G159 was prone to heat-induced failure when used at highway speeds. Goodyear increased the G159's speed rating from 65 to 75 mph in the late 1990s, even though its own tests showed it wouldn't have satisfied internal standards for qualifying at that speed. Following the change in 1998, failure claims increased rapidly, records show.
Goodyear has disclosed in court that it received several hundred property damage claims related to G159 failure claims, along with 98 injury and death claims. No recall has ever been issued, and the company denies the safety defect allegations.
King's letter came in response to questions from members of the subcommittee following a Feb. 14 hearing on the oversight of NHTSA. In particular, U.S. Rep. Jan Schakowsky, a Democrat from Illinois, asked if NHTSA is investigating whether "Goodyear improperly concealed any critical safety data from the agency."

King explained that one of the reasons NHTSA launched its investigation is due to "concerns about the data Goodyear submitted to NHTSA."
"Goodyear was required to report some of the death and injury incidents under the TREAD Act early warning regulations," King said, referencing the law Congress passed in response to the Firestone tire scandal of the early aughts.
The problem, King said, is that Goodyear received some of the injury and death claims before the TREAD Act had been implemented.
"Goodyear's obligation to report death and injury claims related to the G159 tire under the 'Early Warning' requirements of 49 CFR Part 579 began in the second quarter of 2003 and only covered a small portion of the G159 claims," she said.
Still, King went on, the Early Warning requirements mandated that Goodyear report death or personal injury claims "in a tire manufactured during the same year the report is due and the four prior production years."
For the G159, that clock started running in the first quarter of 1999.
Under the Early Warning requirements, NHTSA says, Goodyear reported nine crashes linked to 13 injuries and one fatality. But records show that, between 1999 and 2002, Goodyear already had 36 injury and death claims on file for G159-related crashes.
Goodyear didn't respond to a request for comment.
"If our investigation reveals Goodyear failed to report information required by law," King said, "NHTSA may demand that Goodyear pay a civil penalty of $21,000 per violation up to a maximum of $105,000,000 for a related series of violations."
Public Has 'Strong Interest' In Access To Safety Info
That's not the only discrepancy NHTSA is trying to better understand, King told lawmakers.
In 2006, NHTSA asked Goodyear to submit data on the G159 for an investigation into Toyo-made tires that had failed on motorhomes. Goodyear represented to the agency that it only knew of seven injuries stemming from G159 failures, despite having received 74 death and injury claims by then.
The company also told NHTSA that it only had 58 failure reports in total over the G159, even though it knew of 458 crown separations, according to a letter submitted to the agency by attorney David Kurtz, who has an ongoing G159-related case against Goodyear.
When NHTSA announced its investigation earlier this year, the agency explained that tire failure data had been "sealed under protective orders and confidential settlement agreements, precluding claimants from submitting it to NHTSA." In the 41 lawsuits related to the G159, Goodyear has settled all but one.
The agency received the failure data only after Kurtz obtained a court order in the summer of 2017 authorizing him to send the records to NHTSA.
Even so, King noted to lawmakers, Goodyear was required under law to report those accidents to regulators.
"Yes, these are the type of incidents that are required for reporting to NHTSA," King said.
NHTSA has yet to respond to Freedom of Information Act requests for G159-related records from industry watchdog Center for Auto Safety and Jalopnik. Part of the reason is that Goodyear requested confidential treatment of the information submitted to the agency by Kurtz.
NHTSA denied the request, King said, but Goodyear filed an administrative appeal of the decision on April 3.
"Because the information sought by the Center for Auto Safety is the information at issue in that appeal, the FOIA request will be processed once a final determination is made on the request for confidential treatment," she said.
Court records show that Goodyear withdrew that appeal earlier this month. NHTSA didn't immediately respond to a request for comment on whether a final determination on the G159 records has been made and when those records will be released.
"We agree that the public has a strong interest in having access to safety information," King said.