I flew across the pond to wear a bowtie, pretend it's 1950, and ride some new bikes that look a whole lot like old ones. They're from a company called Royal Enfield, and they happen to be fantastic.
(Full Disclosure: Royal Enfield wanted us to ride the Continental GT so badly, they flew us out to the Goodwood Revivial, made us dress up like hipsters, and gave us tea and crumpets to our heart's desire.)
Who is Royal Enfield? A British motorcycling firm with roots all the way back to 1893.
Where have they been all this time?
They never went away, they just shifted target markets and product offerings. Royal Enfield has been HIGHLY successful in the markets that other OEMS are just now getting around to target, namely India and Southeast Asia. This differs from Norton, whose revival attempt involved pumping out press releases instead of production bikes.
G/O Media may get a commission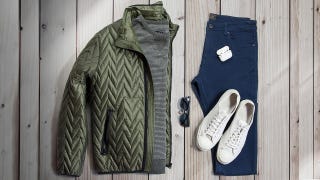 60% off
Jachs NY Fall Sale 60% Off
This is not a twee little motorcycle company rekindling craftsmanship and artisanal camping trips. This is a 450,000 unit sales OEM. One of the top 50 brands in all of India, and one of the most profitable OEMs cars or motorcycles. With an average customer age of 28 when the rest of the world is dealing with a customer base hovering around their mid-60s, they're on a bit of a roll.


Wait, really? How?
Rudy Singh, President, spoke of accessibility and aspiration. Their approach to motorcycles is less telling you what to buy and how to look, but offering a blank slate to do more riding. Balance, simplicity, and analog are spoken not as marketing speak, but as a holistic approach to design and development. This is where Eastern culture meets Western, and capitalist chakras align.
This goes all the way to distribution and dealers. Not huge mega malls, personal boutiques. Not broad sweeping proclamations, but targeting regions cities at a time, and staying there.
The results have been putting more people on bikes that otherwise would have shied away.
So what's the bike?
Royal Enfield's marquee bike is the Bullet. Developed in 1949, it featured a revolutionary swingarm suspension for trials use. Rugged, easy to fix, and modifiable, success would grow from racetracks to jungles the world over. What started at 350cc, got punched up to 500cc, and continuous improvements have been made since 1962.

But do they ride like they're old?
I rode Royal Enfield's Continental GT. Introduced two years ago, it's their latest version in addition to their Classic and standard Bullet.
Punched up to 535cc over the rest of the ranges 500cc, it offers slightly more power at 29.1hp.
It has clip-ons, rear sets, new seat, and more importantly a double cradle frame from Harris performance, and more aggressive rubber than a Bonneville, which is nice.
It's modern in the fact that it has EFI, disc brakes, starts up every time, and was built this year. It's vintage in the fact that it flexes, and shimmies, and it vibrates and has a personality familiar to people that ride vintage bikes today.
The suspension has a significant amount of dive under braking. The rear is surprisingly stiff, but the brakes are pleasantly strong.
The motor is a thumper and vibrates to the same degree that a mid capacity dirtbike does. It makes power... somewhere. The speedo says you can do 100, but the only time I did the ton in England was in the rental Toyota Station wagon.
And yet, for all these spec drawbacks, it's very fun. Think less mini-Bonneville and more larger Grom in retro clothes. Power-wise, it's around a DR-Z in delivery, and Ninja 250 in thrust.
The key to it's success is that everything is on the same level and balance, unlike the woefully heavy and underbraked Bonneville.
Is it fast enough for American roads?
Yes, if you're in an urban area and don't plan to tour. The highway is manageable, but anything above 70 becomes a touch of a chore.
Is it hard to kickstart?
Hell no. Last time I tried to kickstart something, it was an Ironhead sportster and nearly took my tibia out. Before that, an out of tune DR350 in the woods of Oregon, hungover and in full bitch fit.
I am not good at kick starting things.
Although the RE is electric start, you could easily go hero status at the coffee shop and get her ticked over in 1 to two kicks, unlike the vintage models.
What does it compete with?
Nothing really. Maybe a Bonneville, but it is a price class below at $5,999. Definitely not a Ducati Scrambler. Maybe a Grom, but its one price class above. Then there's the Yamaha SR400, but that thing is so bad, not even Sean is willing to ride one.
If anything RE may be right in that they are the option to get new motorcyclists minted. One example is in Bangalore, India - a tech heavy, young city. In an era of think pieces and nostalgia for drive-ins and poodle skirts, RE is showing that young people still want bikes. And are pulling the populace away from computers and onto the seat.
If anything it's a Grom you can ride on the highway. A spec sheet light, exceedingly fun motorcycle. Not a pouty Beckham wannabe bike, not an overly manly codpiece; just a fun bike to ride.
It has evolved only enough to keep things simple and fun. They have an adv bike on the horizon, and will approach these new segments with the same approach - simple, analog, and the antithesis to complexity.
But threats are over the horizon. Everyone is targeting India. Everyone is heading for the midsize class. A brand with traditional product offering is facing an onslaught from a digital counterpart from foreign lands. KTM, Triumph, Harley Davidson, and everybody else all have India in their sights.
If anything, it's exactly the same situation Royal Enfield faced in England in the 60s. Time will tell if history repeats itself.
Photos: Bree Poland and Royal Enfield
Joseph Gustafson is Lanesplitter's most loudmouthed contributor. His mouth is much faster than his riding acumen. He enjoys taking long rides on the road, short rides on the dirt, and finding new ways to use the term "voracious" in a sentence. Follow him on Instagram and Twitter as he butchers welding and words in the pursuit for hashtag glory.