Welcome to Little Car in the Big City, where I highlight fascinating cars I found walking around a town that is known for being bigger than everything else, but where every car is fighting to stand out: New York, New York.
Despite the absurdity of having a big old truck in the middle of urbanized Brooklyn, this is somehow the second International Harvester Scout we've seen here on LCBC. You would think that the city landscape would be dotted with old small classics like original Minis and Nash Metropolitans.
Mais non.
As we established last time, you forget that like the spirit of iron that rules throughout Philadelphia, so must the spirit of irony rule throughout Brooklyn. So a small city car that would be perfect for navigating tight traffic and tiny streets?
G/O Media may get a commission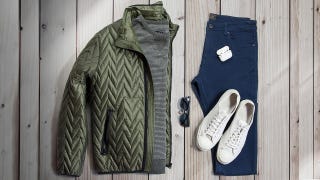 60% off
Jachs NY Fall Sale 60% Off
Fuhgeddaboutit.
This particularly pretty red example, with its contrasting white roof and shiny accoutrements, is in relatively stunning condition. At least if you compare it to the last Scout we saw. Which is surprising, as this one is technically the older car.
That orange rustbucket was a Scout II, which was built from 1971 to 1980. The original Scout was made from 1960 to 1971, first known as the Scout 80, and then later known as the Scout 800, because adding an extra zero lets people know you've upgraded the engine, somehow.
Both examples of the Scout make me whistle, though, for the older style of cheap truck. The closest thing around today is the venerable Jeep Wrangler, which starts at $22,395. And while that's not exactly Rolls-Royce money, it's not exactly dirt cheap, either.
If you want an idea of dirt cheap, consider this: the International Scout "Doll Up" version featured a headliner, door panels, and carpet. All dolled up, indeed.