It's fair to say that in spite of its impressive technology, the Chevrolet Volt hasn't exactly set the world on fire. But General Motors says they'll get it right with the next Volt and another electric car in the pipeline, which have one goal: to break Tesla Motors once and for all.
Bloomberg Businessweek recently nailed an exclusive scoop with outgoing GM CEO Dan Akerson, who offered up some details on the next Volt as well as another upcoming purely electric vehicle. In short, the latter will have a 200 mile range, with a gasoline generator like the current Volt has, and a price tag of just $30,000, out by 2016. That would quite a drop from the current Volt, which already had its price slashed to about $35,000 but usually stickers in at more than $40,000.
Here's the full version:
Although GM has hinted that it's working on a next generation of electric vehicle, Akerson says it's aiming for a compact car that can go 200 miles on a charge and carry a generator, too. While it will be similar to the Volt, engineers are working on generators that could run on gas, diesel, or natural gas. The increased electric range is coming, in part, from advances in battery chemistry. GM is planning to bring the model out in 2016, for about $30,000, according to a person familiar with the idea who asked not to be named because the plans aren't public.

It's a project that the company doesn't want to say much about but signifies how it's been trying to move past inventing things to putting inventions into showrooms. "We want it to be a moon shot so we can surprise the competition," Akerson says.
That competition would almost certainly be Tesla, whose Model S is pretty much the electric car to have right now. While the Volt has a range advantage because it can use gasoline when necessary, its sales haven't really been outstanding as of late. And though the Volt has been around since 2010 now, you almost never hear about anymore, from GM or anyone else.
Remember, Tesla is also working on bringing the Model E sedan to market by 2016, and they say they aim for that car to have a 200 mile electric range with a price tag in the $40,000 ballpark.
G/O Media may get a commission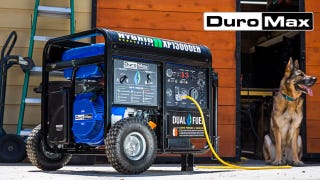 Black Friday Sale
DuroMax Generator Sale
In the interview Akerson all but directly admits that Tesla has blown past them and that the Volt isn't the hit they wanted it to be.
While the Chevy Volt technology is perfectly engineered for most drivers—who, after all, can drive as far as they want—Akerson concedes that GM has failed to change the conversation about electric vehicles. "I'll take the hit for that," he says. As Tesla's market value began gaining ground earlier this year, heading past $12 billion, Akerson took note. A special team was set up to study how Tesla might disrupt the industry.
Emphasis mine. Watch out, Tesla! A "special team" from GM is gunning for you!
Meanwhile, Anton Wahlman over at The Street was quick to call BS on the idea of a 200-mile, $30,000 GM car that still uses a generator. He doesn't think GM, or really anyone else, has the technology to make that setup work at the moment, and that the current Volt's real problem is that it's currently too small for families.
I find this scenario to be extremely unlikely. If GM does indeed have a 200 mile electric car for 2016, it wouldn't come with a generator. And for the price to be $30,000, even without a generator, the cost of batteries would have to decline by 90% in one generation.

In other words, short of a "nuclear power" type of moon-shot that is actually field-proven by now, none of this stuff will happen by 2016. Not 2017, either. There is an extreme outside chance it could happen by 2018, though. Unlikely, but not impossible.
Emphasis mine again. Whitman says that a 90 percent reduction in battery costs is more likely to happen in 10 or 15 years, not by 2016. He does say that if it turns out to be true, Tesla's share of the market "would likely collapse," but I don't think that would be the case. I see a lot of tech-minded buyers sticking with the upstart Tesla over GM, especially ones who can afford an electric car as a second vehicle.
Either way, GM seems to be serious about the electric game. I'd love to know if Tesla feels threatened or not.