A newly-unemployed GM engineer found a creative way to spend his government-funded buyout check and new-found free time, investing both into a whole new kind of horsepower. Meet the "Pleasuring Pony" and yes, it's a ready-for-Hung sex toy.
The seat of the "Pleasuring Pony" is designed to allow you to mount a flanged base dildo to the thrusting slide, sit down in a seating position on the stable padded seat and rock your lower body back and forth, and ride it like there's no tomorrow.
Unlike a car, there's no motor to maintain, control, or breakdown. We're even told
"the adjustable thrust depth control allows you to hit the spot every time, and if you orgasm to quick or want more, there's no refractory time required."
G/O Media may get a commission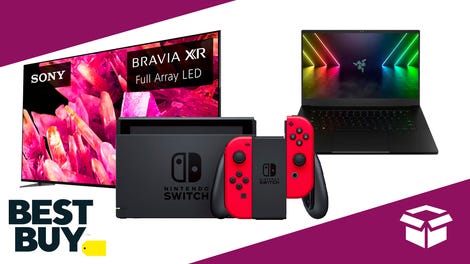 Three Day Sale!
Best Buy - 3-Day Sale
How exciting.
The Pleasuring Pony folks continue:
"The design of the Pleasuring Pony is functional yet modern and the appearance and finish is of fine furniture, each Pleasuring Pony is hand built to order in Brighton, Michigan. Components are produced in the good old USA, and made of high quality materials and finished with 2 coats of durable high gloss black epoxy paint. The cross members are made from hard Maple and coated with a polyurethane finish. The fasteners are zinc plated for corrosion protection. The seats are vinyl covered with foam padding and available in red or black or other patterns on request."
Order one today for just $598.50 at Royal Oak, MI's Noir Leather or at PleasuringPony.com.