This is The Morning Shift, our one-stop daily roundup of all the auto news that's actually important — all in one place at 9:30 AM. Or, you could spend all day waiting for other sites to parse it out to you one story at a time. Isn't your time more important?
1st Gear: Yes, Profits Of $125 Million Are Worth Bragging ABout
As odd as it may sound, when I was originally writing this up I thought I'd end up writing a "GM wasn't profitable" post. And yet, GM eked out a $125 million profit, beating out most estimates as Melissa Burden reports.
Basically, they got hit with a mix of shizz including devalued Venezuelan currency, restructuring costs, a loss of $284 million in Europe, and about $1.3 billion for all their recalls.
G/O Media may get a commission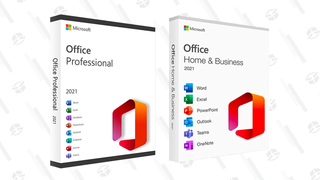 89% off
Microsoft Office Professional 2021 Lifetime License
So after all of that, making any money means something.
2nd Gear: Blame The Old School Railroad
This report from the WSJ points out something you may have overlooked in considering the new car market. Specifically, the way in which many new cars get to their market: Railroads.
And while car sales and car production is up, the production of the rail auto carriers needed to move those cars never recovered from the Carpocalaypse. That, tied to bad weather over the winter, has delayed everything.
The Association of American Railroads said the current number of finished automobiles on the ground awaiting rail transport is 158,138—more than two times the industry's target number of 69,312. At the beginning of April, the inventory was more than 182,000.

Auto makers expect the rail traffic to smooth out as the weather improves, and two railroads expect their traffic problems to ease in the second quarter. Still, "we think it's going to be early summer, maybe past that, before we really work past all this," Mr. Manns said.
3rd Gear: Hyundai, Not Quite As Good As GM
Unlike GM, Hyundai was below analyst estimates at $1.86 billion for their first quarter.
What's going on? As Reuters points out, US. sales were weaker than hoped, although things are looking up in China.
The other big issue? The won is up, again, causing the price of exports to become more expensive and lower the amount of cash they're bringing in.
4th Gear: Chrysler And Fiat's IT Merging Into One
It's probably something you've never thought about, but when two car companies merge you've got the tiny issue of all the computers potentially running on different systems.
It turns out that Chrysler and Fiat (and CNH Industrial) all are doing their own thing, so IBM was brought in to make all their systems sing in harmony.
"Combining Chrysler and Fiat's IT infrastructure services into a global capability is a critical step in our journey to building a powerful and agile global operation that supports our company's growth strategy," said Scott Sandschafer, Chrysler's CIO.

IBM said that, as a result of the integration of their business processes and applications, Fiat and Chrysler will be able to better coordinate their combined dealer networks, collaborate on vehicle design, and share global resources.
Now if only they can get Sergio to stop using a Blackberry.
5th Gear: Swan Racing Is Dead For Now
Surprising few people who have been paying attention, Swan Racing's two-car Sprint Cup team will be a zero-car team with Cole Whitt going over to BK racing and taking his car with him. The No. 30, i.e. Parker's car, is going to XxxTreme Motorsports and will be driven by J.J. Yeley.
Here's NBCSports on Parker's prospects:
Davis added in his statement that other organizations have shown interest in Kligerman.

"We are encouraged by the response we have received from interested parties. Parker continues to be one of the most talented young drivers in NASCAR," Davis said. "He brought this racing team one of its strongest results in his first race with us, and we are certain of his success in the future."
So, bad news if you want to see Parker racing this weekend. Good news if you want to read more of his stuff.
Reverse: Racing Is Dangerous
On this day in 1983, Rolf Stommelen, a four-time 24 Hours of Daytona champ as well as a Formula One driver, is killed at the age of 39 in a crash at California's Riverside International Raceway.
[HISTORY]
Neutral: Will GM Rebound Next Quarter?
Or is it only getting worse?
Photo Credit: Getty Images