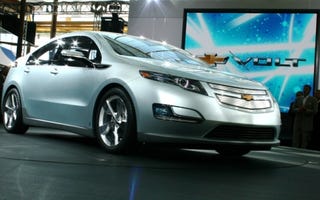 GM's announced due to the Carpocalypse, it will halt construction on the new 552,000 square foot Flint Engine Plant responsible for the 1.4-liter inline four destined for the Chevy Volt and Chevy Cruze.
Back in September GM announced it would construct an all-new plant in Flint, Michigan to produce the 1.4 liter direct injection inline four cylinder engine planned to act as a generator in the Chevy Volt and main power in the Chevy Cruze.
GM Spokeswoman Sharon Basel would not say when construction might resume if government loans are made available, but asserted there is time in both programs to accommodate the delay, and GM currently builds the engine in Austria, so they "...have lots of options. The construction of the new plant is not going to interrupt our plans for the Volt or Cruze."
Due to a tightening cash situation GM is immediately halting construction of the plant in an effort to stay afloat over the sea of bankruptcy. A delay in the production timing for both the Cruze and Volt so far have not been similarly delayed. Construction will resume as soon as GM is in a cash position which will allow them to buy important stuff like girders and concrete. [MSNBC]