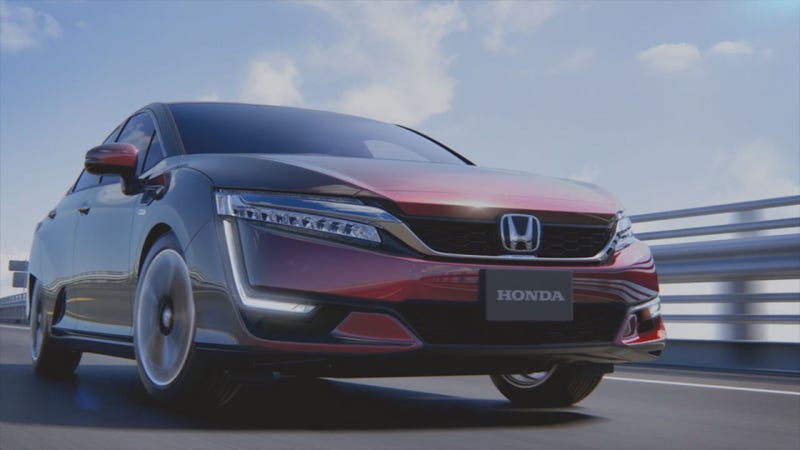 General Motors and Honda are partnering up in an $85 million joint venture to mass-produce cheaper, smaller hydrogen fuel cells in Michigan—fuel cells expected to make their way into the two companies' future products. More importantly, the two companies say they're working towards fixing that critical "infrastructure" issue.

Hydrogen fuel cells have been around for so long, and yet they've never caught on. Still, Honda and GM aren't giving up. Today, the two companies announced the creation of Fuel Cell System Manufacturing, LLC, a manufacturing company that will mass produce fuel cell systems starting in 2020 using GM's battery manufacturing facility in Brownstown, Michigan. The companies say the facility is expected to create 100 new jobs.
The two companies have been working together since July 2013, and they say they've created the lower cost, smaller "next-generation" fuel cell you see in the picture above. GM said in a press release that the lower cost is a result, in part, to the reduced use of precious metals in the new design.
The joint venture wasn't just about pooling engineering expertise to reduce R&D costs, though. It was also above bringing down manufacturing expenses cranking out high volumes whose costs can be shared by both companies. In addition, Honda and GM said they're working with government officials to bolster fueling infrastructure for hydrogen-powered vehicles, the technology's biggest shortfall.
Smaller, cheaper mass-produced fuel cells? That all sounds good. But I think that last bit about in the announcement—the promise that the two major automakers will work together to make progress on the refueling infrastructure—is the most important. Even if that doesn't mean they'll build refueling stations on their own dimes, simply trying to set uniform standards for hydrogen refueling would be a great step in the right direction.
For hydrogen fuel cells to become viable, automakers will need to take slow steps to solve the logistical problems first. Working together in joint ventures is the best way to do that.