This is The Morning Shift, our one-stop daily roundup of all the auto news that's actually important — all in one place every weekday morning. Or, you could spend all day waiting for other sites to parse it out to you one story at a time. Isn't your time more important?
1st Gear: Italian PM Is Pro-Fiat Chrysler Because Of Course He Is
It's no shock that Italian PM Matteo Renzi thinks the Fiat Chrysler deal was a good one since, you know, Fiat would have had a rough go of it without them.
It's not all bad for Chrysler either, since, both companies really needed to be global automakers to survive.
Here's what was said as Renzi visited Chrysler's HQ in Auburn Hills:
"Globalization is not a monster," he said in Italian through a translator during a press conference before addressing about 200 employees. "It is the greatest opportunity for Italy."

[...]

"Columbus Day, for us, will be the beginning of a new world, a new era," he told employees through a translator.

FCA, Marchionne said, is a global company "not just in numbers, but in spirit," thanks to the combined reach of Fiat and Chrysler.
G/O Media may get a commission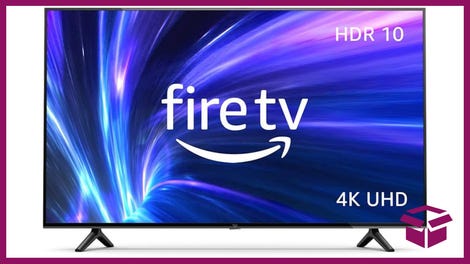 42% Off
Amazon Fire TV 50" 4K Smart TV
But Globalization is not without its challenges.
2nd Gear: Unions Are Globalizing, Too
All German automakers have a supervisory board made up by 50% labor representative and, while those boards are not as key to running the businesses as they sound, they've all been pushing for more labor representation at U.S. plants.
This is a modern turn as labor unions used to be highly regional and, essentially, would compete against one another for work. But that's not the case anymore as unions are starting to realize that they all need to work together in order to "protect workers" and also protect their bottom line in a modern, globalized world.
Thus...the AP is reporting that the head of Daimler's work council wants to see a union in Tuscaloosa
"It should be normal that we have a union at each of our plants," Brecht said in German. "We have very different behavior on the part of the company in some cases. In India we are in the process of founding a union for our plant there, and we have the support of the company that will happen."

"But in the USA, in the South, it is being resisted," he said. "It is unacceptable to me how the company is acting here."
Mercedes says they're neutral, but just how neutral is under debate and, besides, German companies are apparently inscrutable to everyone who doesn't work at a German company, including our old friend Senator Bob Corker.
"I know there was a lot of misunderstanding in our state about where Volkswagen really was on this issue," Corker said. "Volkswagen is a huge company, very political. It operates unlike any company I've ever been involved with."
I agree, Senator, they are strange.
3rd Gear: Recalls Are Now Globalized
Turns out that Japanese airbag maker Takata is probably going to end up involving GM in their seemingly endless clusterfuck.
The regional recalls initially affected nine automakers, but documents filed by Takata for a meeting this month with NHTSA and the affected companies listed GM for the first time as being potentially affected. The Takata documents, posted online this week by NHTSA, said the number of vehicles produced by the largest U.S. automaker was undetermined.
This isn't GM's fault at all, but when it rains shit it pours shit.
4th Gear: Russia Is Part Of The World And Isn't
Russia is one foot into the rest of the globe, and one foot out, but it's been hoped for a long time that Russian automakers would partner with America, European, and Japanese counterparts to feed a growing desire for cars in the country.
Well that hasn't worked out so well and now Russian car dealers are in a position where they're going to have to merge to survive.
Most of Russia's car dealers are struggling to service heavy debts at a time when the Russian auto market is weak. Consumers are putting off big purchases because of a sharp economic slowdown and the uncertainty created by Western sanctions over Moscow's role in the Ukraine crisis.

"The dealership business is fragmented, and apparently it's on the threshold of consolidation. Everyone is talking to everyone," Sergei Petrov said at the Reuters Russia Investment Summit.
Global problems is local problems.
5th Gear: Why Hyundai's Land Purchase Makes Sense
So Hyundai spent $10 billion on a piece of land but it sort of makes sense.
In an effort to spur economic growth, South Korea's government said last month that it would raise taxes on cash-hoarding companies unless they spent more on wages, dividends and other investments, including land purchases.

The new tax will take effect next year, and Hyundai is one of the large South Korean companies that will be affected.

Based on current figures, Hyundai Automotive Group, which owns Kia Motors and auto-parts maker Hyundai Mobis, could have been handed a tax bill for an additional 558 billion won, according to an estimate by CEO Score, a Korean research firm that tracks the performance of the country's big business groups.
500 billion won saved is 500 billion won earned, unless you save it by spending it, in which case it's spent, but really saved, and therefore earned. Just think about it.
Reverse: What A Dick
On September 28, 1938, inventor Charles Duryea dies in Philadelphia at the age of 76. Duryea and his brother Frank designed and built one of the first functioning "gasoline buggies," or gas-powered automobiles, in the United States. For most of his life, however, Charles insisted on taking full credit for the brothers' innovation. On the patent applications he filed for the Duryea Motor Wagon, for instance, Charles averred that he was the car's sole inventor; he also loftily proclaimed that his brother was "simply a mechanic" hired to execute Charles' plans.
[HISTORY]
Neutral: Show Us The Best/Worst Examples Of Auto Globalization It's pointless to argue whether or not globalization is good or bad because it's here, at least for a while, but what are the best and worst examples in the car market?
Photo Credit: Getty Images