This year, the Bahrain Grand Prix took place on Sunday, April 8. Three days later, every single team and all of their equipment was in Shanghai in preparation for the Chinese Grand Prix. The logistics required to make that incredible 4,000+ mile transfer happen are awe-inspiring, but Formula One pulls them off without a hitch.
01:08
Danny DeVito Explains Old-School Car Customizing to His Daughter Lucy
Today 1:13PM
The latest Wendover Productions video explores the procedures Formula One teams have to go through to get their equipment where it needs to be.
For races in Europe, teams will often truck the materials for entire buildings that are assembled on-site into hospitality suites and other supporting structures. But for so-called "fly-away" races, they have to be smarter.
Remember that Formula One is a big operation. Each team needs their mechanical equipment, spare parts, garages, lifts, generators and of course cars to be sent to every single race.
Some of the less-rare and bulky things can be sent ahead via sea, using a complicated system that involves five full sets of equipment embarking at the beginning of the season to the first five fly-away races. After the first race is done, that equipment is sent to the sixth race via sea freight so it arrives before the race.
G/O Media may get a commission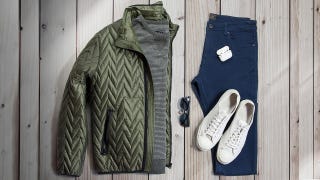 60% off
Jachs NY Fall Sale 60% Off
But not everything can travel that way. Each team doesn't have five copies of every part, tool and car. That stuff needs to fly. The flights themselves are organized by Formula One, though the teams have to pay for their space on the flight.
Well, not flight. Flights. The operation requires six full Boeing 747 freighters. For those who aren't up on their plane models, the 747 is the massive double-decker jumbo jet that's commonly called the Queen of the Skies. So yeah, it's a lot of freight.
Every detail of the operation is mind-bending, so I encourage you to watch the full video from Wendover Productions. I will warn, however, that his ad copy at the end calls The Crew 2 an accurate driving simulation. That's like calling Formula One logistics easy or me good at math.