Welcome to The Drift where Jalopnik East rounds up the highlights from all around the Pacific Rim. Toyota previews the brand new model Gundam tie-in Toyota Auris, Maruti Suzuki plans to release a number of new models in India, and we've heard from you what you want out of your Drift.
Countersteer
As we previously covered, Toyota did a product tie-in with Bandai to produce a "Zeonic-Toyota" Auris version which resembles the Gundam robot used by the character Char two years ago. Usually, such tie-ins are representative only of a single model year or generation, but the Char version of the Auris has been so popular in Japan that with the introduction of a new Auris design, there is now a new Zeonic-Toyota design as well.
G/O Media may get a commission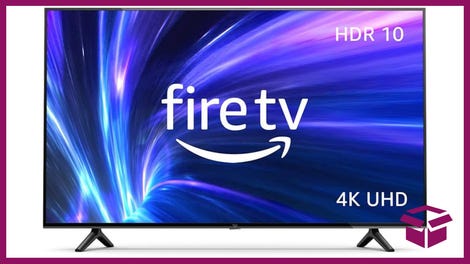 42% Off
Amazon Fire TV 50" 4K Smart TV
And frankly, it's awesome (if you're a Gundam fan). The previous model already had a lot of options you could buy to get the complete look, but with the new design, they've really stepped it up. Not just with exterior additions like special side skirts and front and rear lips and special Zeon wheels (which they had for the previous model), but it also appears that they've done actual performance modifications to the engine (or at least, it is implied in the video introduction) and the exhaust system (full catback?), and there are special Zeonic-Toyota racing seats installed in the interior.
Talk about your hot hatch. I want one (if I had the money to get one, and I most certainly don't). And this time, you don't have to get it in Char's red, you can also get it in Zaku Green. Watch the promotional video and official announcement below:
---
Oversteer
Suzuki moved into the Indian market aggressively with its agreement with Maruti before any of the other Japanese automakers really had made a play for the market. This has set it up to be the most successful car brand across one of the world's largest national markets. However, with the market experiencing explosive growth and increased competition, Maruti Suzuki has a range of new facelifted and potential products to release, according to NDTV Auto.
These models include the Vitara, the S-Cross, the Swift Dzire (desire?) AMT, the Wagon R-7, and the YRA Hatchback (pictured, Vitara above, S-Cross below, followed by Swift Dzire AMT, and YRA Hatchback):
Most of these models should be coming to India either in the second half of 2015 or in the first half of 2016.
---
Understeer
On Thursday, we asked what you wanted from your Drift and the answers received followed a pattern: you want to see more weird stuff (like the Sienta, or the Gundam Auris) which doesn't leave its own original market (Galapagos cars), you want to know more about the people within Japanese car culture, not just the vehicles, and you also would like coverage of the Indian market (which we started today talking about the 2016 offerings from Maruti Suzuki).
We hear you, and we'll endeavour to bring you more coverage of Asian cars and Asian car people going forward. Thanks for reading!
Images via Maruti Suzuki and Toyota, modifications by Kat Callahan/Jalopnik.
---
Jalopnik East is your daily dose of the latest automotive news out of Asia, covering domestic developments and car culture in Japan, Korea, China, Southeast Asia, and beyond. Just because you can't drive it, doesn't mean we can't share it with you. You can usually catch us every day between 5am and 7am ET.