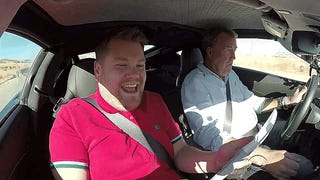 James Corden, host of The Late Late Show and the war criminal who unleashed those awful "Carpool Karaoke" videos on the world, may have redeemed himself. He interviewed the three stooges from The Grand Tour as they blasted around Willow Springs Raceway competing for the best overall score. This is why we missed these guys.
Each missed question—asked by Cordon, who occupied the passenger's seat—added a second to Clarkson, Hammond and May's lap-times, so the event was both a test of driving skill and high school-level quiz bowl knowledge:
Captain Slow, despite his irrefutable brilliance, came in the only position someone who goes by "captain slow" could possible come in, garnering praise from his two comrades in the form of hands shaped as an "L" positioned hard against their foreheads.
Richard came out on top, though not literally, as Clarkson points out that he's still taller than Hammond despite standing on a lower rung of the podium.
Good things to come from The Grand Tour. Just hopefully no singing.