NASCAR was about at its peak in 2008. It had some of the highest television ratings it had ever received and track attendance was skyrocketing. Behind the scenes, the series' public relations team was preoccupied with jingoistic complaints from its most vocal shitheads about national anthems, Confederate flags, Toyotas, and the Spanish language.

We know this because Jalopnik recently obtained a cache of never-before-seen internal documents detailing fan complaints and internal strategy sent to NASCAR's PR team from September 2008.
Inside, there are more than two dozen complaints alone sent in from impassioned fans about drivers daring not to put their hands over their hearts during the American national anthem; complaints about Yao Ming appearing on NASCAR's website and the voices of female announcers; deep-seated fears about the "Star-Spangled Banner" being sung in Spanish; and many more perplexing issues that shed light on the concerns held by the most outspoken of NASCAR's faithful.
Fielding all of them was—and probably still very much is—the job of NASCAR's Public Relations department.
G/O Media may get a commission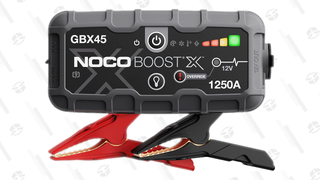 13% Off
Noco Boost X GBX75 Jump Starter
NASCAR, it seems, does in fact read and catalog of its fans' feedback. And it tracks these items extensively in the way you'd expect any large corporate entity to do: in lengthy, messy spreadsheets.
We got a glimpse into this world after a NASCAR PR employee seemingly accidentally emailed a set of Google Docs to a member of NASCARmedia.com at the time. Curiously, whoever hosted these on Google did not heavily restrict who could view them.

We reached out to NASCAR's PR people, but they did not respond to repeated requests for comment. People with knowledge of NASCAR's internal operations, however, said that nearly the entire team that put together this cache has since been replaced.
Fans Hated Everything That Isn't America Or In English
The third most emailed-about topic for the month of September 2008—26 emails in total, according to the Oct. 7, 2008 PR Services and NASCARMedia.com report—were from people who did not want to hear the National Anthem sung in Spanish. These complaints came after the Sprint Cup race at New Hampshire Motor Speedway where the Canadian anthem was featured as part of the pre-race festivities.

It's not clear whether the national anthem was ever even sung in Spanish at a race, or if that was just a concern expressed by fans. Worries about the language of the National Anthem were common at the time among a certain set of people.
NASCAR got as many emails requesting to only hear the "Star-Spangled Banner" in English as they did complaints on the series' direction. (To be fair, though, the anthem has been through much worse.)

We also know that one call and at least one email complained about the Canadian anthem being played at New Hampshire Motor Speedway, however. We say "at least one" because the total was swapped with that of "National Anthem Sung In Spanish" on the complaint log, strangely.

NASCAR PR also had to sift through five emails that complained about singers "putting their spin on it," and another claiming that the singer at the Sept. 6 truck race didn't know the anthem's words. Driver Kevin Harvick's wife DeLana was specifically called out by one email for not taking her hat off during the National Anthem.

Fans Hated Diversity And Women's Voices
In what were surely respectful and racially-sensitive comments, one call and six emails in the complaint logs were summarized simply as "Toyotas." (This wasn't long after Toyota entered NASCAR's top series.)
One email complained about a Yao Ming advertisement on NASCAR's website. Another took issue with a prayer that was ended with the words "And Shalom."
One email was logged as a complaint about "Banning of Confederate flags at races," however, it is impossible to discern from that brief description whether the complainer was fed up with displays of that flag, or if he or she wanted to fly the controversial battle flag at a venue that prohibited it.

Two complaint emails were summarized as "Comment about NASCAR Diversity," although like the email on the Confederate flag, it's uncertain what exactly these two emails were criticizing with the program. Given the commentary we usually see on the Confederate flag, I am cringing at what this might be, too. Only one positive email was logged as a "Request for information on NASCAR Diversity."
Sexism popped up in the complaints as well. NASCAR PR had to log another email summarized as "Female reporters [sic] voice 'shrill' sounding during race up against cars/okay pre and post race."
Eight years later, idiots are still complaining about that.

NASCAR PR also had to log two email complaints about ESPN reporter Shannon Spake and the Sprint Cup girls (the series' trophy girls). The summaries in the negative logs were not specific as to what those complaints were, but like the others, I can't imagine the ones about Shannon Spake in particular were anything good.
Here's another case where we wish whoever had been keeping these logs had been more specific. On one hand, kudos to anyone slamming the women-as-accessories at races practice that is somehow still a thing.
On the other hand, an online complaint box is ripe for unfair, garbage comments on a series representative's looks and character. The difference in tone and intent between those two possible remarks is as wide as Talladega itself.
Fans Really, Really, Really Hated Swearing
As we noticed when we browsed through NASCAR's FCC complaints, no matter how much of a rough-and-tumble image NASCAR likes to cultivate, some of its most hardcore fans really took offense to any swearing that slips onto the broadcast. Three fans called in to complain that Martin Truex Jr.'s crew chief had the gall to swear on TV.
Two more emailed in complaints about Chad Knaus's language. Another fan emailed to lodge a more vague yet still imperious complaint about "Improper English from commentators and drivers."
You know, like the proper English expressed in all these comments and complaints.
Fans Hated 'Politics'
Despite the fact that many of the emails are of the same political bent as the memes on your stepdad's Facebook, some fans felt attacked by rampant politicism invading their wholesome racing series. NASCAR PR had to field sixteen emails and one call complaining that then-presidential candidate John McCain made an appearance at New Hampshire Motor Speedway.
One fan emailed to complain that NASCAR was involved with politics, another emailed to express a general dislike of "politics and religion" in NASCAR, and a third fan called in to accuse NASCAR of promoting a political party. Something very orange and unpleasant tells me these concerns weren't heeded.
Fans Who Cared Enough To Complain Were Generally Insane
At a certain point I start to feel pity for the kids in suits in NASCAR's home offices, lodging all the beer-spittled complaints of NASCAR's most vocal fans. These complaint logs are like an Internet comment section made real.
Fans emailed to say that NASCAR was snubbing their favorite driver, and even that "Nothing was said bad about what Earnhardt did to Busch at [Richmond International Raceway]." You can almost hear the heavy sigh from NASCAR's home office with the log "Complaint about Jack Roush being a whiner."
NASCAR loves to promote driver rivalries, but it's the PR team who has to sort through all the hate mail, including six complaints simply logged as "Kyle Busch." No other details given. Just "Kyle Busch" as the problem. He was at the height of his rivalry with über-popular driver Dale Earnhardt Jr. in 2008, so it's not surprising that NASCAR PR had to field seven voicemails complaining about Busch specifically, including one suggestion to have him tested for drug use.
Other fans apparently think NASCAR's point of contact has some effect over race results. Take, for example, a voicemail left complaining that Jeff Gordon was not in the right point spot in the Chase after the Dover race, or an email complaint logged simply as "Logano on pole."

Perhaps the funniest driver-related request was in regards to Dale Earnhardt Jr.'s forehead in NASCAR's race lineup. A photo made his forehead look too big, according to one emailed complaint. The ability of NASCAR PR to reduce Dale's forehead size is suspect.
No fewer than 18 righteous fans decided to set NASCAR as a whole straight, sending what I'm sure were very articulate emails saying that the series' racing was boring.
One person emailed NASCAR to complain that the Goodyear tires on his personal car were defective. (Goodyear is NASCAR's longtime tire supplier.)

The best call of them all, however, was a voicemail logged as a "positive comment" looking for footage of Dale Earnhardt Sr.'s accident, summarized thusly on the log:

Seeking Earnhardt Sr. accident tapes-3 doves flew out of car

This caller put forth a theory that three doves magically appeared and flew out of Earnhardt's legendary No. 3 car upon his death.
The Troops Were Part Of The PR Strategy
It's clear that some of this feedback—particularly of the hyper-patriotic bent—has an effect on NASCAR's PR strategy.
There's a single segment in one document dated Oct. 7, 2008 that served as a list of all PR services delivered the previous month, "Develop Casual Fans Into Avid Fans," which includes associating NASCAR with wounded veterans and Habitat for Humanity:
3) Develop Casual Fans Into Avid Fans

Walter Reed Medical Center photos and video: Cut and posted photos and video of NASCAR personnel, drivers and owners visit troops at the Washington, DC soldier hospital. Photos were posted on Getty's image.net, which reaches non-sports media.
"Speeding to Help" photo galleries: Texas Motor Speedway provided images and text, and we created galleries on a Dallas hospital visit and a Fort Worth Habitat for Humanity home trip.
Any evidence if this strategy was in the least bit successful (or anything more than a smarmy, empty-handed publicity ploy) was not presented in these documents, but watching the military pull out of its other major motorsports sponsorships isn't encouraging.
While this is only a snapshot of what NASCAR's most bitter, backwards fans cared about in 2008, these accidentally leaked documents underline that the hardest job in the sport may not be driver or crew chief but PR person.
Can you shed light on this or anything else from that era of NASCAR? Email us at tips@jalopnik.com.
With additional reporting from Michael Ballaban.