Within moments of arriving in Germany to spend some quality time with my family, my parents had to tie me up with rope to keep me from blowing all my cash on junkers from Germany's amazing version of Craigslist, Mobile.de. It is filled with every Jalop's wants and needs. And I am too weak to resist its lure.

My friend Andreas, a Jalopnik reader from Germany, introduced me to the glory that is Mobile.de a couple of weeks ago, and I quickly found my dream car. And I'm sure you will find yours, too.
As for mine, it's no surprise that it's Jeep Cherokee. But not just any Jeep Cherokee. This thing is a 2001— the final year of the 18-year life cycle (okay, technically it continued on in China for a few more years)– and it has a VM Motori 2.5-liter diesel mated to a five-speed manual. Just look at this beautiful rectangular automobile:
G/O Media may get a commission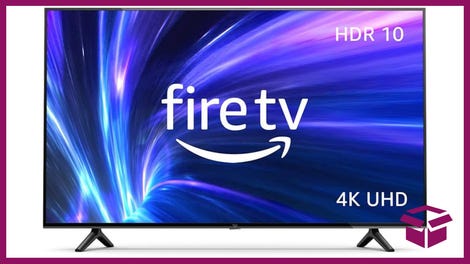 42% Off
Amazon Fire TV 50" 4K Smart TV
Let's gander at that diesel motor, which is admittedly notorious for failing head gaskets (it's got four separate cylinder heads, which is a pain in the butt), but I don't care, because it's got over 200 lb-ft of torque and is said to manage over 25 MPG—a freaking miracle in Jeep terms.
Then just look at that perfect leather interior with that manual shifter. My lord, I have found my dream Jeep. And all for the great price of 2,770 euro, or about $3,000.
But if that doesn't do it for you, how about a red Alfa Romeo 156 wagon. Yes, this is a diesel manual Alfa Romeo—almost the holy grail of automobile types. And lord have mercy on my eyes, because this rear end makes me weak:

Under the hood, there's a 2.4-liter diesel making a healthy 140 horsepower.
And that leather interior is nice, too:
Of course, the Alfa ain't perfect. Its turbo is on the fritz, but it still has a year left on Germany's strict TUV inspection, and the owner says it runs and drives just fine without that forced induction. Plus, at a price of 899 euro—or about $950—I'm trying my best to work my way at these knots my parents decided to tie so tightly.
But just when you think Germany's Craigslist has reached its pinnacle, you run into this:
Oh yes. That's a Trabant 601 wagon, one of the greatest Eastern Bloc cars ever! (the bar there isn't very high, I'll admit). Still, it's a manual, two-stroke, two-door wagon: it doesn't get any more Jalop than that.
The seller says the Trabi ran when it was stored in a barn almost 15 years ago, and that it has no rust holes! Amazing for a Trabi!
It's missing a gas tank, could use a battery, has a few dents in the bumpers, and the rear hatch doesn't work. But at only 650 euro (about $700), this is amazing and I need to call the seller right now. At this moment. Somebody please untie me!
Almost as utilitarian and unrefined as that Trabi, though, is this 1953 Allgaier AP22 tractor with its stock Porsche air-cooled diesel engine.
Just look at this fine piece of art. The thing looks mint, and costs less than $5,000—the cheapest nearly mint Porsche you've ever seen!:
I need to stop now. This is getting out of hand. But take a look for yourself on mobile.de, but only if you have a sense of self-restraint. I can't be held responsible for the destruction of your marriage, finances, social life, driveway, etc. I've got enough problems.