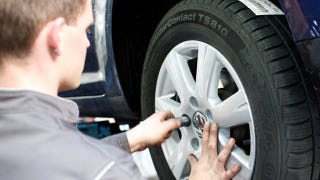 All season radials are pretty versatile tires, but let's face it, they aren't necessarily all that great on snow and ice or off highway. A team of German scientists developed new technology they hope will allow motorists to use the same tires in all conditions.
Researchers from the University of Applied Sciences in Leipzig unveiled the new technology at an industrial trade show in Hanover this week. Using electronic sensors, the tires can adjust their profiles on the fly, adapting height and width to suit road conditions.
"That means your car is always equipped with the best possible tyre and noise and petrol consumption are automatically optimised, too," Detlef Riemer, who is leading the project, told the AFP.
The team is still trying to figure out which materials work best for the smart tires' moveable parts, but Reimer said a patent has already been filed. Nothing was said about the type of rubber they will use, but it is well-known that winter tires are typically made from a softer rubber compound. We're sure these Teutonic masterminds will think of something good.
Photo credit: Associated Press