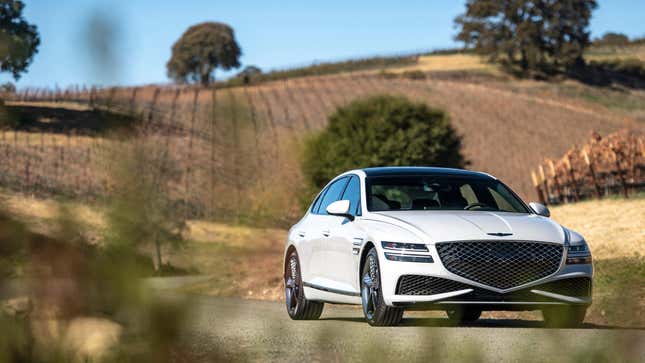 Last year, Hyundai recalled over 200,000 cars for an odd, niche issue: Seatbelt pretensioners that could explode, sending shrapnel around the cabin during a crash. One year later, it seems the company still isn't done pulling those dangerous parts from circulation — but this time, Genesis cars are under watch.
This NYC Garage Takes Vanlife To The Next Level | Jalopnik Visits
Over 65,000 Genesis G80, GV60, GV70, and GV80 vehicles are being recalled for explosive seatbelt pretensioners. Genesis estimates that only one percent of the recalled vehicles actually contain the faulty parts, but the worst case scenario here is neck-level shrapnel — it's better to be safe than sorry.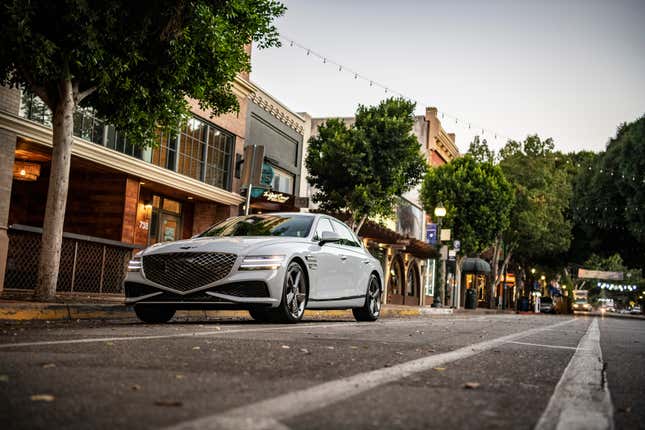 In the event of an accident, seat belt pretensioners have a simple job: Take up any slack in the belt, pulling you in to the seat. In a collision, where milliseconds matter, that job needs to be done as fast as possible — explosively fast. But here, it seems Hyundai has run into a Takata situation: Helpful interior explosives, turned possibly-deadly claymore in a crash.
Interestingly, the fix from Genesis isn't a replacement seatbelt pretensioner. Instead, the company will "secure the seat belt pretensioners with a cap," according to documents filed with the National Highway Traffic Safety Administration. It seems Genesis is focused on ensuring shrapnel doesn't make its way out to occupants, which is a smart move — if worse than simply eliminating shrapnel altogether.
The affected vehicles include the 2021-2023 Genesis G80, the 2023 GV60, the 2022-2023 GV70, and the 2020-2023 GV80. Dealers and owners will be notified of the recall in April, but there's no reason to wait that long to find out if your car is at risk. If you own a vehicle listed above, head over to the NHTSA's recall page and enter your VIN.