General Motors' major American competition, in the form of Ford and Fiat Chrysler, have seen the writing on the wall and bet big on Crossover Hell being the future. While those other guys are exiting the sedan game and introducing a new crossover for every day of the week, GM hasn't given up on the car buyer, and in fact sees sedans and small cars as a good way to hook them for life.
Sedans and coupes are selling in comparatively low numbers—even Honda cars have dropped below Honda truck sales—but, it's still big business. GM continues to believe in the sedan market, some 4 million customers large, as a way to introduce customers to GM with entry-level product, Automotive News reports:
"It's a pretty big opportunity for us," Steve Majoros, Chevrolet's marketing director for cars and crossovers said at the launch of the new Chevrolet Malibu RS last week, "As other people are making noise about leaving the car business or thrifting back their portfolio, there's still business to be had there. It's just going about the business in a smart fashion."

"There's still volume to be had there," Majoros continued. "We've done a nice job about taking a responsible approach to the product. If other competitors are leaving, we're very happy to pick up that business, and we'll certainly do that."
Automotive News reports that Chevrolet, for example, "will continue to invest in every sedan category from subcompact to full-size." If everyone else is leaving, the thinking goes, GM will be able to pick up those that are left.
Chevrolet told AN that car sales are down to 32 percent of market share, from 46 percent of the market back in 2016.
G/O Media may get a commission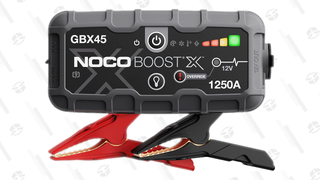 13% Off
Noco Boost X GBX75 Jump Starter
Compact and midsize sedan segments still account for 20% of all new vehicles sold, however, and GM's Majoros believes that car sales have "hit their floor."
I certainly hope he's right, because I just can't read another First Ever Generic Crossover press release without losing hope.
[Update 8/28/2018: An earlier version of this article had too many similarities to its source material, an Automotive News story. It has since been updated, and citations have been made more clear. We regret the error. – M.B.]