GM is now the top auto producer in Mexico, dealerships see the writing on the wall, the SEC is having a look at Nissan, and Amtrak is still screwed. All of this and more in The Morning Shift for Monday, Jan. 28, 2019.

1st Gear: Over a Quarter of GM's North American Cars are Now Produced In Mexico
General Motors is now the top automotive producer in Mexico, with production south of the border making up a quarter of the company's output this year, Automotive News reports.
The news comes after the American automaker announced a shutdown of five of its plants in the U.S. and Canada, with plans to layoff thousands of workers late last year.
G/O Media may get a commission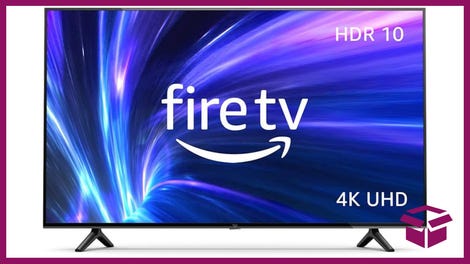 42% Off
Amazon Fire TV 50" 4K Smart TV
Here's more from Autonews:
GM is now Mexico's largest auto producer, topping Nissan Motor Co. in a year when it reduced output by an estimated 5 percent in the U.S. and an estimated 33 percent in Canada, according to the Automotive News Data Center. GM built 834,414 vehicles in Mexico last year, an increase of 3.6 percent, vs. a 10 percent decrease to an estimated 763,257 for Nissan, which had been No. 1.

Americans are kind of mad about it, again from Autonews:
GM's higher Mexican output at a time when it's eliminating jobs in the U.S. has angered President Donald Trump and other politicians as well as union officials set to negotiate a new contract with the automaker this fall.

"We want those cars here," Rep. Debbie Dingell, a Michigan Democrat and former GM lobbyist, said in a statement to Automotive News. "That's why we have to support a public policy environment that encourages production in the U.S."

Overall production in Mexico actually dropped for the first time in years, just one percent, but is expected to remain stable going forward. That's good news to the accountants at GM, but probably bad news for just about everybody else.
2nd Gear: Dealerships Don't See the Point in Updating Showrooms
U.S. auto dealers are starting to complain about the amount of luxury dealership improvements automakers are pushing on them, as the return-on-investment of spending millions renovating an already-nice store seems slimmer and slimmer as shoppers turn to online shopping, Automotive News reports.
The issue comes down to brand presence, where automakers update the image of the brand every few years, and want their dealerships to reflect that new image. The issue is that dealership renovations cost into the millions of dollars, and dealers claim they don't see the return in it. This leads to conflict, sometimes leading to dealers dropping the dealership altogether.
From Autonews:
"We only have so much money as retailers. It's a finite number," said Wes Lutz, outgoing National Automobile Dealers Association chairman and president of Extreme Dodge-Chrysler-Jeep-Ram in Jackson, Mich. "Everything we need to do is vying for that money. If you can't show me where it's going to sell more cars, I don't think it's fair to ask us to do it."It can be especially unfair to small dealerships, whether or not they spend for the improvements, Walser said."If you're a guy in a small community and you're being asked to invest millions of dollars and your franchise potential is 30 units a month, the economics can kick you right out of the game," he said. "If you have a program that gives dealers that invest an economic advantage, the dealers that can't afford it find themselves in a situation where they can't compete with those that could because now they have a differentiation in terms of their cost."
Even for the dealerships that would likely benefit from renovations, the worry is that the investment will go to nothing if online sales with deliveries continues to grow. From Autonews:
The investments also draw more scrutiny because, with pickup and delivery services and steps toward online transactions, customers have fewer reasons to spend time in a showroom, said Bob Tasca, president of Tasca Automotive Group in Cranston, R.I."I'm just concerned that the future of our business is changing, and we have to pay attention to the change," Tasca said.

A flashy new building may not help, given that evolution in how people are buying cars, lawyer Dietrich said.

After all, it's much cheaper to manage a dealership website than it is to change the tile color, knock out a wall, and throw in floor to ceiling windows on a building. It'll be interesting watching dealers and automakers come to terms with the rise of online shopping.
3rd Gear: Now the SEC Is Looking Into Nissan's Executive Pay
Nissan has now confirmed that the U.S. Securities and Exchange Commission is leading an inquiry into the alleged financial misconduct of former Nissan Chairman Carlos Ghosn as he sits in jail pending a trial for those accusations in Japan. Here's more from Bloomberg:
Bloomberg earlier reported that the U.S. regulator was investigating the company's disclosures on executive pay.

The report, citing sources, said the SEC is examining whether the company maintained adequate controls to prevent improper payments and whether lapses by Nissan violated U.S. securities law.

Separately, the Wall Street Journal reported that the SEC also sent a request for information to Ghosn. A representative for Ghosn could not immediately be reached for comment.

A Nissan spokesman confirmed the automaker received an inquiry from the U.S. regulator, without giving further details. The SEC was not immediately available to comment on the matter.

Ghosn has denied any wrongdoing, but has since been ousted as Chairman of both Nissan and Renault, where he once oversaw the two companies' alliance. The official charge claims Ghosn and Nissan failed to disclose around $80 million in compensation.
4th Gear: Amtrak Is Hoping Short-Term Improvements Put Off Long-Term Issues
Amtrak has started work on $3.4 billion in renovations to its Northeast Corridor, the busiest in the country, with improvements expected to quicken travel times and make train service more reliable.
The problem is that $3.4 billion only covers the small stuff, with about $30 billion more in improvements needed to adequately prevent looming major disruptions, Bloomberg reports:
Station renovations, high-speed track, power lines and signals — all decades-deferred work that has begun — will be for naught if century-old infrastructure under the Hudson River crumbles. In all, Amtrak needs at least $37 billion for improvements from New York to Washington, D.C., with the bulk of it — $30 billion — for Gateway, which would replace a rickety bridge, build a second tunnel linking New Jersey to Manhattan and overhaul an existing one whose days are numbered.

[...]

Amtrak says the Northeast Corridor is safe, though reliability is faltering. In September, two trains lost power inside the flood-damaged North River Tunnel, Amtrak's only access to Manhattan. The cause hasn't been identified. Malfunctions at the swing span Portal Bridge, over the Hackensack River in New Jersey, prompted Amtrak in November to ask the U.S. Coast Guard to limit rush-hour boats. Near Philadelphia and Baltimore, trains that can go 150 mph on a straightaway are slowed by antiquated engineering.

The issues are numerous. The newest Amtrak trains are capable of 186 mph on a straight, but the speed limits over long stretches of the corridor are still as low as 30 mph due to the aging infrastructure. Copper wire in some of the tunneling dates back to the 1930s, and causes unreliability in service when warm air cause the cables to sag and lose connection.
Three bridges from the early 1900s are all due for replacement, with zero funding yet secured, and with two of them lacking any sort of replacement research, like environmental impact.
So while small improvements to stations and signals will make the route more reliable in the near-term, Amtrak has a lot of long-term problems to face, with a big argument over who has to fund all of it looming.
If they don't do enough in time, the Northeast Corridor Commission claims that a day of disruption on the Boston-to-Washington route could cost up to $100 million in productivity and congestion impact, according to Bloomberg.
5th Gear: Madrid Taxis Protest Ride-Sharing Apps During Rush Hour
The taxi drivers of Madrid, Spain protested for increased government regulations against ride-sharing companies by blocking traffic with their cars during rush hour traffic in the city this morning, Reuters reports:
In September, Spain's government gave ride-hailing companies four years to comply with regulation granting them just one new license for every 30 taxi licenses.


The cab drivers are demanding stricter regulations now.

"They (ride-hailing services) can't do the same services that a taxi does. They can't pick up people on the streets. That is illegal but nothing happens," said taxi driver Juan Mateos.

Taxi drivers in Barcelona ended a strike last week after regional authorities proposed the ride-hailing services can only be booked a short time in advance and cannot be hailed in the street.
More protests are expected as the taxi drivers' push for even stricter regulations continues. If it works in favor of the taxis, some ride-hailing companies claim they'll be forced to leave the city.
Reverse: The First Major Space Shuttle Crash, Challenger
Neutral: Does the Dealer Experience Matter Anymore?
Does a dealership spending millions of dollars to fit an automaker's luxury appearance matter anymore, or should online shopping do most of the heavy lifting now?