Once again, an automaker is rethinking the way people interact with their automatic transmission. Hopefully this works out better for the 2018 GMC Terrain than it did for the Jeep Grand Cherokee. The new Terrain comes with funky buttons that control its transmission. That's right: buttons!
The 2018 Terrain, which is the dressed-up, badge-engineered version of the Chevrolet Equinox, features the same choice of three all-new engines for 2018: 1.5-liter and 2.0-liter turbocharged gas engines, plus a 1.6-liter turbodiesel. Two new, more efficient nine-speed transmissions were added to put the power from the new gas engines to the ground.

What's more fascinating is the way the driver controls that automatic transmission: not with the usual stick that moves back and forth through P-R-N-D-L, but with buttons on the dashboard. The Equinox has a traditional stick for its autobox.

G/O Media may get a commission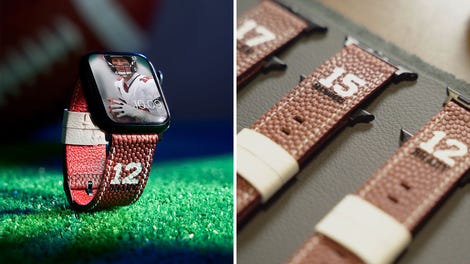 Official NFL PRODUCTS
Official NFL Apple Watch Bands
GMC opted for these electronically-controlled gear selectors are there to free up storage space in the center console. That fancy new center console includes pass-through storage, and side-by-side cupholders.

Park, neutral and low all are regular buttons you'd press in to select, with plus and minus options above the L for "Low" to select which lower gear you'd like to be in. Reverse and drive are pull-triggers like most of the electronic parking brakes you see on cars now.

Of course, this isn't the first time we've seen buttons used for a transmission. Some classic cars came with this feature as a bit of a luxury item, such as the 1964 Dodge Dart that's been made into a 24 Hours of LeMons race car featured in the video above. Why expend the effort to move a lever back and forth when you can simply push a button like some kind of baller mid-century spaceman?

So, for anyone who's ever wondered why your basic automatic runabout has a vestigial knob despite being left in "D" most of the time, you've got your wish. For the rest of us on the road, here's hoping this new take on the modern slushbox is easy enough for the masses to figure out.

In addition to the button-controlled transmission, the new Terrain comes with GMC's Traction Select system for different driving conditions, and is available in both front-wheel-drive and all-wheel drive. As with the Equinox, AWD models offer a mode that disengages the rear wheels to act as an FWD-only car, reducing drag and improving fuel economy.

Increasing cargo space—as with the center console—was a big deal for the 2018 Terrain. The front passenger seat as well as the rear seats both fold flat to haul awkward long items with ease, and under-floor compartments in the cargo area can hide even more stuff.

Last but not least, the new Terrain comes with all of the tech most crossover shoppers have come to expect, plus a few new goodies. Android Auto, Apple CarPlay, OnStar and its 4G LTE Wifi hotspot come standard with the new Terrain, available on either a seven- or eight-inch infotainment system.

Additionally, a host of new radar- and camera-based safety features also help with everything from crash avoidance to parking.