This is The Morning Shift, our one-stop daily roundup of all the auto news that's actually important — all in one place every weekday morning. Or, you could spend all day waiting for other sites to parse it out to you one story at a time. Isn't your time more important?
1st Gear: The National Average Is Still $2.746
It isn't a gimmick, the Oncue Express gas station in Oklahoma City, Oklahoma offered $1.99 regular unleaded gasoline thus becoming the first station since 2010 to offer that cheap of gas, reports Bloomberg.
What gives? For one, winter gas is almost always cheaper than summer gas. Second, there's a ton of supply floating out there and OPEC isn't restricting product. Third, global demand is slightly down thanks to a global economy that's limping along. Fourth, there were no hurricanes or other disruptions to screw with deliveries. Fifth, domestic energy production.
G/O Media may get a commission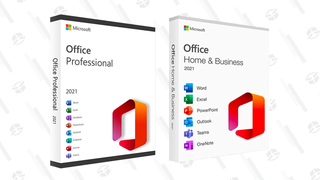 89% off
Microsoft Office Professional 2021 Lifetime License
And it's not over yet, with AAA expecting gas to drop another $0.15 to $0.20 in the coming weeks.
This will help boost car sales and, especially, big SUVs and trucks.
2nd Gear: Is NHTSA Actually Powerless Here?
Takata said they won't trigger a nationwide recall even if NHTSA demands it. Honda, however, will. This gets into the weird world of recalls and who-and-what is responsible for a car once it's put together.
While Takata may be the bad guy here, it's Honda and NHTSA that may take the brunt of it because the former is the name brand behind car deaths and the latter has picked a fight with a supplier it may not win.
After the hearing, David J. Friedman, the agency's deputy administrator, took issue with any notion that it could not force Takata because the company is a supplier and not a manufacturer. He said the fact that the agency had sent Takata an order to conduct a recall indicated that safety officials thought the company was subject to the order.

But Allan Kam, who served as a senior enforcement lawyer for the agency for more than 25 years before he retired in 2000, questioned whether the agency could force Takata's hand.

"I would have advised that the letter be sent to the vehicle manufacturers," Mr. Kam said in an interview. "Takata can't be required by N.H.T.S.A. to conduct a recall on airbags installed in vehicles by the vehicle manufacturer. The agency can only require vehicle manufacturers to conduct the recall."
We'll see what, in the long run, OEMs will do about Takata, but for now they're kind of stuck. As Craig Trudell pointed out yesterday, to force anything NHTSA will probably have to engage in a protracted legal battle.
3rd Gear: Senate Thinks NHTSA's New Guy Seems Pretty Cool NHTSA is deep in the shit so it's probably a good sign for President Obama that his nominee for its new chief, Mark Rosekind, did well in front of a Senate committee yesterday.
The tone of the hearing was that they want NHTSA to be tougher but that they Rosekind seems like the kind of guy to get it done, at least that's the impression I get from this Freep piece:
Most of the questions centered on Takata's defiance to expand nationwide a current recall that covers more than 50 models made by 10 automakers in a few southern states, including Florida, South Carolina, Alabama, Mississippi and Louisiana. Takata says its research shows the risk that its air bag inflators will explode is only significant in regions of unusually high humidity. NHTSA has found incidents in which the air bags exploded in North Carolina, California, Arizona and Minnesota.

The agency must show that it can enforce a national recall. Already Honda, Takata's largest customer in the U.S., has said it will recall all cars with Takata driver side air bags regardless of where they are, to replace the inflators.

"If confirmed you can count on me to utilize all available legal authority," Rosekind said.
In a way, it's a sweet gig for Rosekind since the bar is set fairly low and support from the legislative and executive branches is fairly high.
4th Gear: Chinese BMW Dealers To BMW: Back The Fuck Off Ze Germans continue to battle for supremacy and China is one place where BMW isn't winning, which is why it's apparently been pushing its dealers to get cars out the door. The Chinese dealers aren't exactly pleased about this.
"This year the inventories are too high. Sales growth can't keep up with the rise in inventories. Dealers must offer discounts greater than rebates to sell cars," said the person.

The executives said dealers are also pushing back against next year's sales targets. "BMW is still aiming for more than 10% growth in 2015. But I think it's too aggressive. I hope BMW could set a smaller sales target for me this year," said another representative of a large BMW dealer group.
Car dealers who invested in brands have to keep buying cars to maintain their dealerships, even as sales slow down and the government makes it harder to buy a car. Something has to give.
5th Gear: Volkswagen Turning Beigekrieg Into A Regional War
Volkswagen is still on the march to be the biggest automaker and, like current mega boss Toyota, it's starting to realize that too much central control isn't gonna work forever. I mean, just look at how VW has done in the United States lately.
In the United States, it is setting up a planning center and is hiring about 200 engineers to monitor the world's No.2 car market more closely and revamp vehicles more quickly.

"That's not just an issue in North America but will also be a topic in other regions," said Osterloh, who sits on VW's supervisory board which formally appoints executive board members.

Company sources have said over-centralization in Germany, where a small group of top managers seek involvement on matters such as product strategy and quality control, has delayed models and contributed to underperformance in markets such as the United States and Brazil.
Yeah, fucking "duh." You know who is awesome? Skoda. I get the feeling Skoda gets a little more sway in their region than the U.S. does. Make VW in the U.S. more like Skoda.
Reverse: Not The Good Kind Of Car Bomb
"Dapper Dan" Hogan, a St. Paul, Minnesota saloonkeeper and mob boss, is killed on this day in 1928 when someone plants a car bomb under the floorboards of his new Paige coupe. Doctors worked all day to save him—according to the Morning Tribune, "racketeers, police characters, and business men" queued up at the hospital to donate blood to their ailing friend—but Hogan slipped into a coma and died at around 9 p.m. His murder is still unsolved.
[HISTORY]
Neutral: Is Cheap Gas Good Or Bad? Ultimately a boon or is it just encouraging bad behavior?
Photo Credit: Getty Images