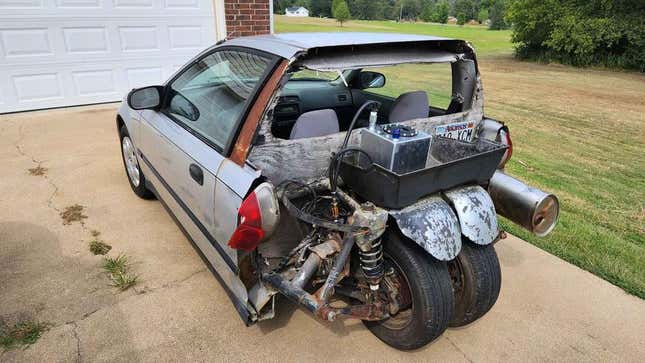 Due to low sales, Honda gave the Civic Coupe the axe for 2020. We were all sad to see it go, but at least there's still the used market for anyone in search of a two-door Civic. Years after the pandemic began, though, used car prices are still far higher than we would like them to be, so even buying used Civics is an expensive proposition. But what if we told you that you could buy a two-door Honda Civic for only $800? Wouldn't that be pretty exciting?
2024 Nissan Z NISMO | Jalopnik Reviews
The thing is, the $800 Civic Coupe in question isn't exactly new. It's a 2000 model. Also, it's not entirely stock. As you can see from the photo above, at some point, someone made a few modifications to the car in question. But that just makes it unique, right? Who wants to drive the same boring car that everyone else drives? If you buy this Civic off Facebook Marketplace in Nashville, Arkansas, we guarantee you that no one will ever mix up your car with theirs.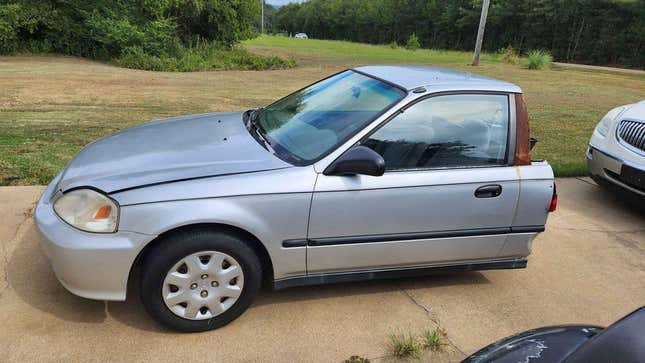 According to the description of what the seller calls the Thing:
It runs, drives, and stops. At one time it was daily driven. It will drive down the road HOWEVER...you are NOT buying a Cadillac. You are buying a car that will move down the road, shift gears, and stop. It should be hauled on a trailer to its new home. I can deliver AFTER you have purchased it if it's somewhere close to Nashville Arkansas. It needs looked over well. There are some welds that are cracked.
So be warned. If you buy this $800 half-Civic, it won't be a Cadillac. And while you can drive it, you probably shouldn't until you take care of a few small things such as a few cracked welds. But that should be an easy fix if you're an experienced welder. A little elbow grease is just going to make your new ride all the more meaningful to you. At least as long as you're not too concerned with minor things like "crash protection" and "your own personal safety."
Besides, at $800, you'll basically be losing money if you don't buy it right now. As for why it even exists in the first place, we simply don't ask those kinds of questions.
H/T: The Drive