Ninety-two year old James Barbour III is tough in an unusual kind of way. The stereotypical tough guy grimaces and fights and struggles. Instead, Jim has the remarkable ability to stay even, to keep things light. To make it seem like when the going gets rough, well, it's not rough at all. According to him and wife, Patricia Barbour, he's never even sworn. He says "Oh my," when he's most fired up.
That's the way he was as a young cadet Tuskegee Airman in a biplane getting hammered by a hurricane. It's the way he was as a 42-year old race car driver getting flipped and tossed around in a tiny Austin-Healey. And it's how he faced down the indignities of racial prejudice and segregation, in the Army and beyond.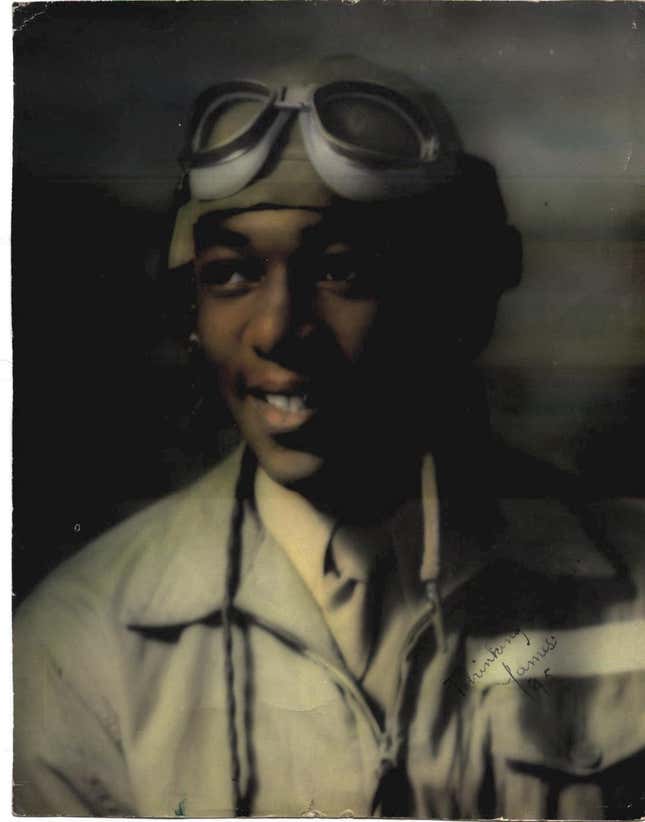 In early June, after hearing who he was from a mutual friend, I flew to Florida to spend some time with Jim and Pat to hear these stories. I sat in their comfortable, brightly lit home on a small pond in the town of Wesley Chapel near Tampa Bay. And there I got to know the man: documented original Tuskegee Airman, a passionate amateur race car driver, a once-prolific car collector and a highly respected figure in the world of sports car racing who helped build it into what it is in America today.

"Jim Barbour is an absolute gem," said Lee Hill, the current SCCA board chair "His dedication to motorsports and the Sports Car Club of America simply can't be measured."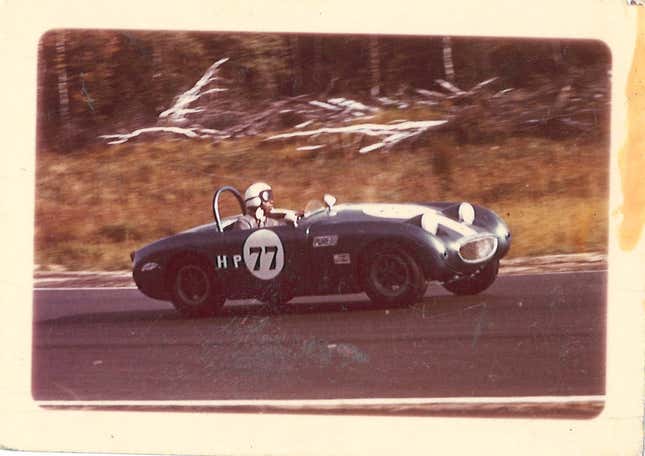 And yet, who would even know? He's got the name recognition of your average, everyday guy next door. After spending time with him, I must agree that he's "an absolute gem." Jim is a deeply fascinating, endlessly impressive individual and—despite his own claims to the contrary—an American hero.

Of course, get him talking about the cars he's owned, and you start to suspect this guy is someone special.
---
"I mean, you name a car, and I'll say, 'Yeah, I've had one of those. Or I've had two or three of those," Jim told me.
He can't count how many. He's had a lot of Alfa Romeos—19 of them to be exact. Fourteen Corvairs. A few Porsches. A couple Jaguars. A handful of Austin-Healeys. Lots of Cadillacs. A Ferrari. A Packard. A Facel Vega. Merkurs. Mercuries.
"I don't know how many Fords, Chryslers, Plymouths," he says. The most of any car he's ever owned? Mercedes. Again, he couldn't even hazard a guess, saying that between 1950 and just a few years ago, "I'd always had at least one or two Mercedes at a time."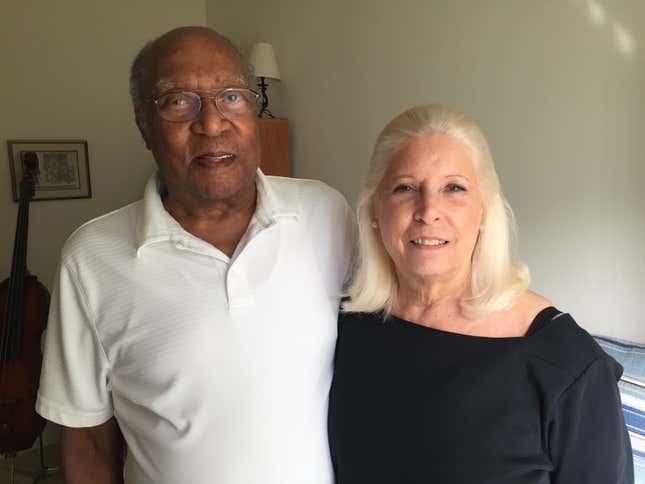 After hearing about the hundreds of cars that he once called his own (and seeing a few in old photos), I had been more than a little excited to see what kind of beasts were caged up in that two-car garage of theirs—a grand and stately Cadillac? A lithe little Alfa?

He opened the door for me. One side was filled with Bankers Boxes and moving boxes—still unpacked from when he and Pat moved to Florida from Minnesota in 2002. And parked next to the boxes? A Toyota Avalon.
No Austin Healeys? No Corvettes? No 1970 Challenger R/T SE with a teeth-shaking 426 Hemi V8?
No. Those have all been sold. Now it's just an Avalon. Jim shrugs. It's a "nice" car, he says. At least it doesn't cost him five grand every 15,000 miles, like that Ferrari Mondial he used to have.
And why not? He didn't just own cars to look at them. He liked racing them, autocrossing them, and if there was traffic, well, he'd find a gap, downshift, get into the 100s, and was liable to leave his passengers feeling carsick. But Jim doesn't drive much anymore.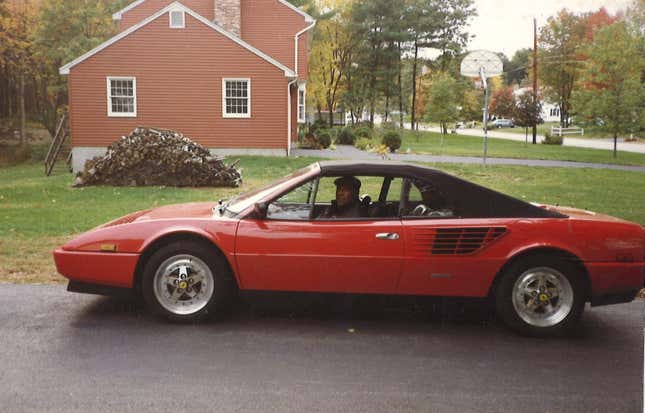 "They were injecting stuff into my eye," he explains, referring to a medical procedure that happened within the last two years. "Everything went okay. Then one day, they injected it and it lost most of the sight in that eye."

So, aside from an occasional stretch of open highway, he lets Pat, now 68, take the wheel.
But he still has the desire. And I ask him if there's any kind of car in particular he'd like to make roar. He gives it a lot of thought, like it's a very important question. And to a man like Jim Barbour who's dedicated so much of his life to cars and racing and the community surrounding those things, it is an important question.
"I would love to get into one of those CTS-Vs," he told me dreamily, referring to the 640 horsepower supercharged V8 Cadillac sedan. I could hear that hunger for speed in his voice, strong as ever.
---
Jim's always had a thing for speed. As a high school kid in Dayton, Ohio he drag raced with his buddies, and he also parked cars as an after-school job while the guy who owned the lot pursued other interests. "He was a playboy. He liked to run out and drink beer and chase girls and all that. And he'd just leave me to run the parking lot. So I drove all kinds of cars and met all kinds of people," Jim recalls.

Notable people, too. "Orville Wright parked his car in the parking lot where I parked cars. And I'd see him everyday in the summer."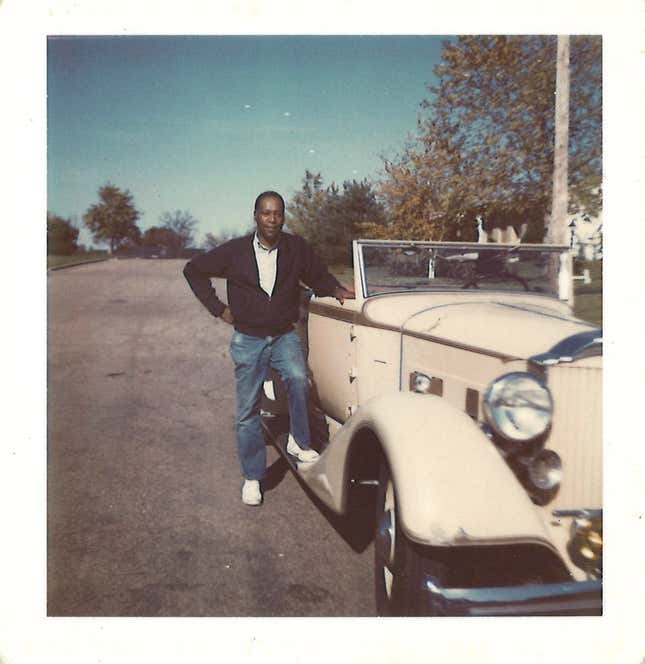 But Jim doesn't reminisce so much about Orville. It's the driving. "I was thinking the other day how he used to have them four rows deep. I could go zipping down that lot, back up 50 miles an hour, right down through one of those holes in the back row and not hit anything," Jim laughs.

Coupled with his love of speed, Jim was good with machines. He was so good with them, that even as a high school kid, he got a job wrenching on P-51 Mustangs at Wright-Patterson Field just east of Dayton, eventually working his way up crew chief by the time he'd graduated. "Here I am, a kid just out of high school," he muses. "But there were no men," in the early 1940s, he said. "They were all gone in the service."
During his shifts, he worked on Rolls Royce Merlin V12 supercharged engines that powered the P-51s, and he became enchanted. "It was a great thrill to me. I got on the midnight shift and I would go out there on the flight line and sit [in it] and turn the radio on and listen to all the airplanes and the people talking and all that and I would imagine I was flying this thing," he says.
Those planes went fast. And that's what Jim wanted to do.
---
He was 17 when he graduated high school in 1943. Being too young to actually join the service, he pre-enlisted for the U.S. Army Air Corps. To qualify, the military required applicants to either possess a college degree or pass an equivalency test. Jim took the test and passed it easily.
And then he waited, repairing P-51s and parking cars until, finally, his letter of acceptance arrived.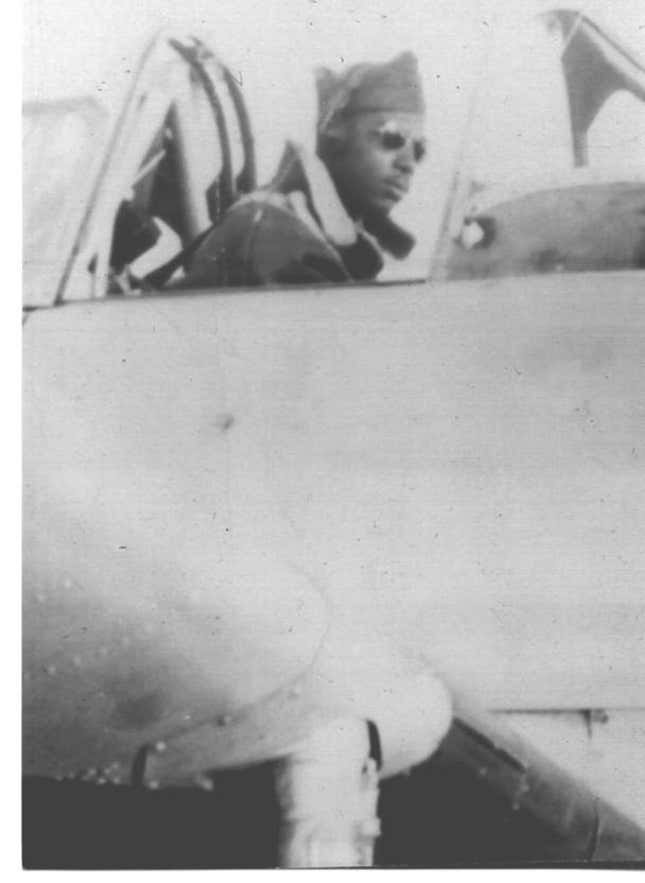 He reported to the ceremony in Dayton where they were to welcome the newly enlisted men. Jim remembers, "When I got there, there was this room full of people and they called everybody's name but mine. And finally, this lieutenant came running up with a book...and he was so embarrassed. He was saying, 'We didn't know you were Negro. And we can't accept you right now. We have to get permission from Congress for you to be accepted as a pilot trainee.' And I was just crushed. I'd been through all this and waited and now I here I am in a room full of people, and they'd all gone and I was the only one left. He said 'by the spelling of your name and all that, we didn't know'."

They told him to go home and wait for further word. "In December, they called back and I was accepted."
Jim officially entered the service in 1944. He was destined for Moton Field in Tuskegee, Alabama. But his first stop was basic training at Fort Benjamin Harrison in Indiana. From there, he eagerly boarded a train to Biloxi, Mississippi for pre-aviation training.
"On the way, I was in this nice, comfortable train car," Jim tells me. But then the train stopped in Cincinnati or Louisville (he can't remember which one), and he and his fellow black passengers were made to get out of that train car and "and go get in another train car, which was at the front of the train. It was not air conditioned," he says.

The heat was staggering, so they opened the windows, he says, "and all the soot and cinders and dirt from the engine came back and blew into that car, so we had to close the windows. And that was foretelling of what I was going to experience for the next few months."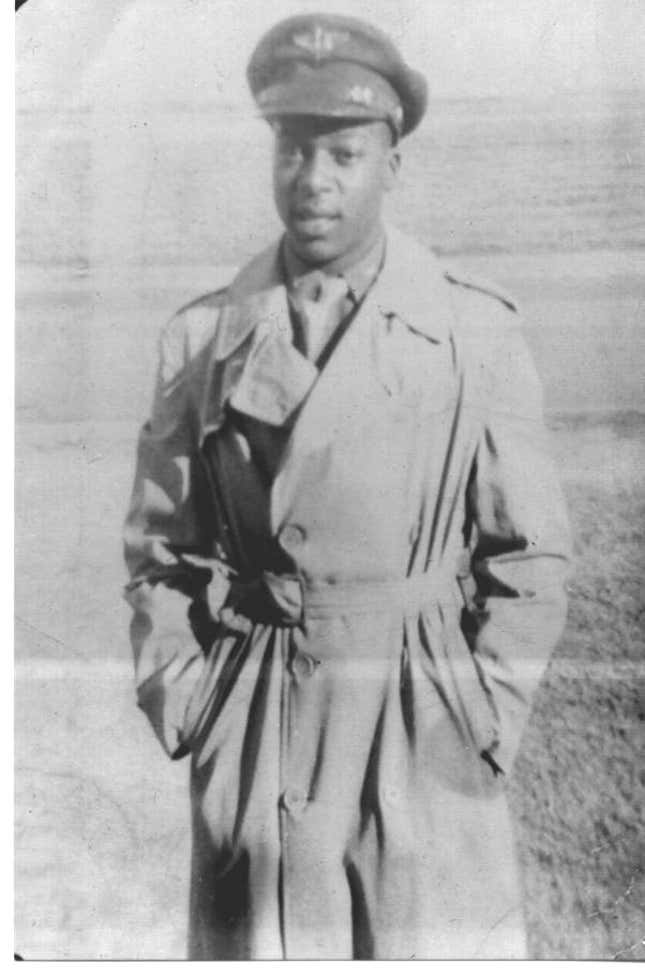 As he says all this, he smiles and laughs like he's amused by it all.
Like when he and his buddies tried to head to Pascagoula on leave from Biloxi. There was nothing special about Pascagoula; they'd simply heard the name on the train's P.A. system, and were intrigued by the sound of it. But when they got to the bus stop and tried to buy a Coke to drink while they waited, they were denied. "They wouldn't sell us a Coke. They had a fountain stand… They wouldn't sell us one there because we had to drink out of glasses. So we wanted one out of the machine, but they wouldn't give us change."
Then when the bus came, there was more bad news. The bus was full. Or, the front of it, anyway. The back was empty. But, as Jim says, "the driver said he was not going to make all those people get off the bus so we could get on. So we didn't get on the bus, and we didn't go to Pascagoula."
Jim was confused by such experiences. He'd grown up in Dayton, which was not representative of much of the rest of the country. Unlike the Army, it wasn't segregated and he said he never felt like people looked down on his family. His mother was a socialite, his uncle and father were highly successful engineers; his uncle James A. Parsons, Jr. was a notable scientist, inventor, and educator who was awarded multiple patents for his work with metals. So this was not the world that Jim knew.

Jim sits back in his recliner. Thinking about that time in Biloxi, where they couldn't even get change for a Coke, couldn't get on a bus because the bus driver didn't want to inconvenience the whites already onboard, Jim laughs softly. After all these years, it's still just a funny name.
"I never got to Pascagoula," he said.
---
Jim doesn't talk much about race, or racial issues. Aside from a few instances, it hardly ever comes up in our discussions—so seldom, that I find myself asking him about it again and again. I assure him I'm not looking to make an issue where there isn't one, but I feel like it is a part of his story given the age he grew up in. Not only is he a Tuskegee Airman, he also has an impressive pedigree in the world of auto racing, which is not exactly known for its diversity.

I prod him on the subject, and he acknowledges that in much of his time as an amateur race car driver, autocross enthusiast, car club member and officer, and racing official, he was "a minority of one."
The demographics of the racing world haven't changed much. "That's the way it is. There aren't many African Americans in any aspect of it," Jim says. Lewis Hamilton reigns supreme in F1, and he is black, but not American.
"Daryl Wallace. They call him Bubba," he chuckles about the NASCAR driver, though it's hard to tell if he's laughing because he thinks it's an enjoyable nickname, or a mildly offensive one. "Bubba," he says again, as if it's almost a new word entirely.
Naturally, I have to wonder if he faced discrimination in the racing community. Jim says, "I had no problems at all. I just did what everybody else did." Given the era, and that the racing world was just predominantly white, I tell him that, honestly, I'm surprised. He thinks about it a bit more, and he tells me, "Of course, I didn't go to the south. Just never went down there... I figured there was no point in inviting trouble," he laughs.
---
For Jim, racing was always about fun. But a guy like Jim isn't one for mindless fun. Part of the fun for him has always been learning, improving, getting into the processes and figuring it all out. Even in his time as a high-school kid, drag racing with his buddies in Dayton, Jim was interested in doing more than merely participating in races. He recalls how he would select the ideal roads, how he'd helped to engineer a portable electrical timing system.

In the late '50s, he was bitten by the autocross and rally bug, and remembers charting courses in the Adirondacks.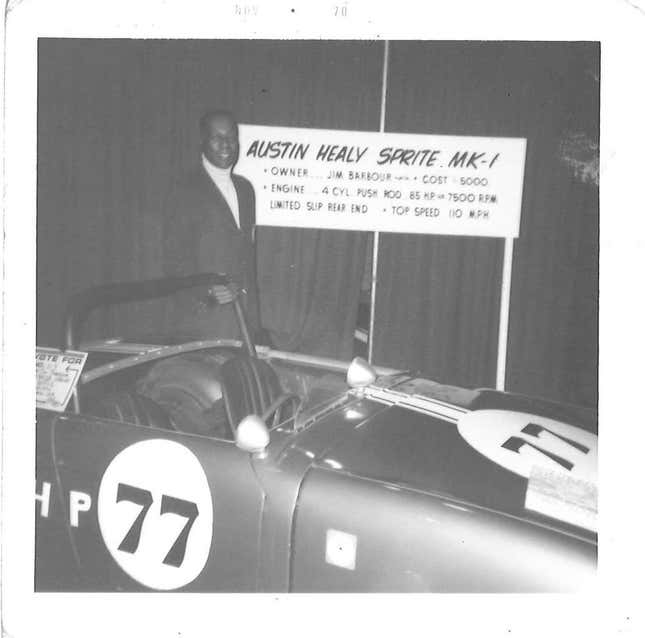 For Jim, being a racing official was that perfect mix of fun and work, of helping and being productive—like running a parking lot while the boss chased women, like fixing P-51s for the Army Air Corps—he was doing his job, but he was having a great time and learning a lot, too.

Even as a driver, he didn't want to just floor it. "I was intrigued by the mechanics of going fast… what you had to do to go fast, what you had to do to the engines, to the automobile itself, to go fast and to handle. I learned that was important, too," Jim explains.
Jim took the time to learn about handling, suspension, driving techniques. "Living there in Rome, NY, I had carved out a little back road of my own choosing for practice," he laughs. "And every car I got, I'd take it on that road, series of roads, two-lane back roads in upstate New York out in the country, and I'd just have a ball!"
It was no surprise then, that Jim took this study, practice, and knowledge to formal racing organizations. He started out as a tech inspector for the SCCA and before long, he moved on to working corners of tracks as a safety steward, and also filled the role of pit steward. His frequent stewarding and volunteering for his regional SCCA organizations made him an ideal candidate to be chief steward—a role that he eagerly accepted and embraced.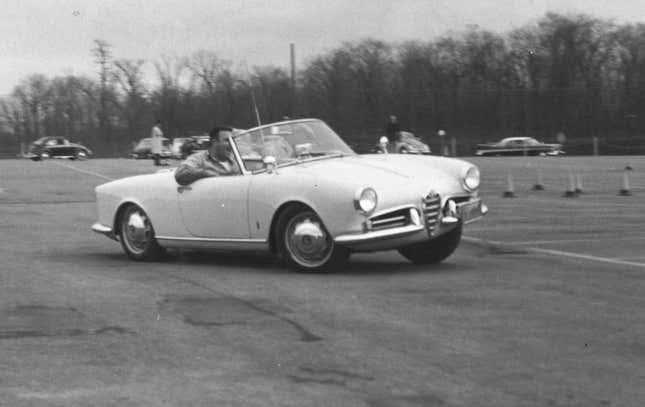 "There are several other stewards, but the chief steward is the guy that's over all of [them]. He runs the race, you might say… The chief steward is the guy who runs the whole thing."

That was Jim: the guy that ran the whole thing. And not only for SCCA races, but for ice racing, and even for motorcycle races. As the years went on, Jim earned a reputation as being one of the most reliable, knowledgeable, and dedicated chief stewards. He traveled throughout the continental U.S. (except for the south), Canada, and Alaska overseeing races more than 20 weekends per year.
By the '90s he was a regional executive at the SCCA and was a chief steward at Road America in Wisconsin, though he traveled frequently to other regions such as the Pacific Northwest and New England.
This set the stage for his most prestigious assignment. In 1991, he was called to Lime Rock, Connecticut where a cadre of Ferrari dealers had gathered. "They interviewed me for quite a while. And then I went out of the room, and they had a big talk I guess, and they decided I was the right guy. So I became the chief steward for the Ferrari Challenge." Jim explains, referring to the now-global series of racing events sponsored by Pirelli, in which dealers and private owners race identical models of Ferraris.
"It's quite an honor," he told me, humbly. Especially considering he was not only a chief steward of the Ferrari Challenge, but the first chief steward.

It was an honor, but it was also difficult. In the beginning, the Ferrari Challenge was an independently run event. "[It] wasn't sophisticated enough to have help, stewards, the way it should have been. I had a tough time maintaining things the way I should have," Jim says. His days of stewarding are behind him, but he still takes it seriously.
He stayed on with the Ferrari Challenge until it was taken over by IMSA. It was the end of an era for the Ferrari Challenge, but at least it would have the resources to be run in a way that was up to Jim's standards.
Meanwhile, Jim rose to the highest levels at the SCCA: the board of directors.
Now, there's only an Avalon in his garage, but beneath their flat screen television, there is a display case filled with honors and awards that would make any car enthusiast flip out. I ask Jim and Pat if they can take me through some of them, and they oblige.
"I have a piece of wood over there that has a little Ferrari model on it that they gave me when they tore down the old tower at Lime Rock… They gave me this as a piece of that tower because I was there so much," Jim says appreciatively.
"Here's a piece of Stuben Glass," Pat says.
These are just a few of the many, and it's hard not feel a sense of awe. I tell him that it seems to me he did more than just accomplish things—he also contributed. He's not eager to agree, though I can tell Pat is. Instead, he turns the concept over in his head, and finally he acknowledges, "I did."

But he hastens to add, "I was more in the background, I guess you could say, than I was in the foreground."
---
Jim nearly lost his life, trying to contribute. Not to the racing world, but to the United States and its allies in World War II. It was 1944. Mississippi.

"I had just soloed a few days before," Jim recalls. "An unnamed hurricane came through Tuskegee... The biplanes we were flying had no radio control contact with the tower… They told us that if at any time they wanted to get in touch with us, they could put out smokepots, and that would mean that we were to come land. Well, I took off on a bright, shiny day, and I went around the field and I happened to look down, and the wind was blowing the smoke across the field, and I thought, 'Wow, smokepots! This is a problem. I've got to get back down there'," he laughs.
So Jim lined up his flight pattern to make it back to the airfield. But, as he says, "the darn plane wouldn't go down. The wind was so strong, it just hung up there. And I didn't know what to do. I had no idea how to get down. I tried pumping the stick back and forth. I tried cutting the throttle. I did everything I could think of… I finally found that every time I pumped the stick forward and back, the plane would go down a little bit. So I did that. I wasn't moving forward very much at all. I was wondering if I was going to make it to the field."
Jim wrestled the plane down as the winds picked up, and he made it. But his problems were far from over.
"I remembered that you were supposed to have your controls into the wind, and I did that so it didn't tip me over," Jim explains. "You were supposed to wait for somebody to come over and walk your wings before you park. Well there wasn't anybody there, and I wasn't going to wait," he laughs. He parked the plane himself, and with gales of sand pelting his face, he locked the controls.
But when he looked up, he saw that he was still moving. So were two other planes.
"The three planes were heading toward a building and gaining speed rapidly...The tail of [one] plane went through the front door of the building. And this was funny because this was a building where all the maintenance men hung out. And all I could see was men running into this building and out the windows," Jim laughs.
"This guy's plane's tail went into the door. My plane hit his plane. And this other plane hit my plane. And the three of us were a big pile of mess right in front this building. We hit it hard. As a matter of fact, we hit it so hard, it hurt my back. And I have had back problems ever since."
---
The accident didn't just hurt his back, it effectively destroyed his dreams of flying during the war. Initially, neither Jim nor the doctors were fully aware of just how hurt he was. Thinking it was painful, but relatively minor, he recuperated for a short time on the base. By the time he was up and around, the war ended.

Jim was more than happy to fly during peacetime, but the U.S. was eager to slim down on personnel. "They didn't need any more pilots. And so any little excuse, you were gone," Jim explains.
They told Jim he was eliminated from the cadet corps on account of his performance in ground school (in which students learn the basic principles of aircrafts and flying, such as lift, drag, thrust, stalls, etc). "I mean, come on," Jim says like he still can't believe it. "I flew, I passed all the flying tests and all that, and they tell me I'm eliminated on ground school."
They sent him to Scott Field in Illinois. Jim went willingly, but he was not about to accept his elimination from the cadet corps. "I went there and kept pestering them to reinstate me because I thought it was ridiculous that I was eliminated on ground school," he says. "And through some miracle, I got reinstated."
Against all odds, Jim was back behind the controls of an aircraft: an AT-6 combat trainer. It was a small victory, though. Shortly thereafter, he was informed that even though he'd graduate from his training as a Flight Officer, the Flight Officer Act was being abolished, which meant he'd be busted back to the rank of private.
"I said, 'Well, not me'," he laughs. "So I went out of the service and I got out on the retrenchment program and then I went to University of Dayton."
But in his second year there, the Air Force showed up at his parents' house in Dayton looking for Jim. They wanted him back. They promised he could finish training how to fly B-25s. Jim says he told the Air Force, "''I'll be happy to go back in, but not until June because the semester is over in June.' They said, 'That's good'."
Here, he pauses. Good comedic timing. "They called me back in May," he laughs. "Ruined my semester."
He was training to fly B-25 bombers, but his body had other plans. While walking down the street one day, he became paralyzed on his right side. The doctors told him he had to be transferred to a hospital in Michigan for surgery.
At first, Jim couldn't accept what he was hearing. After two years of waiting for his shot, he says, "now the guy tells me I've got to go to this general hospital. And I said, 'No, I can't go, I've got to go to Texas.' And he says, 'No, you're not going to Texas. You're going to Battle Creek, Michigan.' So I went to Battle Creek, Michigan and stayed there for, I think, two years."
Turns out in the accident back at Tuskegee, his vertebrae had separated enough to let part of his spinal cord out. When the spin recompressed, it pinched the spinal cord, resulting in scar tissue and further complicating the painful condition, and causing temporary paralysis.
His surgery reset the spinal cord within his spinal column. He could move again, but his back was never the same. And by the time he'd recovered enough, his shot at the B-25 had evaporated.
"That pretty much wrapped up my active duty military career," Jim says.
---
After leaving active duty, he worked for the government as a civilian, transferring intelligence onto keypunch cards. These early computers fascinated him, and he taught himself everything there was about the various machines (verifiers and readers and printers), and became an expert. After 10 years, the private sector lured him away from the government. He spent the rest of the his career—40 years—as a highly successful programmer and executive in the computer industry. He retired in 1990.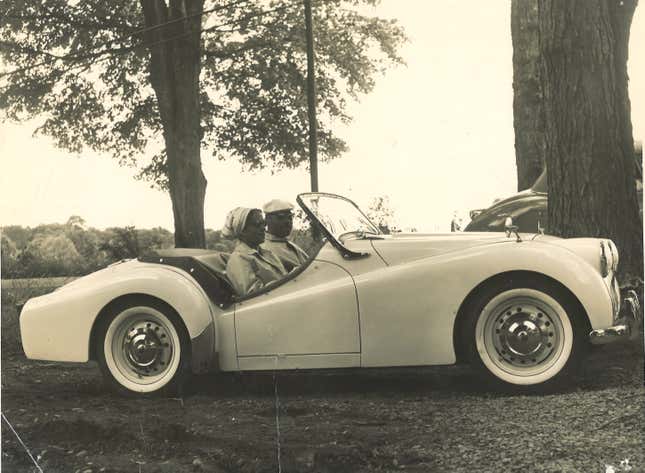 But in 1959, he and his first wife Gloria (who died in 1994) moved to Rome, NY. Jim was still working as a civilian employee of the government, finding much success evaluating computers and awarding military contracts to companies such as UNIVAC and IBM. On the drag strip, Jim knew success, too, especially with his hot-rodded six-cylinder 1952 Chevy that he had customized with Cadillac fins and even a Cadillac emblem. He was so devoted to drag racing with his heavy, American iron, he became a charter member of the National Hot Rod Association.

"I loved that car," he says about the '52 Chevy. But it threw a rod, and he replaced it with another '52: a Chrysler Saratoga with a V8 that produced 180 horsepower.

Though he was new to town, Jim's name was getting around. Not only because of his powerful cars, but because he'd worked with law enforcement and local auto businesses to get at-risk youths involved with car racing—driving, and wrenching.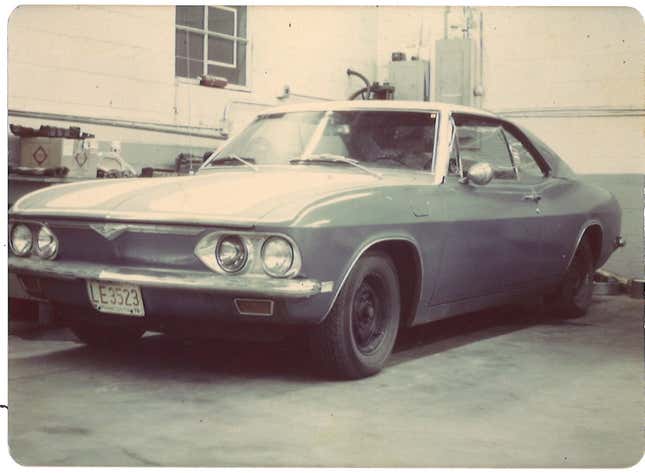 "We would have meetings at this wrecking yard," Jim remembers. "And the agreement was that they could bring their car there, they could buy parts, and they could repair them or sup them up or do whatever they wanted to do, but that kept them off the street."

And then a man named Wally Bailey came around to one of the races. Jim says that Wally was "pretty wealthy, but he was also in the service." So the two hit it off, especially considering that Wally was also interested in cars. But his were a whole different breed. "He went over to Europe and bought an Austin-Healey. I was kind of intrigued by this little car," Jim says.

"[Wally] said, 'Why don't we run against each other?' I kind of snickered," Jim recalls. "[I] said, 'Sure.' Kind of figured my big 180 horsepower [Chrysler] against this little thing he had...would be no contest. Well, we got out on the strip, and he blew my doors off," Jim laughs.
"That's how I got interested in sports cars. And so I bought one of those Austin Healey 100s," Jim says.
---
Jim says he became "interested in sports cars," but it's true it was more than an interest; it was a passion. But it was a sports car—in particular an Austin-Healey—in which he had his second of two major accidents, or what Jim calls "spectaculars."

That first spectacular had happened back at Tuskegee when the unnamed hurricane blew in. The second happened nearly 20 years later in 1967 on a track in Maryland.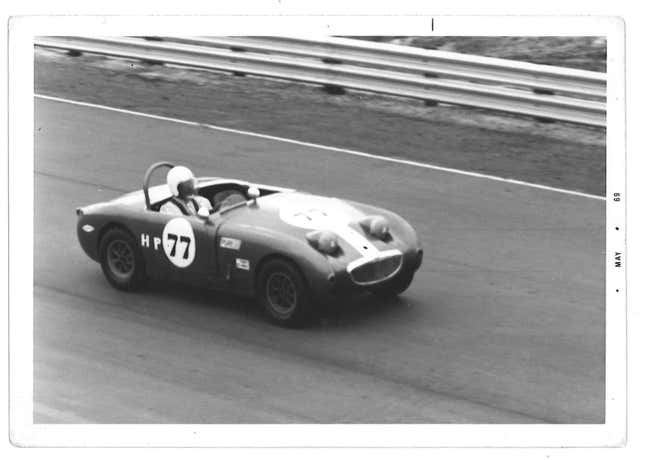 Jim sported a brand new Nomex racing suit. He loved the racing suit. His Austin-Healey Sprite sported a single-hoop roll bar. He did not love that.

The SCCA permitted single-hoop roll bars on cars but Jim was adamant that single-hoop roll bars could actually present a danger to drivers if the car flipped at a high rate of speed, as it would send it tumbling and spinning in an erratic pattern.

But the rule permitting the roll bar stood. And that's what his Sprite had.
The day before the race, Jim decided he wanted a little more of an edge. So he borrowed racing tires from a friend. "I was out there running around and I had his racing tires on the front of my car and my tires on the back," he explains.
He came to a hump in the track, a notoriously difficult one that Jim says, required the driver to land in complete control on "this very short straight, and then you had to make a left, and then a right."
Controlling the car would be more difficult than he thought, as, unbeknownst to him, the racing tires had lost pressure overnight.
Jim says, "When I came down, I didn't do it in the right place. I came down on the left front corner, and those tires were down in pressure and that tire let go just at that time. And it was like a putting big brake on that one wheel when that tire went flat. It catapulted the car up in the air and I did a spin in the air and came down on the back of the Austin Healey and then did a tumble down sideways down the track and wound up on the infield of the course, right-side up."
His head was thrown backward violently. It struck the fire extinguisher nozzle with such force that it dug a deep chip out of his Air Force-issued pilot's helmet and knocked Jim unconscious.
And then he awoke. "When I raised my head, I was surrounded by guys and their eyes were as big as saucers and they were in awe, and I started laughing," Jim remembers. "They said, 'What a heck of a guy you are! You scare us to death then you sit here and laugh at us!' I said, 'Well, if you could see all your eyes around here, you'd laugh, too'."
Fearing Jim was injured, they told him to stay in the car. "When the medics finally came, they let me get out of the car and I got out and I realized that my arm was hurting, and I could hear bones clunking in there," Jim chuckles.
The medics loaded him into an ambulance and the doctor put his arms over his chest. "And then he was pushing on it and it hurt like a son of a gun," Jim says. "I had broken my sternum also and I had broken a rib in my back."
Jim remembers that as he was loaded him into the ambulance, his colleagues said to him, "'You came down here to prove your point. You told us that was the wrong kind of rollbar, and you had it in your own car and you did just exactly what you said: tumbled end over sideways because of having that kind of rollbar.' I said, 'Yeah, that proves it unfortunately'."
They arrived at the hospital where Jim was still wearing his brand-new Nomex racing suit. After the doctor remarked about Jim appearing physically fit, Jim cracked a few jokes about how kept in shape lifting cigarettes to his lips. And then, he says, when "[The doctor] was getting ready to cut it, and he made about two snips, and I said, 'Whoa! Wait a minute! I just got this suit! You can cut my arm, but don't cut the suit—-that's expensive'!" he says, laughing hard.
He's not much for swearing when things get tough or painful. But Jim has a knack for laughing.
---
He laughs when he talks about his spectaculars, or about the time he supercharged a Beetle just because it hadn't been fast enough to pass people on the highway when he took a road trip with Gloria. He laughs when he talks about how he and his dad fought over cars—Jim's dad firmly believing there was no reason for a car to have any more than six cylinders. Jim still laughs at the funny-sounding name of that Mississippi town he never got to see.

But when we talk about being a Tuskegee Airman, he gets serious. Amongst the honors from racing organizations, there are some from the United States of America: a gleaming Congressional Gold Medal, and an elegant invitation to the first inauguration of Barack Obama.
But Jim is eager to tell me something, about his service, to make sure I understand something.
"There were all these pilots who had been to Italy and were heroes. I wasn't one of those guys," he says.
"They decided that anyone who was at Tuskegee within certain months within certain periods of time would be considered Tuskegee Airmen, no matter what you did," he explains to me, quite seriously. "You could be a mechanic, you could be a pilot, you could be a navigator. No matter what, if you were at Tuskegee during that period of time, you were a Tuskegee Airman. Well, I'm a Tuskegee Airman that way. Not because I flew in Italy and did all that heroic stuff."
Still, Jim takes his designation as a Documented Original Tuskegee Airman very seriously. He even served as the 1st Vice President of the General Daniel "Chappie" James, Jr Chapter of Tuskegee Airmen, Inc. But he's become less active in the organization now, he says, because it got to the point where he was going to too many funerals.
But Jim is still here. His is a remarkable life that's still being lived. And maybe Jim will someday see that town with the funny-sounding name. Maybe he'll get the chance to put a CTS-V through its paces.

There's definitely one thing both he and Pat have planned.
"He was 73 when we got married," Pat told me. "So I said to him, 'One thing I want.' He says, 'What's that?' I said, 'I want a 25th anniversary.' ...And he goes, 'Ah, what do I have to do? Live to be a hundred?!' I said, 'Nope. Ninety-nine." She laughs.
I tell him that sounds like a promise, and he seems like a man of his word.
"That's right," Jim says. And now, like Pat, he's laughing again. Of course he is. "If I'm here, we'll have it."
---

David Obuchowski is a writer whose essays regularly appears in Jalopnik. He's also the host and writer of the podcast Tempest, the first season of which is available whereever you get your podcasts. His work has also appeared in The Awl, Longreads, SYFY, Deadspin and other publications. Follow him on Twitter at @DavidOfromNJ.

Corrections: An earlier version of this story listed the Hemi engine on a 1970 Challenger as a 440. It was a 426. The story has been updated. Additionally, it originally said Barbour was awarded a Congressional Medal of Honor—it was a Congressional Gold Medal.