Nino Karotta's videos have appeared on Jalopnik since 2009. He shaved his head and bore arms to test a Mercedes–Benz S600 AMG, learned to drive a Formula One car and, lately, teamed up with video whiz kid György Szeljak to create the Hungarian Wolverine series, where he drove a BMW M5, his old Renault Avantime and a Honda NSX. Nino is also the man who gave me my break in this business, in 2005, offering me a job at his magazine to write about cars. Love him or hate him for this, he's here today to tell us about his latest epic car adventure, driving a Toyota GT 86 from Barcelona to Budapest. — P. Orosz
Oh, the irony! The video of the driver's car of the moment is hosted on the video sharing site whose CEO declared a while ago that "it's a bug that cars were invented before computers". Please help me disprove him on his home turf. (Should the video fail to play on YouTube, you can also watch it on Vimeo.)
We shot from dawn till dusk for four days, taking the Toyota GT 86 (which you'll lovingly recognize as the Scion FR-S) from Barcelona to Budapest by the most sinuous roads possible. Then we spent another day filming it on a racetrack in Hungary, pitting it against my angry AE86 race car. Then we spent the best part of three weeks editing the footage until we learned to hate every single frame of it. I think it's the most beautiful film we've ever made. It must be, because the FR-S is a hugely important car.
G/O Media may get a commission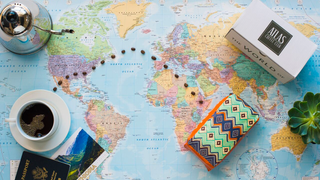 First Bag Free
Atlas Coffee Club - Free Coffee
Explore global coffee
With each bag, Atlas includes details on the coffee's tasting notes and a postcard about the region and its coffee history. And when you subscribe, you have options to tailor frequency, grind size, and roast preference of your beans, so you'll always be brewing the perfect cup.
Not because it's cheap and tail-happy. Neither of those traits are evident at first. The FR-S is important because this is the car your kids will rice and race to oblivion, learning to heel-and-toe and oversteer the last drops of whatever petrol replacement cars will be burning a decade from now. This is likely to be the sports car of the last driving generation, so take your time to get to know it. Resist the temptation to skip to the second half with all the hoonage.
Please lean back and enjoy.
Disclaimer: My spoken English is rather worse than my opposite lock, so please excuse me for any difficulties in understanding my words. With practice, both shall improve.