With our redesign comes the return of Morning Shift, our one-stop daily morning roundup of all the auto news that's actually important to you — right here on Jalopnik every weekday at 9:00 AM. It's all of the most important automotive news on the internet wrapped up neatly with a bow for you every morning.
---
1st Gear:Rolling in cheddar, Ford says it will pay off $3 billion in debt, part of the plan from CEO Alan Mulally (shown here in sharing-is-caring mode) to pay off the credit card that carried it through the Carpocalypse. White-collar workers at the Detroit Three may do the same — some could get bonuses equal to 50% of their pay.
---
G/O Media may get a commission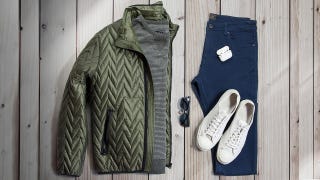 60% off
Jachs NY Fall Sale 60% Off
2nd Gear: Worried that European fans were getting too excited about the possibility of a facelifted Evora, Lotus tamped down those crazy ideas by sharing its big Geneva auto show reveal — a Mansory edition Evora. Also, issue two of Lotus magazine is now available. Actual new models? Still several years out.
---
3rd Gear:Tesla Motors opened its first dealership in Washington, D.C., on Thursday, marking the occasion with this Amerigasm'd Roadster and supplying a rewritten Pledge of Allegiance. The new showroom is on K Street, the traditional place for businesses seeking favors from the government.
---
4th Gear:The next James Bond movie is just getting off the ground, but the estate of Ian Fleming has pushed the eject button on a new novel, "Carte Blanche," in which author Jeffrey Deaver has given Bond a bespoke Bentley, supposedly all the easier to fit into the novel's setting in Dubai. But we know what the most popular cars are in that part of the Middle East...
---
5th Gear: Fans of the carburetor will be disappointed by more confirmation that fuel-injection is coming to NASCAR in 2012 with the help of McLaren Automotive. When they said "Car of Tomorrow" they meant "The Car of Tomorrow if you were in a time machine and went back to 1968."
---
6th Gear: Though we're missing the DeLorean from the Arthur remake, the new trailer does show him in an awesome Batmobile. Also, who isn't attracted to Ben Affleck's wife?
---
Reverse:
⏎ Hey, there's an Orlando with a Chevy badge in at least one country. [Just Auto]
⏎ Good news, fatty, there's no correlation between sprawl and obesity. [Planetizen]
⏎ An entire story about NASCAR's problems doesn't mention the major problem: lack of convertibles. [Yahoo! Sports]
---
Today in Automotive History: General Motors signs the first union contract with its workers in 1937 following a six-week sit-down strike in Flint, paving the way for middle-class America and/or the collapse of capitalism, depending on your point of view. [History]
---
Tips: Got tips for our editors? Want to dish some dirt on a competitor? Know something about a secret car? Email us at tips@jalopnik.com — even if it's topless-congressman type stories. In fact, especially if it is. (Pardon us, we're just taking a moment to control the involuntary shudders at the thought of topless photos of "Maximum" Bob Lutz)
---
Redesign Note: Loyal Jalopnik readers, if the redesign is still scary or buggy — try out "Jalopnik Blog" view. Also, the "edit" button works on comments now! Click here if you're looking for the Opposite Lock or Tips forums.