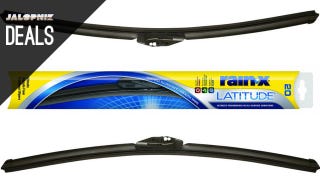 If your wiper blades are starting to streak, or you just want to stock up on replacements, you can get a pair of Rain-X blades from Amazon today for $24. Just add any two to your cart (even different sizes), and the discount will be shown at checkout. [Two Rain-X Wiper Blades, $24]
---
There's no question that LED light bulbs are the future, but at $30 for a 6-pack, they can be your home's present.
The $30 pack is $15 off its usual price, today only. Those $5 bulbs put out 800 lumens (the equivalent of a 60W incandescent) with only 8.2 watts of energy consumption, so it doesn't take a mathematician to see that these will save you a lot of money on your energy bill. Many utility companies also offer rebate programs that can shave a few extra dollars off your bill for each bulb you purchase, so this really is a no-brainer.
In addition to paying for themselves in energy savings, LEDs are a great investment solely on the basis of replacement cost. These are rated for 25,000 18,000 hours, which would conservatively mean over a decade of typical use. That's about three two times longer than your typical CFL bulb, and 25 18 times the expected lifespan of an incandescent.
It's worth nothing that if you need dimmable bulbs, Amazon is also offering a $65 6-pack to suit your needs. As always with Gold Box deals, this price is only valid today, or until sold out, so order quickly. [Amazon]
---
Every car on the road today should have a minimum of two USB charging ports available. [Mpow 4.2Amps 20W Dual USB Port Car Charger, $7 with code MPOW42AM]
---
It's never a bad idea to keep a simple socket wrench set like this in your trunk. As worst, these make good gifts for the holidays.
---
This 400W Pioneer amplifier is only $64 today, with great reviews. [ Pioneer GMA3602 2-Channel Bridgeable Amplifier, $64]
---
Winter is coming, and if you live in a colder climate, this neoprene face mask can save you from a lot of chapping. For $1, why not? [ Neoprene Half Face Mask w/ Fleece Neck Warmer, $1]
---
Here are a couple of unique lighting deals for your house. The night light includes 10 LEDs, and runs off of battery power so you can stick it anywhere, and the flameless candles are actually made of real wax, and can light up in a variety of colors. Kind of cool!
LOFTEK Automatic 10 Super-Bright LED Bulbs Wireless Sensor Night Light ($12) | Amazon
Ohuhu 3 Pack (4", 5", 6") Flameless LED Real Wax Candles with Remote and Timer ($18) | Amazon | Promo code LEZGBY3J
---
$30-per-terabyte is one of the better deals we've seen on hard drives lately. [ Seagate Backup Plus 3TB External, $90]
---
Eneloops ran away with the voting when you picked the best rechargeable batteries, and you can take home 4 AAs and a charger for $17 today, the lowest price ever. [Eneloop AA 2100 Cycle Rechargeable Batteries with Charger, $17]
---
Anker makes some of the most highly-rated and popular external chargers out there, and their largest model, the 16,000mAh Astro E5, is down to $30 today, an all-time low. [Anker 2nd Gen Astro E5 16000mAh External Battery Pack, $30 with code AASTROE5]
---
We've updated our Game and Movie release calendars, so go see what's new, and lock in your preorders.
---
As if Amazon Prime wasn't already one of the best deals in tech, now Amazin is lettings its members store all of their photos in the cloud as well. If you want to try it out, you can sign up for a 30 day free trial here.
---
Taking as many votes as the other four contenders combined, La Crosse takes home your nod as the best battery charger. You praised it for its versatility, ease of use, wide range of options, and features like the ability to refresh lost capacity in your batteries. [La Crosse BC1000]
---
Want your deals the old fashioned way? Sign up for this IFTTT recipe to get a digest of all our posts sent to your email every afternoon.
---
Inventory
---
Auto
Tools
Home
Kitchen
Fitness
Camping & Outdoors
Apparel
Bonus
---
Media
---
Movies & TV
Books & Magazines
Apps
Music
Gaming
---
Tech
---
Home Theater
---
Black Friday and Cyber Monday are right around the corner. Keep it locked here for the Internet's best coverage.
We work together with you to find the best products and the best deals on them, click here to learn more. We operate independently of Editorial and Advertising, and if you take advantage of an item we cover, we may get a small share of the sale. We want your feedback.