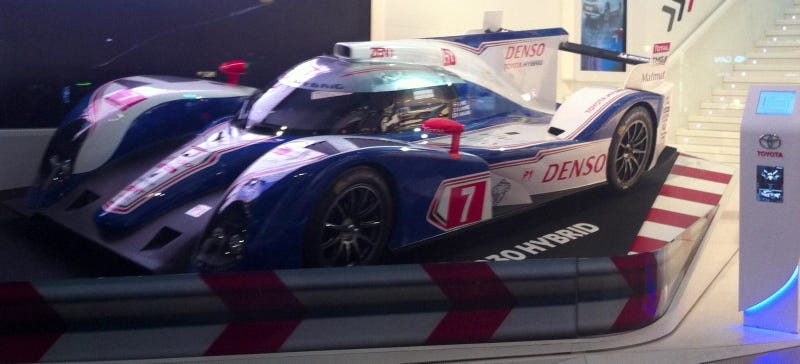 After the 24 Hours of Le Mans, I missed my flight and ended up stuck in Paris for an extra day. Since I was in Paris, I decided to at least venture into the city for dinner. Lo and behold, the Toyota storefront on the Avenue des Champs-Élyseés was considerably more interesting than the ones here in America.

Not only did they have a full replica of the Toyota TS030 Le Mans prototype in the storefront, but they had a GT86 Cup.

"Hello, Toyota? Yes, I'd like to buy a new car. I'm interested in that one. Yes. Can I order an extra set of wheels? What about a 15" halo seat? Also, does it come in lilac?"
According to Toyota public relations man Danny Chen (who commented on my hipstergram of the LMP1), this is part of Toyota's "Le Rendez-Vous Toyota" brand experience. Whatever the reason, they should definitely bring this over here. Put the race cars in front of the Corollas and you now have my attention.

...even more so if the GT86 Cup is for sale, right there in the show room. Prepping a race car is a pain. This car looks quite nice. Will they accept trade-ins?
[Note: There was a typo in the first version of this article which referred to the LMP1 as the current car's name, the TS040. This has since been fixed.]

---
Contact the author at stef.schrader@jalopnik.com.