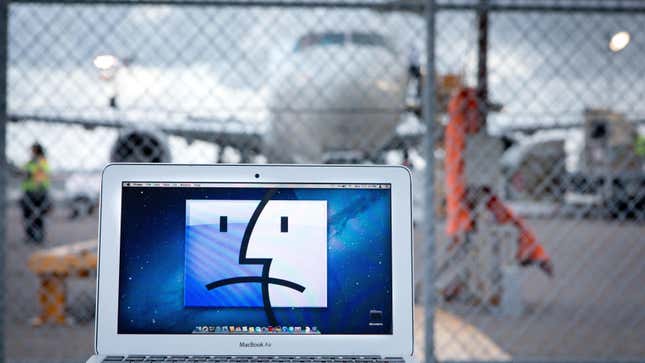 A United Airlines flight from San Diego to Newark had to turn back around shortly after takeoff when the battery of a passenger's electronic device caught fire, according to a United spokesperson. The crew aboard United flight 2664 — a Boeing 737 MAX 8 — made sure the fire didn't spread any further.
"Our crew acted quickly to contain the device, and medical personnel met the aircraft upon arrival at the gate," Charles Hobart, a spokesperson for United, told Jalopnik.
When the plane arrived, several flight attendants were taken to the hospital as a precautionary measure, and two customers were checked out by medical professionals on site. A tweet from the San Diego Fire Department says four people were taken to the hospital in total.
According to FlightAware, United 2664 took off from San Diego at 7:07 a.m. PST and landed at the same airport at 7:51 a.m. PST.
A tweet from the San Diego Fire Department says crews evaluated all passengers and crew.
An FAA spokesperson told CNN the fire originated from a laptop battery and, "The FAA will investigate."
"We thank our crew for their quick actions in prioritizing the safety of everyone on board the aircraft, and we are making arrangements to get our customers to their destinations," Hobart said in United's statement.