The final hour has passed. After a week of polling and passionate commenting, you've made your decision. Here, officially, are your 14 choices for the Jalopnik Forza Motorsport 3 Downloadable Car Pack. We think you'll be pleased.
We know it wasn't easy. We know you struggled and complained; we know you hemmed and hawed. This may not have been the easiest process, but it wasn't meant to be — this is important stuff. And you, the participants in the first-ever Forza Motorsport community car-pack vote, have just made video-game history.
Check back in an hour to see the Editor-selected car that rounds out our list of 15. But for now, click through to see the 14 vehicles you, the voters, choose. We think you'll be proud of the final result. We know we are.
Note: We're running this as a gallery to heighten the anticipation, not for page views, so if you want to be a spoil-sport and ruin the surprise by seeing them all on one page, click here.
G/O Media may get a commission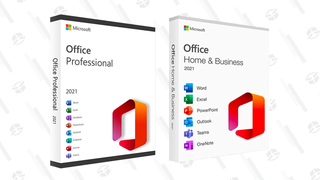 89% off
Microsoft Office Professional 2021 Lifetime License
14.) 1986 Dodge Shelby Omni GLHS:
Yes, we're seeing gold today as the first of four commenter golden tickets makes it in. And like the rest, the GLHS is more than deserved of the ride in to the winners circle. In case you haven't heard, "GLHS" stands for "Go Like Hell Som'more." This little hatchback featured a turbocharged, 2.2-liter four and Carroll Shelby's endorsement. It could also hustle to 60 mph in just 6.5 seconds. Go like hell, indeed.
13.) 1988 Mitsubishi Starion ESI-R: 2343 votes
Another double-commenter golden ticket winner! But whereas the Volvo may have been the commenter fan favorite, the Starion speaks more to Jalopnik editor history as it's the starry-eyed ride of former Jalop contributor Mike Bumbeck. We're proud as punch to see the Mitsubishi with a name that sounds like a horse make it in as a winner.
12.) 1992 GMC Syclone: 2371 votes
A turbocharged V-6 in a lightweight, all-wheel-drive pickup with ABS and discs at all four corners. The Syclone accelerates like a bat outta Hoonville and doesn't mind turning or stopping. Car and Driver famously tested it against a Ferrari. Is it any wonder that people still go nuts for these things? Nope. Is it any wonder that the Syclone made it into the game? Nope.
11.) 1971 AMC Javelin AMX: 2372 votes
Another commenter golden ticket makes it onto the list of winners. AMC was just beginning to make really bad decisions in 1971, but the Javelin AMX wasn't one of them. Bigger and more powerful than its predecessor, the AMX 401 came with a 401-cubic-inch V-8 with 335 hp. Mark Donohue drove one in the Trans-Am, which makes it OK in our book.
10.) 1984 BMW M635CSi: 2372 votes
Badged M6 in America, the M635CSi got the 3.5-liter, 286-hp straight six from the M1, retuned suspension, and a 158-mph top speed. Autobahn missiles don't come more shark-nosed than this.
9.) 1990 Mercedes-Benz 190E 2.5-16 Evo II
: 2403 votes
An amped-up version of Mercedes-Benz's 190E 2.3-16, the 2.5-16 Evo II was the ultimate evolution of Mercedes's relatively tame 190E. See that insane wing? This is — you guessed it — another high-strung homologation special.
8.) 1977 Saab 99 Turbo: 2411 votes
When Saab paired the then-novel turbocharger with its quirky 99 hatchback, it created a monster. If you can stand the 99's legendary lag, you'll be rewarded with a healthy dose of front-wheel-drive shove. The blueprint for all great Saabs that followed, and the peak of the marque's 1970s glory.
7.) 1987 Ford Sierra Cosworth RS500: 2411 votes

After winning forty consecutive British touring-car events, the Ford Sierra Cosworth was effectively banned from competition. The RS500 is the barely streetable, Tickford-built homologation version of that car. Gobs of power and a massive spoiler were standard.
6.) 1971 De Tomaso Pantera: 2531 votes
As Panteras go, the '71 model is a connoisseur's car. Devoid of the garish styling found on later Panteras, this simple Italian-American exotic looked the part and delivered the goods. A 350-hp Ford 351 lived under the rear hatch.
5.) 1973 BMW 2002 Turbo: 2742 votes
The fat fender flares, the three-box proportions, the grunty turbocharged four - the 2002 Turbo is the craziest iteration of BMW's legendary 2002. Hefty lag and skinny tires made for seemingly endless laughs. OBRUT!
4.) 1982 Lancia 037 Stradale: 2839 votes
Built to homologate Lancia's ridiculous 037 rally car for Group B competition. Styling resembled that of Lancia's street cars, but everything under the skin was deadly serious. A balls-out speed explosion with a taste for blood.
3.) 1992 Ford Escort RS Cosworth: 3149 votes
Forbidden fruit in America, the '92 Escort RS Cosworth was a pocket rocket of the highest order. The 2.0-liter four between the front wheels was rated at 224 hp, but enterprising tuners easily raised that number. The Cosworth's awesomeness was only supplanted by that of the second-generation Ford Focus RS.
2.) 1982 DeLorean DMC-12: 3164 votes
Let's be real here: The reason you voted for the DeLorean DMC-12 is because it's the only car on this list that was ever turned into a time machine. The stainless steel body and gullwing doors add up to a relatively high curb weight, but remember: Where we're going, we don't need... roads. (If you don't need roads, you don't need curbs. Get it? Ha!)
1.) 1983 Volvo 242 Group A Homologated: 3282 votes
Built so Volvo could compete in Group A touring-car racing, this fan favorite (seriously guys, the only reason this racer made it in was because you pushed and made it happen) and double-commenter golden ticket winner finally got its ticket punched and is headed to the digital promised land. This rarest of all turbobricks sports tweaked turbo bits and European flat-hood looks. A handful were brought to America, but good luck finding one. Unless you're playing Forza Motorsport 3. Bork.