As we announced earlier, Jalopnik and Microsoft's Turn 10 are teaming up to release a custom-built car pack for Forza Motorsport 3. You, the faithful Jalopnik reader, get to pick the cars that will be included. Here's your first chance!
Ladies and gentlemen, welcome to the first poll for Forza Motorsport 3's Jalopnik car pack. We're glad to have you here — let's make some four-wheeled democracy!
Here's how this works:
1. Polls will run daily from Monday, January 25th through Thursday, January 28th. Each poll ends at midnight of the day it's posted on. The results, along with an extra car chosen by the Jalopnik staff, will be revealed on Friday, January 29th. The car pack itself will be released this summer, and it will include as many of the voted-upon cars as is possible, contingent on Turn 10's ability to find suitable cars to scan.
G/O Media may get a commission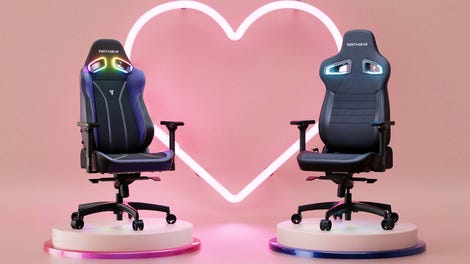 Up to $150 off
Vertagear Gaming Chairs
2. In order to provide the greatest possible choice — and to include a lot of cars that both we and Microsoft/Turn 10 Studios wanted to see in the game — we're starting with a list of 120 vehicles. You might notice that there's an excess of low-run homologation specials, weird old muscle cars, funky exotics, and stuff that makes no sense. This is only because we — and the guys and gals at Turn 10 — love all of these things. This is not, to coin a phrase, your father's Buick Forza pack.
3. For logistical reasons, the master 120-car list has been carefully broken down into six groups of twenty cars each. To keep things manageable, voting will occur in a tournament-like stagger: Monday and Tuesday will consist of three twenty-car "deathmatch" votes, with each vote paring twenty cars down to ten. The winners from those votes will be seeded into a series of semi-finals on Wednesday, and those winners will move into the finals on Thursday. Fifteen cars come out the other side, nine of which will be chosen by Turn 10 for the car pack — and again, one final, super-secret, staff-selected car will be added on Friday. Each poll will close at midnight on the day of the vote.
4. If you skipped down to the bottom and were too lazy/distracted/caffienated to read any of the above, this is all you need to know: Three times today and tomorrow, you'll get a list of cars. We'll tell you to pick ten. Voting for each poll runs until midnight the day of the poll. At the end of the week, we'll do all the math and tell you what's what, ending with a list of fifteen cars. Capisce? Groovy!
First, click on the gallery below to see and read about the first set of cars. When you're done, come back here to vote, and don't forget — there are two more polls!
Happy voting!

WHAT YOU NEED TO DO WITH THIS POLL: PICK TEN.

Disclaimer: Cars pictured are for reference purposes only; appearance and specification of actual vehicles scanned for game usage may vary. Looking at the gallery will not cause epileptic seizures. Probably.

NOTE: THIS POLL IS CLOSED. For the latest polls and/or update, please check out Jalopnik's Forza tag. Thanks!