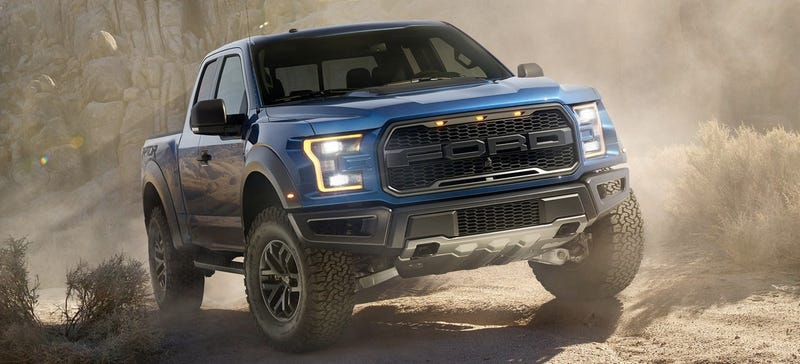 Truck Yeah
The trucks are good!
We know the 2017 Ford Raptor will have a 3.5 twin turbo V6, ten-speed automatic transmission, and of course the new F-150's aluminum body. No real claims have been made on the truck's power or weight, but Forza 6 has numbers. Think they mean anything?
Probably. (Maybe?) because they're backing up what Ford Global Product Development Vice President Raj Nair apparently "accidentally" confirmed on TV months ago.
My buddy Chad Kirchner has been gaming his work days away on Forza 6 and noticed that the game assigns the truck 450 horsepower, 440 lb-ft of torque, a drivable weight of 5,700 pounds and front-to-rear weight distribution of 57-43% which he posted to Ford-Trucks.com.
Those figures won't be confirmed by Ford of course, and frankly Forza has a history of assuming manufacturers don't post accurate output levels anyway.
The 3.5 EcoBoost in the current F-150 is rated (by Ford) at 365 horsepower and 420 lb-ft of torque, and that engine's already been proven as highly tuneable, so Forza's power seems feasible. And then there's that claim about Mr. Nair himself throwing down the 450 horsepower figure.
But Ford also puts the curb weight of a current crew cab EcoBoost F-150 at a little under 5,000 pounds. Think they're underselling it, or the next-gen Raptor will really add two motorcycles worth of heft to the body? Or the developers at Forza pulled these numbers out of their educated asses.
Hat tip to Chad and Ford-Trucks.com!
---
Contact the author at andrew@jalopnik.com.