Forza Motorsport 5 is one of the most anticipated launch titles for the new XBOX One, especially for car fanatics. But the newest car porn game has 300 fewer rides than before, and is missing some of the most celebrated tracks in the world. What's the deal?
Turn 10 says their vision for the new Forza is quality over quantity. And while they've included the incredible Mount Panorama from Australian V8 Supercars, they've left out Infineon Raceway (aka Sears Point), Japan's Suzuka Circuit, and, most surprisingly, the Nurburgring Nordschliefe. There are just 14 tracks available when its released, with the possibility that more will be added later through paid downloads.
They've also pared down the 500 car selection to just 200 cars. They do have the McLaren P1 and the LaFerrari, but the LaFerrari will be a paid download from day one, to the consternation of many.
Is this a tactical error on the part of Turn 10, especially with the upcoming release of Gran Turismo 6 on the PS3, which has 1,197 cars and 39 circuits? Granted, a lot of the stuff in GT6 has roots in Gran Turismo days gone by, while Forza 5 is a ground up effort for the first of the next gensystems. That's admirable, because they don't want to have stuff that looks like crap out there on the road (ahem, GT5 standard cars, ahem), but hopefully Forza fans and prospective buyers are ok with getting better copies of less to drive.
Even if Forza 5 has more quality, GT6 sure has a lot of quantity to make up for it. It'll be interesting to see how they stack up.
G/O Media may get a commission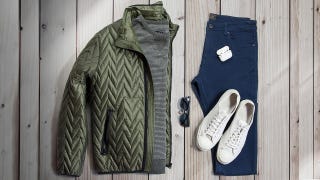 60% off
Jachs NY Fall Sale 60% Off
UPDATE: Dan Greenawalt, director of Turn 10, called to talk about this. He said that Forza 2, which launched 18 months after XBOX 360 launched, had 12 tracks and 270 cars, with a lot a variants. So Forza 5 already has more cars and tracks than Forza 2, which is one of their highest rated games.
Fans deserve the best content, so they rebuilt the cars from the ground up. They started with nothing, so nothing was "cut." They feel this will give a great experience to the next gen gamer. Look at it like GT3 to GT4, which added content on the same console.
They were working on Forza 5 a year before Forza 4 came out, so they were trying to make this a launch game. Dan loves this type of challenge. Nurburgring would have to be totally recaptured and rebuilt. The shortest track took 9 months to build in Forza 5, so longer tracks would take a really long time. We continue to capture tracks and will do so in the future. Everything that is totally built now is in the game.