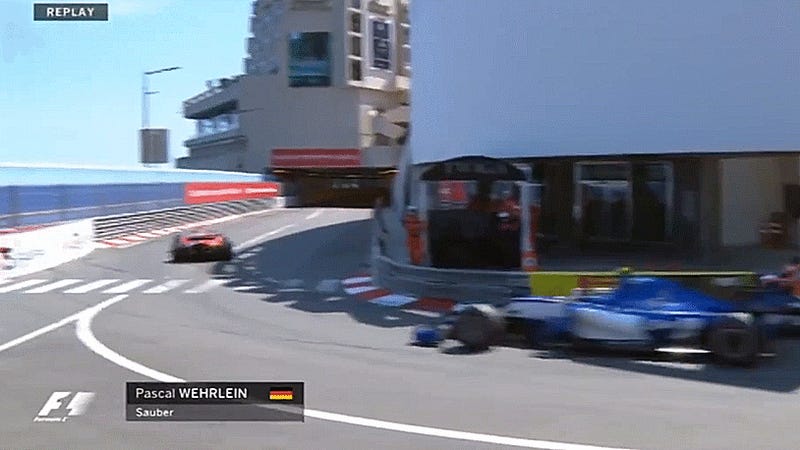 McLaren stand-in Jenson Button, sadly, isn't taking very good care of Fernando Alonso's car at the Formula One Monaco Grand Prix. Button was frustrated being stuck behind Sauber driver Pascal Wehrlein, so he stuck a wheel inside Wehrlein's car before Monaco's tunnel, flipping Wehrlein in the process.
There just wasn't room for Button to take that pass, so Wehrlein flipped as his rear wheel caught Button's front wheel. Fortunately, the roll was gentle and Wehrlein let his team know that he was okay shortly after, but gave us the saddest radio of the year so far:

Team: Are you okay?

Wehrlein: Yeah, it'd be better if I could jump out.

Team: Okay. Be patient. They will help you soon.

Poor Wehrlein was trapped until marshals could flip his car, having to hear race traffic pass by in the meantime.

Wehrlein had irritated Button at the beginning of the race as well, as he was released too close in front of Button's car in the pits. Wehrlein received a five-second penalty for the unsafe release.

Sadly for Sauber, things soon went from bad to worse, as the team's other driver, Marcus Ericsson, crashed into the wall under the safety car that came out for Wehrlein being stuck in the wall.

It was a similar story for McLaren. After the safety car was back in, McLaren's other driver Stoffel Vandoorne went wide trying to go side-by-side with a car at the first turn and ate the wall on the slippery ground on the outside.

It's total chaos in the final moments of the race, with Force India's Sergio Pérez hitting the side of Red Bull's Daniil Kvyat as Perez tried to pass him up the inside.