As Formula E coalesced from vague rumors, carbon fiber mock-ups and promising press releases into an actual, real life racing series, it looked like the series of the future. Not only were they turning electric cars into something exciting, but they were paying attention to social cues, too. There were two women (Katherine Legge and Michela Cerruti) lined up on the starting grid—more than you'd find in a lot of other series. They were bringing quiet, pollutant-free racing to city centers. And the first-ever race in Beijing was insane. It seemed almost too good to be true.
Now, in their fourth season, it looks like "too good to be true" might be a reality.
Earlier in May, Formula E announced a 10-year deal with Riyadh, the Saudi Arabian capital. Fans around the world immediately started questioning the legitimacy of such a venture—as well as FE's commitment to being the progressive series it lauded itself as being.
G/O Media may get a commission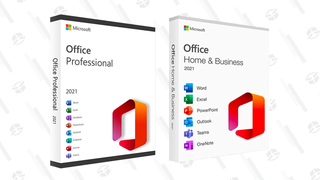 89% off
Microsoft Office Professional 2021 Lifetime License
This comes directly in the wake of a Alejandro Agag's appearance on BBC Question Time, where he discussed the intertwinement of politics and racing. While this specifically regarded FE's UK-based location and his plan to move the company to Europe depending on the result of the Brexit customs deal, some fans found it ironic that the politics of a deal in Saudi Arabia seemed to be ignored by someone as seemingly "woke" as Agag.
It's also made some fans think more critically about the little annoyances regarding FE that they've been sweeping under the rug for the past few years, especially regarding women.
After a mere two races, Katherine Legge was no longer in the picture. Initially citing a conflict that kept her from participating in Punta del Este, Legge simply never returned, instead opting for an Acura drive. More concerningly, Cerruti only stuck around for two more races before suddenly quitting the team. According to Motorsport.com, she cited "professional reasons" as her cause for departure.
I regret to inform you so late and close to the race, but unfortunately for several reasons, including some events of last days there aren't now conditions to go on with this electric adventure.
And so, just like that, there were no more female drivers. Which in itself is not a transgression enough to warrant a harder look at the series' politics—but it's one of those things that started to make people wonder, and the series lost one of the things that made it so progressive.
Add to that the proliferation of grid girls—which FE doesn't necessarily tout, but who are available for specific races. It's a "tradition" that even F1 has opted against, yet FE has encouraged scantily clad dancers to accompany Formula EJ and sees no problems using women as placeholders, while some of the drivers aren't the kind of people who would advocate for, say, grid kids instead. It's another frustrating factor for fans looking at FE as a socially, technologically forward-looking series, but again—not necessarily one that will turn off the die-hard FE fans.
But it's becoming more and more apparent that Formula E's ideas of progress don't necessarily align with those of its fans. It popped up in a more innocent fashion regarding the race format for next season, but now that it's involving questionable politics and, it's finally impossible for some fans to stop overlooking the little things that bug them.
Journalist Hazel Southwell, for example, has raised questions about the capacity in which women are going to work at an event in a country where women are being arrested for being feminists and where women have only been granted the opportunity to drive this year. The list of transgressions against not only women but also folks under the LGBTQ+ spectrum is worryingly long. How are women expected to work this event? How can they attend as fans without concern?
Southwell attended the recent Berlin ePrix and was the only journalist to directly confront Agag with her concerns. In his eyes, the deal situating FE in the middle of the oil industry is intended to be a catalyst for the country's future. In fact, Agag has promised that women on track will be a mandatory part of the event—it's written in the contract, set in stone, guaranteeing that a show will be made of including women in behind the wheel of electric cars in order to drive home the fact that Formula E is progressive as hell.
It was a general answer, since Agag really wouldn't have time to break down the nitty-gritty at the helm of a press conference, and it seems promising. But there are still legitimate worries to be had when so many bureaucratic messes or potential legal issues could spawn during the duration of your stay. There wasn't anything mentioned about any LGBTQ+ folk attending or working the race, and it can be difficult to ensure the safety of race fans outside of the track.

The concept of hosting an electric race in the thick of an oil country seems pretty revolutionary—and it does seem beneficial that FE could step in at this exact moment to be a guiding light, to show an alternative to the downsides of pollutant-heavy vehicles piloted by women.
But it feels like this was a decision made without the input of the women who will be affected—namely, the fans and the female series personnel. As Southwell points out, it feels like a betrayal. It's incredibly hard to ignore the headlines Saudi Arabia is making regarding, y'know, treating humans with respect.
There's no telling if this race will be a success or if any problems will result until it actually happens. But the implications this has are too important to be ignored. Plenty of people will demand that their sports and politics stay separate, but as Agag has acknowledged, the two are very tightly intertwined. Ignoring politics in motorsport is, in itself, a political act. So it's pretty hard to ignore that FE has committed a decade of season openers to Saudi Arabia, a country that does not privilege those who are not the traditional example of a man.
Is Formula E going out of their way to drive away female fans? No, because that would be ridiculous. But the first steps of a progressive ideology are educating oneself on what is not progressive and seeing those issues through the eyes of those most likely to be adversely affected. While I have to give credit to the series for finding explicit ways to include women in the event, it isn't enough to simply make a spectacle of inclusion without ensuring that women, migrant workers, and LGBTQ+ individuals will continue to be protected and supported as they travel, work, spectate, and simply exist in Riyadh.
It would have been much safer to choose another European country, or a country like Qatar, to host FE's opening round. Choosing Riyadh is shocking in a whole hell of a lot of ways, which is kind of Formula E's whole schtick. But it also feels like it was one more decision in a long line of those unintentionally excluding the female gender.
There's a delicate balance between pushing the boundaries of conventional motorsport while still remaining true to a progressive ethos. FE has done a great job at redefining the borders of racing—their social progression regarding, y'know, basic concerns about equality, could use a whole lot of work.