Lenny Woods, a black businessman whose name graced the groundbreaking Stone Woods & Cooke Swindler drag car racer in the 1960s, was found dead in his failed California Ford dealership Tuesday after an apparent suicide. He was 64 years old.
Woods' father, Tim Woods, had founded the drag racing team in the late 1950s with a manager at his successful construction firm, Fred Stone. After driver Doug Cook joined the team in 1961, the trio became famous for their Swinder, which sported the body of a 1941 Willys coupe and a supercharged Oldsmobile engine.
The team launched the "gasser wars" of the 1960s, essentially a barnstorming group of drag racers that would run several races a week and taunt each other in drag racing magazines to gin up interest. The Swindler won hundreds of races, and thanks to the ingenuity of the team became the iconic ideal of gas-powered drag racers from that era, including the model toy version from Revell that has sold millions of copies.
G/O Media may get a commission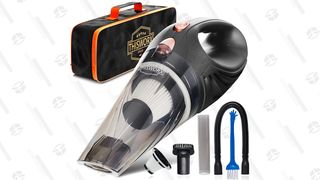 Save 50%
ThisWorx Car Vacuum Cleaner
In a 2008 interview with the National Hot Rod Association's magazine, Leonard Woods noted that it was his name, not his father's, painted on the Swindler:
"My dad liked it as a family sport, a team sport; it was something that he and I could do together," said Woods, who began working on the team car as a teenager while attending boarding school at St. John Bosco High in Bellflower, Calif. "I think he felt the need to put my name on it and as a hook to keep me interested in such a wholesome sport, plus he was a little concerned with the liability his construction company might face if something happened.
Decades after the peak of their fame, many fans still didn't know that Stone and Woods were black. The team had been one of the first racially integrated groups in drag racing, and the first black team to win a national drag racing title. Cook suffered a severe crash in 1967 that spurred him to retire from race driving; Stone and Woods continued on until the early 1970s.
Lenny Woods bought a Ford dealership in Chino, Calif., in 1981, and ran the business for nearly three decades. When the U.S. economy slumped over the last couple of years, Woods's dealership struggled. He sought a loan from the city and other support to stay open, but had to close in April, telling the Inland Valley Daily Bulletin:
"Everything I own is invested in this business, sadly, and I made a commitment to this," he said. "It's like a runaway train. I put more and more into it to try and save it, and I don't know what I'm going to do. I don't know what the future holds. I'm just trying to concentrate on selling the dealership, in which I'll get nothing. The bank owns all of the assets."
Employees found Woods inside the dealership Tuesday, with a revolver nearby.
(H/T to Traveler)