Welcome to Forgotten Cars, where we highlight fascinating cars and engines that are obscure, unrecognized and lost to the passage of time.
Everybody has heard of the Jackson 5. With a frontman in the form of tiny Michael Jackson, who was still a young boy when he joined his band of brothers, the group scored hit after hit in the 1970s like "ABC" and "I Want You Back."
Fewer people know that before Michael eventually took his place, older brother Jermaine Jackson was the group's lead singer. Now, Jermaine is a fine musician in his own right, and he went on to have a moderately successful career of his own. But how are you supposed to even compete with Michael Jackson, the King of Pop, the biggest star of all time?
If the Bugatti EB110 was capable of having feelings, it must have felt an awful lot like Jermaine Jackson when its little brother the Bugatti Veyron came along. The Veyron came to be regarded as the fastest, baddest, most expensive car out there (even if a few others have occasionally edged it in those departments) while the EB110 has practically become a footnote in its history. The Veyron is Michael, and the EB110 is Jermaine.
G/O Media may get a commission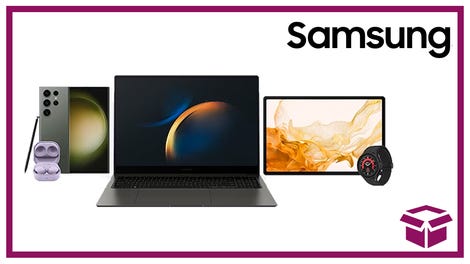 24 hour deals
Discover Samsung - Daily Deal
As we all know, today Bugatti is owned by the Volkswagen Group, which is why it is powered by an insane quad-turbo W16 engine. The EB110 came about in the early 1990s, before VW had a hand in the brand. A few years before its debut, Italian billionaire and Ferrari dealer Romano Artioli acquired the rights to the storied Bugatti name and attempted a revival of his own. As Gulf News tells it, Artioli's goal was to make a car that was more badass than anything Ferrari or Lamborghini made. How did he do it? By recruiting a bunch of former Lamborghini engineers, that's how.
Artioli got the legendary Marcello Gandini — the man behind the Lamborghini Miura, Diablo and Countach, which is one hell of a supercar resume — to design this new Bugatti. The fact that he and a bunch of other crazy Italian engineers were behind it ensured that it would live up to the reputation established by Bugatti's monstrous cars from the 1930s.
The car that would become the EB110 was extremely advanced for its time, packing a 3.5-liter V12 engine with four turbochargers good for 560 horsepower and all-wheel-drive. And unlike its porkier little brother the Veyron, this car kept the weight down with aluminum body panels mounted to a carbon fiber monocoque chassis. Zero to 60 mph times were in the low 3-second range.
The team named their car the EB110 when it went into production in 1991, after founder Ettore Bugatti, who would have turned 110 that year. The car was a smash success when it launched, setting a production car speed record of 212 mph. Michael Schumacher famously owned a Super Sport version of the car, as did many other speed aficionados.
But the EB110 ended production in 1995 after a mere 139 were produced, according to Bugatti, about a third of Veyron production. What happened? As Autozine tells it, things were hampered by a recession in Europe and Japan, as well as Artioli's overly-ambitious and ill-fated purchase of Lotus. (Did you know that the Elise was named for his granddaughter?)
Bugatti went bankrupt, and German racing company Dauer Sportwagen bought some of the unfinished EB110s and sold them under their marque. They would end up selling a lighter, more powerful version called the Dauer EB110 until about 2007. In 1998, the Volkswagen Group bought the Bugatti marque and launched the Veyron in 2005.
Regardless of what came before, that's what people think of now when they think of Bugatti, and that's kind of sad, because the EB110 was pretty outstanding in its day. It holds its own against modern cars, too. A few years ago Motor Trend tested an EB110 Super Sport against its superstar little brother, and they found that despite a 20-year difference in technology, the EB110 was only "microscopically slower" than the Veyron. This was certainly helped by the EB110's 3,100 pound curb weight, 1,000 pounds less than they Veyron. "It's still faster than many of the newer machines you'll find occupying internet ultimate-supercar fantasy lists," they wrote of the EB110.
Don't worry, EB110. We at Jalopnik still appreciate you. More so than we do Jermaine Jackson, probably.
What do you think of the EB110? And keep your "Forgotten Cars" suggestions a-comin'!
Photos credit Supermac1961, Getty Images