Good morning! Welcome to The Morning Shift, your roundup of the auto news you crave, all in one place every weekday morning. Here are the important stories you need to know.

1st Gear: Ford Takes The Plunge
It was met with a very tepid response yesterday—probably because it is a thoroughly un-sexy idea for anyone who actually likes to drive—but Ford's announcement of a fully-autonomous car by 2021 is a huge deal. The vehicle won't have a steering wheel or pedals, making it a full on "Level 4" self-driving car, unlike anything currently on the market.
But Ford's strategy isn't to sell you that car, at least not at first. The plan is to deploy it in "commercial mobility services," meaning a ride-hailing program like Uber or Lyft. Dare I say it's a smarter strategy than some competitors, because it takes self-driving tech out of the public's hands until it's fully ready.
It also means Ford is skipping the consumer-side "building block" phase of semi-autonomous systems like Tesla has and General Motors is deploying next year.
G/O Media may get a commission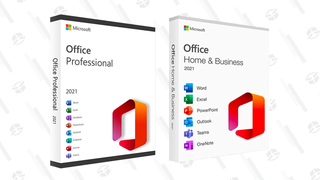 89% off
Microsoft Office Professional 2021 Lifetime License
More from Automotive News:
Within a year, GM plans to introduce a fleet of autonomous Chevrolet Bolts to be tested by the Lyft ride-hailing service it partially owns. Tesla has taken incremental steps toward autonomy, most recently with a feature it calls Autopilot, but several recent crashes have raised concerns about the technology and about whether drivers misunderstood their need to continue paying attention and take over control of the vehicle.


"We abandoned the stepping-stone approach of driver-assist technologies," said Raj Nair, Ford's product development chief, "and decided we were going to take the full leap to deliver a fully autonomous, Level 4 capable vehicle."

Nair said he doesn't expect autonomous vehicles to be available to individual consumers for "several years after their first introduction because the economics simply don't make sense." But he said they can spread quickly among ride-hailing services by cutting the labor costs and commissions they have to pay.
This is going to be very interesting.
2nd Gear: Hyundai May Team Up With Google
As we told you on yesterday's Morning Shift, Hyundai tends to be an insular company that has thus far shunned partnerships with startups or even bigger tech players. That may soon change and in a big way. Bloomberg reports Hyundai is in talks to collaborate with Google; on what we don't know, but it's safe to assume it's probably autonomous cars.
Unlike rival automakers, Hyundai and affiliate Kia Motors have shunned joint ventures or alliances to make high-cost, low-volume sports cars and electric vehicles. Hyundai is now seeking to transform its go-it-alone strategy and become more open to tie-ups with tech upstarts and Silicon Valley giants to stay relevant in the coming era of connected cars and autonomous driving.

"Hyundai is lagging behind the competition to develop autonomous vehicles," said Ko Tae Bong, senior auto analyst at Hi Investment & Securities Co. "It's not a choice but a critical prerequisite for Hyundai to cooperate with IT companies, such as Google, to survive in the near future."
It's be a homecoming of sorts for at least one important person at Google.
Any potential collaboration between the two companies may be aided by John Krafcik, the former Hyundai U.S. chief who joined Google in 2015 to lead its self-driving car project.
Another interesting thing to watch!
3rd Gear: Chinese Electric Car For The Masses Raises $1 Billion
You probably haven't heard of WM Motor. But it's led by a Chinese auto industry veteran and just succeeded in raising $1 billion in an initial fundraising round, Bloomberg reports. The goal: make a better and more affordable electric car than Tesla.
Freeman Shen left Volvo Cars owner Zhejiang Geely Holding Group Co. in 2014 and last year founded WM Motor, which he says has secured funding from both domestic and overseas investors. WM plans to introduce its first model in 2018 and boost production to more than 100,000 units annually within the following three years, he said Tuesday.

"We have profound experience in the industry, which distinguishes us from other startup companies, even Tesla," Shen, who's worked in the auto industry for 22 years, said in an interview in Shanghai. "We don't want to make toy-like luxury cars for the minority. We will target the mass market."
Oooh, shots fired!
4th Gear: Can Uber And Lyft Replace Bus Drivers?
Apparently, it's what they want now, and they're getting subsidies from cities in Florida and Colorado to try it. Via Bloomberg:
In Uber's early days, it said it wanted to be "everyone's private driver." Now the company and its main U.S. competitor, Lyft, are playing around with the idea of becoming the bus driver, too. Uber has partnered with a handful of local public transportation agencies to strike deals like the one in Pinellas Park, which it expanded earlier this month.

Later this month Lyft plans to launch a partnership with Centennial, Colorado, its first deal where a local government will subsidize its rides. The company also said it has helped a dozen transit agencies apply for federal grants that would pay for a portion of Lyft fares.
But!
Governments already pay for taxis in some situations, but the deals with Uber and Lyft could usher in more fundamental change. What happens to people without smartphones? What happens if the cities come to rely on the apps, only to have the private companies decide the partnerships are no longer a sensible business venture?
Who can say.
5th Gear: Meet The New Bosses
I'm going to borrow 5th Gear for a housekeeping note real quick, if you don't mind.
As you may have seen in the news yesterday, Jalopnik's parent company, Gawker Media, has been purchased at auction by TV and digital publisher Univision. That is a thing that is happening!
What does that mean for Jalopnik, or for you, the reader? In the immediate term, not much. A lot has yet to be determined, but in the meantime we will continue the important work we do every day, like making fun of Lewis Hamilton and writing about adventures in questionable cars.
As always, thank you for your continued support, and for being a part of the best and most dedicated readers on the internet.
Reverse: Kettering!
Neutral: Is Ford On The Money Here?
What's the better way to deploy self-driving cars: trusting the public with them, or putting them in commercial settings first?