1st Gear: Well, That's Not So Bad, But Still Very Bad
When you get right down to it, the CEO of a publicly traded company is responsible for one thing, and one thing only – the share price. They are beholden to no other measurement, and it is supposed to go upwards, only. If it's flat, that's quite bad. CEOs get fired if the share price is bad.
So what's a CEO to do with a flat share price?
Fire a bunch of other people.
And that's just what Ford CEO Mark Fields is doing, as Ford's stock market chart looks like this:
The official word is that Ford will be laying off 1,400 people, via Automotive News:

Ford Motor Co. on Wednesday said it plans to cut 10 percent of its salaried employees in North America and Asia to cut costs amid slowing sales and growing investments in new technology.

The automaker will offer voluntary early retirement and special separation packages to roughly 1,400 white-collar workers in the two regions combined and expects the cuts to come by the end of September. Ford said nearly all of its "skill teams" will be affected, except for product development, Ford Credit, manufacturing, IT and global data and analytics.

A Ford spokesman said the reductions will affect corporate staff, including the finance, legal, human resources, communications, government, marketing, sales and service departments.

G/O Media may get a commission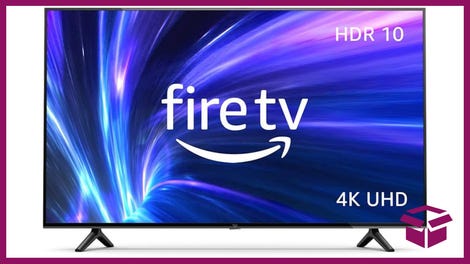 42% Off
Amazon Fire TV 50" 4K Smart TV
And while that must be gut-wrenching for the 1,400 people affected, it's much better than our original math yesterday, as rumors trickled out that Ford would lay off 10 percent of its entire workforce, rather than just 10 percent of its salaried workforce. Our bad in that regard.
But at least we didn't lay off 1,400 people today in the hopes of boosting a stock price.
2nd Gear: Volkswagen CEO Under Criminal Investigation By German Prosecutors
Volkswagen CEO Matthias Muller has been relatively untouched by the Dieselgate scandal so far, but word from Germany today is that he's under criminal investigation for market manipulation, the New York Times reports:
On Wednesday, prosecutors said they were investigating whether Mr. Müller improperly withheld information about the emissions scandal from shareholders of Porsche S.E. before news of the deception became public in September 2015.

In a statement, Stuttgart prosecutors said that Mr. Müller, Mr. Winterkorn and Mr. Pötsch were suspected of "knowingly failing to communicate in time the consequences arising from manipulation of software in Volkswagen diesel vehicles, especially financial consequences for Porsche S.E."

Porsche S.E. is a holding company which controls the majority of Volkswagen shares, and it's intertwined with the descendants of Ferdinand Porsche, who created the original Beetle. But Porsche S.E. is still publicly traded, and despite its ties to the Porsche and Piech families, that means a whole bunch of other people can get hosed if Volkswagen's executives didn't run the company properly.
Volkswagen and Porsche S.E. officially "consider the accusations groundless," however.
And it must be true, right? Corporate CEOs are titans of industry, who would never do anything to enrich themselves at the expense of those less powerful.
3rd Gear: Tesla Turned Down Uber On Self-Driving Cars, Book Says
Tesla, a company with an extensive self-driving car program that's been in operation for literally years, turned down a self-driving partnership with Uber, a relative shitshow of a company that's mired in a dire lawsuit over its own self-driving car program, if you would believe it. That whoa-if-true BOMBSHELL came from Bloomberg:
The discussion came after Apple Inc. invested $1 billion in Didi Chuxing, then a fierce competitor of Uber in China. [Uber CEO Travis] Kalanick pitched Musk on teaming up against Apple, according to Wild Ride, a book by Fortune magazine's Adam Lashinsky scheduled for release next week.

"I said, 'Look man, we should partner,'" Kalanick recalled in the book. "Elon spent the rest of the call convincing me that it's too far out, and it's not realistic, that I should just stick to what we do best and be focused, or I'm going to f—- it all up. That's when I knew Tesla was competing."

Yeah man, that's when you knew. Not when Tesla actually started putting semi-autonomous technology in its actual cars. It's when Elon Musk told you to go away.
Uber is worth $69 billion, on paper.
4th Gear: Volvo Diesels Will Probably Be Dead Soon
Not that this really matters to Americans, as I'm not sure we ever got a diesel Volvo in the United States (maybe? Feel free to check me on that). But the news from Reuters says that Volvo is killing off its diesel program:
Volvo's latest generation of diesel engines could be its last because the cost of reducing emissions of nitrogen oxide is becoming too expensive, CEO Hakan Samuelsson was quoted as saying on Wednesday.

"From today's perspective, we will not develop any more new generation diesel engines," Samuelsson told German newspaper Frankfurter Allgemeine Zeitung in an interview.

A Volvo spokesman later went on to say that Samuelsson was just "discussing options," but hey, Samuelsson is the boss. And this makes sense, considering that Volvo's made noises about full electrification of its cars for a few years now.
5th Gear: It's The E.U. Versus Italy Over Fiat
This one's a bit complicated, so I'll just let Reuters explain it:
The European Commission launched legal action against Italy on Wednesday for failing to respond to allegations of emission-test cheating by Fiat Chrysler (FCHA.MI), in a procedure that could lead to the country being taken to court.

"The Commission decided today to send a letter of formal notice asking Italy to respond to concerns about insufficient action taken regarding the emission control strategies employed by Fiat Chrysler Automobiles group (FCA)," the Commission said in a statement.

Did FCA use cheat devices like Volkswagen did? Who knows anymore!!!!!!!!!!!!!!!!!!!!!!!!!!!!!
Reverse: And From That Day, Toyota Laid Waste To Every Other Carmaker
On this day in 2005, Toyota Motor Company announces its plans to produce a gasoline-electric hybrid version of its bestselling Camry sedan. Built at the company's Georgetown, Kentucky, plant, the Camry became Toyota's first hybrid model to be manufactured in the United States.

Neutral: Are There Any Good Car Company CEOs?
Mark Fields is laying off 1,400 people just to boost a share price. The constant rumors are that Elon Musk can be a pain to work with. Are there any good car company CEOs, besides Malcolm Bricklin?