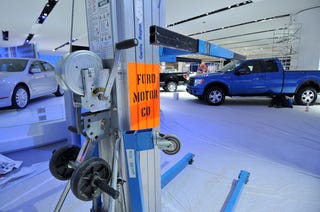 Ford recently invited us to see its Detroit Auto Show stand during its final stages of construction. We weren't let in the rest of the hall, but we did see something State Farm calls a "driving pod." Doubleyoo tee eff?
Ford's stand this year is something of a monster. All told, the blue oval's NAIAS exhibit encompasses some 81 cars and more interactive displays than you can shake an Ecoboost at. Like most manufacturers, Dearborn recycles its show stand, carting it from one city to the next and reassembling it in convention centers around the world. This year's exhibit is claimed to be 48 percent larger than 2009's effort, and it boasts everything from LED screens the size of a small swimming pool to a live, you-drive-it demonstration of Ford's Active Park Assist technology. (Frankly, we ended up spending most of our time looking for a cutaway of the next Super Duty's 6.7-liter V-8. That thing has one hydraulic lifter for every two valves, kids. One.)
Also, try as we might, we didn't actually get a clear look at State Farm's pod. The firm's stand was only half assembled, and a bunch of crates littered the floor, each one bearing a stenciled description of what was inside. Pod crate, what's your deal? What could be in there? Insurance fun? Candy? Podlike insurance candy fun? The possibilities are endless! Check back next week for answers, same candy-pod time, same candy-pod channel!