Ford tries to reassure the public and its dealers that it knows what it's doing, Trump's auto tariffs are an "open question" and Porsche's doing great. These stories and more for The Morning Shift on Friday, Oct. 19, 2018.
1st Gear: Ford Tries Breaking Bad
Regular Morning Shift customers know the story: As its stock price hits new lows, Ford is having a very difficult time convincing Wall Street analysts, investors and even its dealers that it's ready for "the future," whatever that looks like, or that it can weather another economic downturn. A bit part of this is that new CEO Jim Hackett claims the automaker is working on big ambitious electric and autonomy plans, but they're extremely unclear to everyone. Layoffs are looming as the company restructures as well.
So Ford is aiming to fix its image issues, as Bloomberg puts it, by bringing on Breaking Bad star Bryan Cranston for a new series of ads. Those seek to show Ford as a company that's, you know, actually doing shit instead of tweeting about rocket cars all day—a clear shot at Silicon Valley and, though not overtly but pretty obviously, Tesla.
Via Bloomberg:
Using the slogan "Built Ford Proud," the ads push back on the popular notion that Silicon Valley is on the verge of delivering driverless and flying cars. A commercial for the Escape sport utility vehicle takes a not-so-subtle shot at Tesla Inc. While the compact crossover has never been shot into space, as Elon Musk's Roadster was earlier this year, it "proudly sits in over 2 million garages," Cranston says in craggy baritone.

Another spot mocks tech gurus' penchant for pontificating about the future, while Ford has been building vehicles for 115 years. "Let the other guys keep dreaming about the future," Cranston says, driving through the desert in a pickup with the Rolling Stones' "Paint It Black" playing the background. "We'll be the ones building it."

[...] One of the ads mocks Silicon Valley's attempts to create flying cars by showing a racing Mustang muscle car going airborne over a hill. Cranston dryly intones: "Contrary to what you're about to see, the Ford Motor Company does not condone, nor build, flying cars."

"We're honest about the cultural context we're operating in," said Matt VanDyke, Ford's director of U.S. marketing. "There's all this talk, and we've got a 115-year heritage of doing and building and backing it up by making a car every 5.4 seconds. We're ready to speak with an attitude of pride and confidence."
G/O Media may get a commission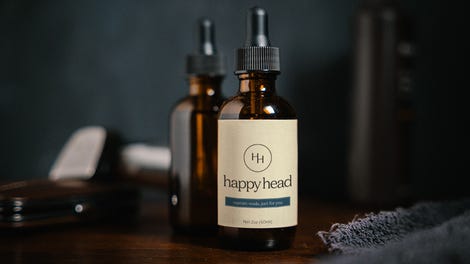 But as that story notes, Ford lags behind tech companies like Google's Waymo and even direct competitors like General Motors in autonomous tech, and it's certainly behind many automakers—Tesla included—in terms of EVs. The question remains whether it can move beyond just... selling trucks.
2nd Gear: Who Is Ford Trying to Reassure Here?
While the new Ford ads could be seen as a "Hey, we know what we're doing" shot back at Wall Street, the Dearborn company is also trying to keep its existing customers—and reassure its dealers.
At its national dealer meeting yesterday in Las Vegas—which sounds like hell on Earth, if we're being honest—Automotive News reports Ford's focused largely on keeping owners who may feel abandoned by losing their Fiesta, Focus or Fusion as it shifts away from sedans and small cars entirely.
(This is the same event where Ford showed off the new Shelby GT500, as part of that strategy to assuage and woo dealers.)
The new marketing approach, designed partly to rebut the impression that Ford is abandoning owners of Fusions and Fiestas as it stops developing new sedans, is part of a sweeping plan that the second-biggest U.S. automaker's leadership team laid out to North American dealers this week at the Bellagio resort here.

The company vowed to shorten its product-development cycle to create the industry's freshest showroom; add affordable non-sedan models to the lineup; run the region through individual vehicle lines to maximize margins; and launch a new advertising campaign that plays up the company's history.
But as The Detroit News reports, Ford didn't really offer any clarity there:
Hackett and his team came to Las Vegas to put everything they could on the table for the people selling the vehicles.

They didn't give dealers specific answers on what would replace the small, affordable cars that bring first-time buyers in the door and get them into the system. But they spoke generally about how they'll build the lineup and bring in smaller, rugged vehicles to fill those spaces at the same price point as a Fiesta, Focus or Fusion.

Ford dealers also got an apology for the way the leadership announced in April the decision to cut cars, according to Greg Balasco, owner of Lakeland Ford in Tampa, Florida.

Dealers drove the 2019 Ranger in Las Vegas. They saw the new rear-wheel drive Explorer, redesigned Escape, as-yet-unnamed 2020 battery electric vehicle, an unnamed small "rugged" SUV some call the baby Bronco, and the Mustang GT 500.

And then, according to several dealers who spoke to The News, they listened to company leaders explain, piece by piece, what they had been working on, and how that would affect dealers.
Is this enough, or will "more trucks" work for now?
3rd Gear: Trump Auto Tariffs May or May Not Happen But Everything Is Great
Nearly every automaker has weighed in against President Trump's threatened tariffs on imported vehicles, which could destabilize the entire auto industry and may or may not boost domestic production. But Trump advisor Larry Kudlow told The Detroit News that tariffs may not happen:
The Trump administration's threatened tariffs on imported vehicles remains "an open question," the president's top economic adviser told The Detroit News Thursday in a one-on-one interview.

"It's still under investigation," said Larry Kudlow, an adviser to President Donald Trump and director of the National Economic Council. "The goal here is zero tariffs, zero subsidies and zero non-tariff barriers."

He's in town to tout "the American growth story" to the Detroit Economic Club — a story he says will "go on two, three or four years, I reckon. We haven't had a capital goods cycle. We're increasing the economy's potential to grow."

He continued: "This is a business investment boom — that's the driver. They haven't done this with any consistency going back 20 years, to 2000."
As far as whether said tariffs could kneecap the auto industry, well, the important thing is the economy is booming so shut up:
"But they're making money," Kudlow countered. "Ordinary folks are making money. For the first time in 20 years, the whole range of the workforce is prospering. It's not just the top — it's everybody. I don't know where that's going to lead, but it's very heartening."
Trump's tariffs on metals alone have cost Ford $1 billion this year. Heartening as hell, my dude!
4th Gear: Steel Has to Get Better
Speaking of metals, as lightweight aluminum becomes ever more present on vehicles—for frames, bodies, engines and more—steel companies are working to improve and market their metal to stave off aluminum's rise, reports Bloomberg:
Lightweight aluminum has chipped away at steel's use in vehicles as fuel efficiency standards have risen. Now steelmakers are fighting back. Their newest alloy could make its way to carmakers by 2021, with some available as early as next year, said Eric Petersen, vice president for research and innovation at AK Steel Holding Corp.

The new steel will be marketed as stronger, less costly and almost as lightweight as aluminum at a time of upheaval for carmakers. The fuel standards are under attack, a trade war threatens to hike costs, and the auto industry is racing toward a future with electric cars that consumers insist go further and further on a single charge.

For automakers, "the biggest bang for their buck is going to be in the power train and battery supply," Petersen said. "Once you put your dollars there, you're better off to go with a lower-cost solution in steel."
Are you more a steel person or an aluminum person? For me it just depends on how I feel that day.
5th Gear: Porsche's Doing Great
Finally some good news if you like fast, good cars: Porsche's CEO downplayed talk of an IPO for the Volkswagen Group company, saying its products are selling strongly enough that it doesn't need outside investment for help, according to Automotive News:
Porsche does not need a stock market listing to fund growth, CEO Oliver Blume said, adding he is confident the maker of the iconic 911 sports car can repeat last year's record sales in 2018.

[...] Porsche sold 196,562 vehicles during the first nine months of the year, with Europe showing a 9 percent increase and China, the world's largest car market, growing by 4 percent. In the U.S., Porsche sales rose 3.4 percent to 42,626 deliveries.

"In the light of these good numbers we expect that we can reach last year's record again," Blume said in e-mailed comments on Thursday.
Porsche's lineup is relatively small—only a few models with lots of variants within—but it may be the strongest overall lineup of any automaker. It's good to see it doing well.
Reverse: John Z. Busted
Neutral: Will Any of This Ford Shit Actually Work?
You tell me.